Thoughtleaders – BJ De Guzman
Creative Director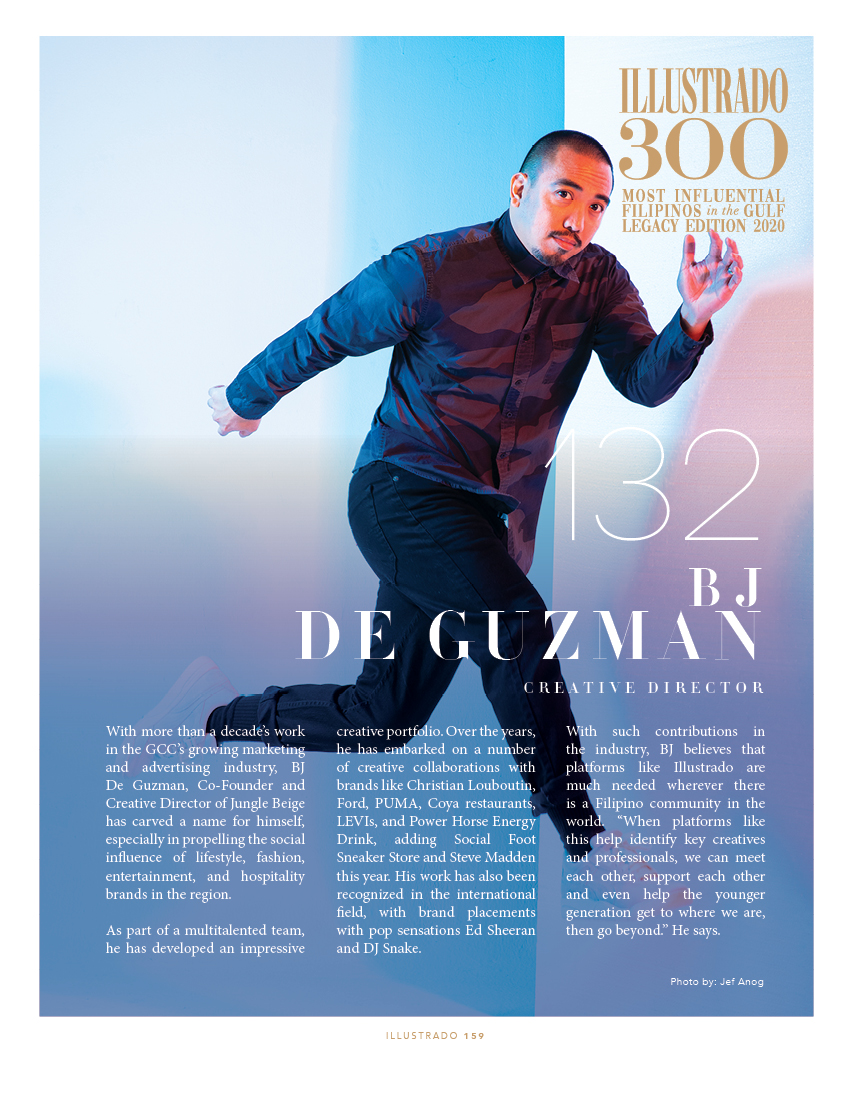 With more than a decade's work in the GCC's growing marketing and advertising industry, BJ De Guzman, Co-Founder and Creative Director of Jungle Beige has carved a name for himself, especially in propelling the social influence of lifestyle, fashion, entertainment, and hospitality brands in the region.
As part of a multitalented team, he has developed an impressive creative portfolio. Over the years, he has embarked on a number of creative collaborations with brands like Christian Louboutin, Ford, PUMA, Coya restaurants, LEVIs, and Power Horse Energy Drink, adding Social Foot Sneaker Store and Steve Madden this year. His work has also been recognized in the international field, with brand placements with pop sensations Ed Sheeran and DJ Snake.
With such contributions in the industry, BJ believes that platforms like Illustrado are much needed wherever there is a Filipino community in the world. "When platforms like this help identify key creatives and professionals, we can meet each other, support each other and even help the younger generation get to where we are, then go beyond." He says.
Illustrado 300 Most Influential Filipinos in the Gulf is Supported by: Kaya Skin Clinic,  Emirates Airline, and Unilever.
Special Thanks to Michael Cinco, Ezra Couture , Giordano, Darcey Flowers, IKON Solutions, Victors Freight, MPQ Tourism, Asia Gulf Companies –La Carne & Filfood, WOL Water
Get a copy of Illustrado 300 Most Influential Filipinos in the Gulf Legacy Edition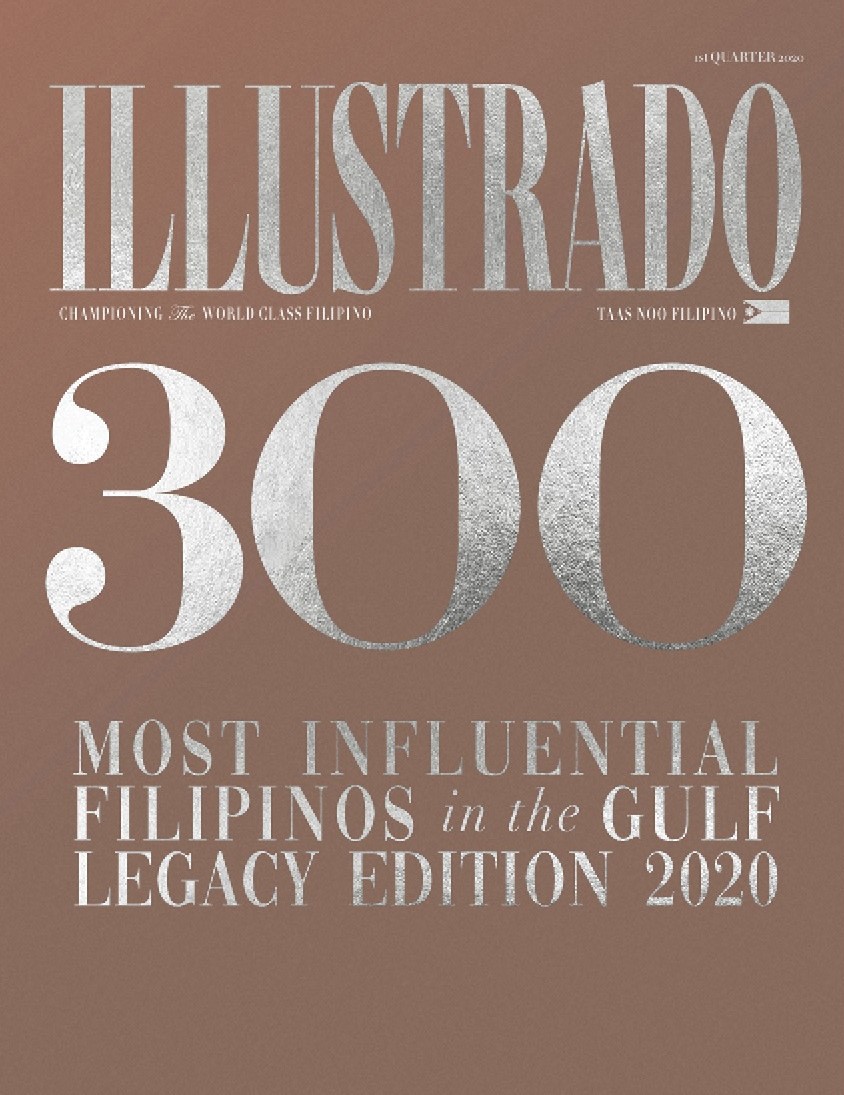 BJ De Guzman
Creative Entrepreneur
With over 12 years of marketing and advertising experience with worldwide brands like Complex Magazine, American Airlines, and Microsoft, BJ De Guzman is no stranger to the marketing game. Now the Co-Founder and Creative Director of Jungle Beige, he spearheads projects for leading lifestyle, fashion, entertainment, and hospitality industries.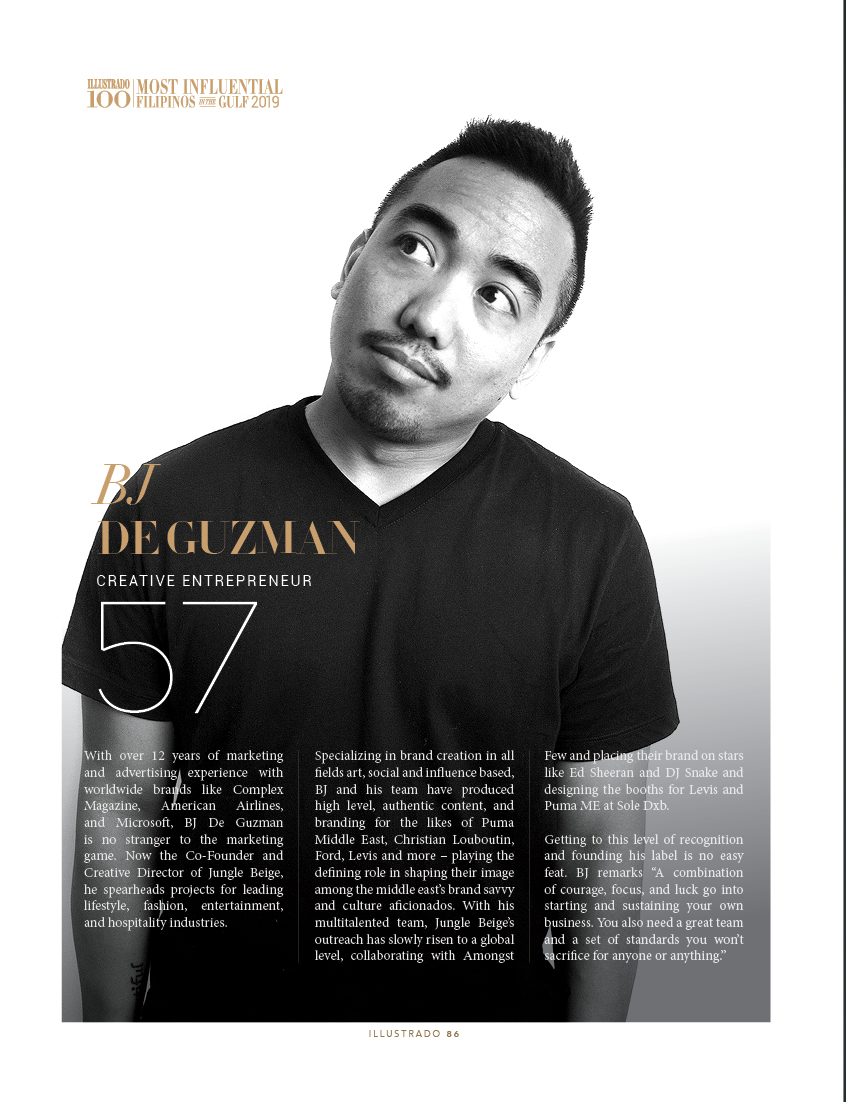 Specializing in brand creation in all fields art, social and influence based, BJ and his team have produced high level, authentic content, and branding for the likes of Puma Middle East, Christian Louboutin, Ford, Levis and more – playing the defining role in shaping their image among the middle east's brand savvy and culture aficionados. With his multitalented team, Jungle Beige's outreach has slowly risen to a global level, collaborating with Amongst Few and placing their brand on stars like Ed Sheeran and DJ Snake and designing the booths for Levis and Puma ME at Sole Dxb.
Getting to this level of recognition and founding his label is no easy feat. BJ remarks "A combination of courage, focus, and luck go into starting and sustaining your own business. You also need a great team and a set of standards you won't sacrifice for anyone or anything."
……………………….
Special thanks to our sponsors: Emirates Airline, Stars n Bars La Mer, Liali, Instax – Grandstores UAE, Dusit Thani Dubai, Gver – Your Friendly Marketplace for Sharing, Meeting Dancewear , MPQ, CMG, Filbrit, and our partners Rozen Antonio Photography,  Alex Callueng Photography, Jef Anog Photography, and Ethereal Photography.