Bobby Caparas
Hair and Make-Up Artist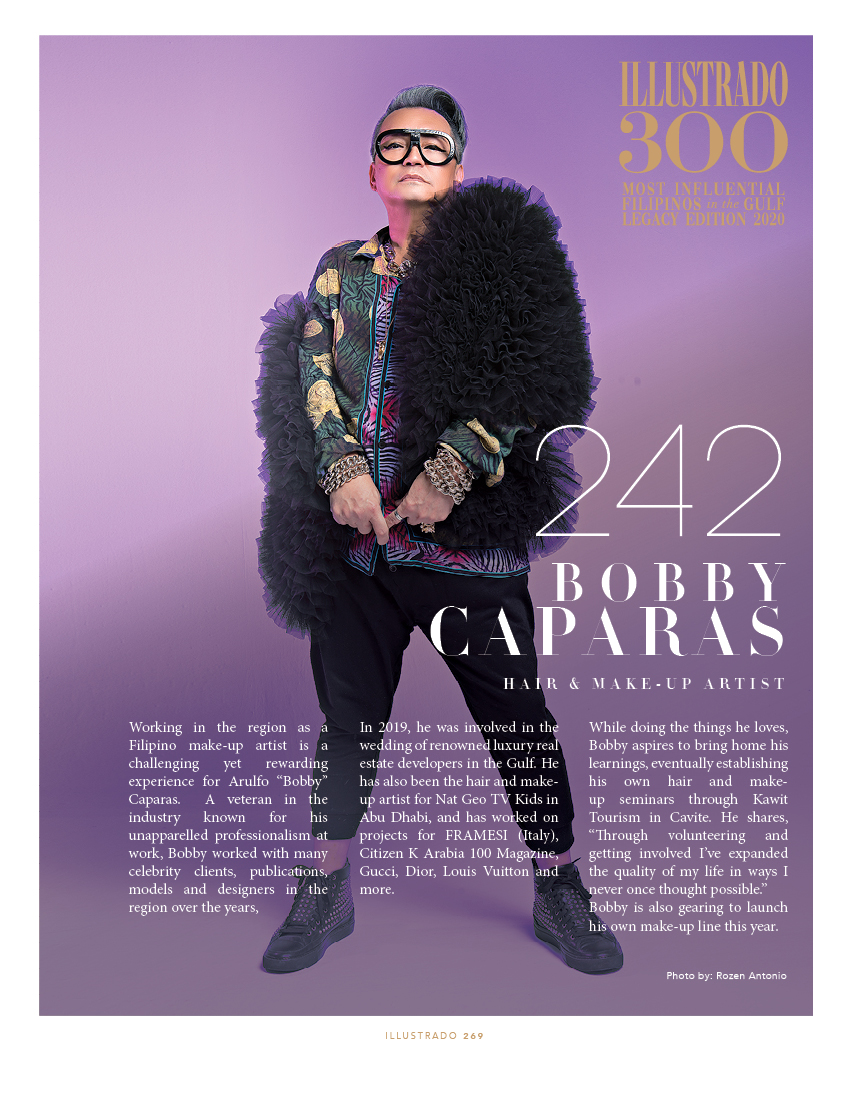 Working in the region as a Filipino make-up artist is a challenging yet rewarding experience for Arulfo "Bobby" Caparas.  A veteran in the industry known for his unapparelled professionalism at work, Bobby worked with many celebrity clients, publications, models and designers in the region over the years.
In 2019, he was involved in the wedding of renowned luxury real estate developers in the Gulf. He has also been the hair and make-up artist for Nat Geo TV Kids in Abu Dhabi, and has worked on projects for FRAMESI (Italy), Citizen K Arabia 100 Magazine, Gucci, Dior, Louis Vuitton and more.
While doing the things he loves, Bobby aspires to bring home his learnings, eventually establishing his own hair and make-up seminars through Kawit Tourism in Cavite. He shares, "Through volunteering and getting involved I've expanded the quality of my life in ways I never once thought possible."
Bobby is also gearing to launch his own make-up line this year.
Illustrado 300 Most Influential Filipinos in the Gulf is Supported by: Kaya Skin Clinic,  Emirates Airline, and Unilever.
Special Thanks to Michael Cinco, Ezra Couture , Giordano, Darcey Flowers, IKON Solutions, Victors Freight, MPQ Tourism, Asia Gulf Companies –La Carne & Filfood, WOL Water
Get a copy of Illustrado 300 Most Influential Filipinos in the Gulf Legacy Edition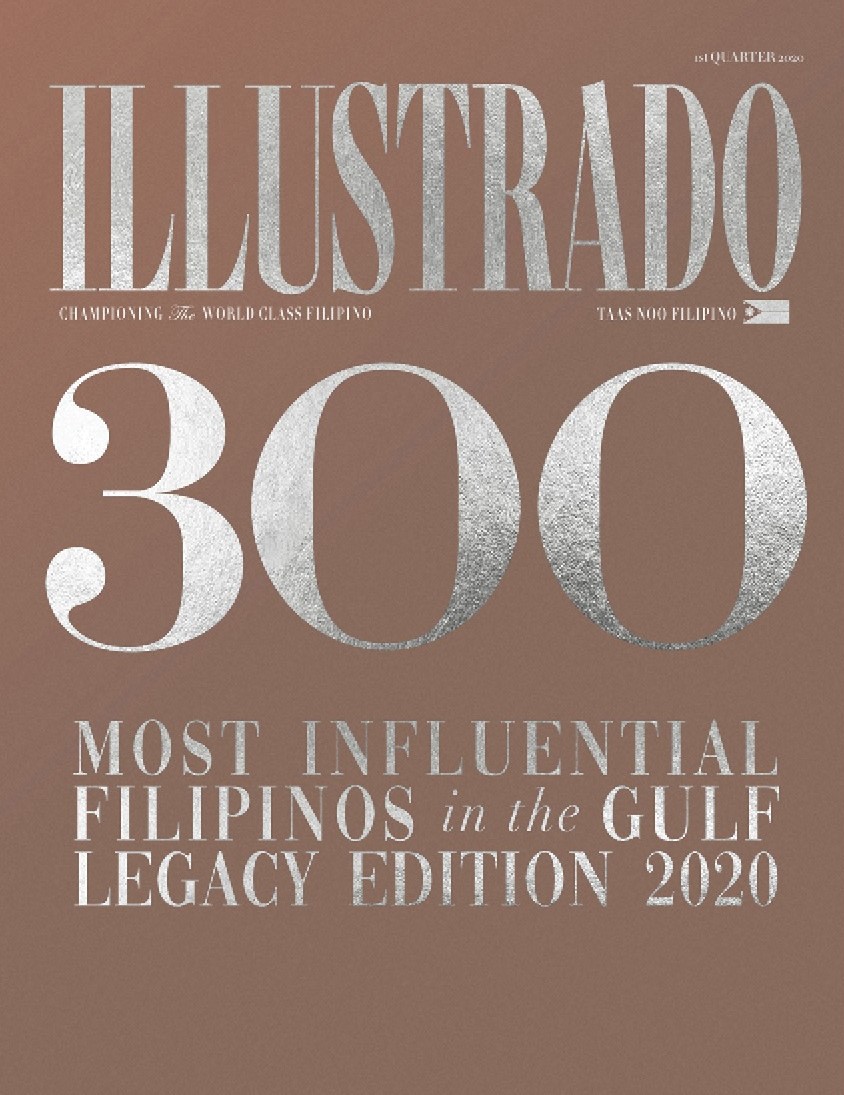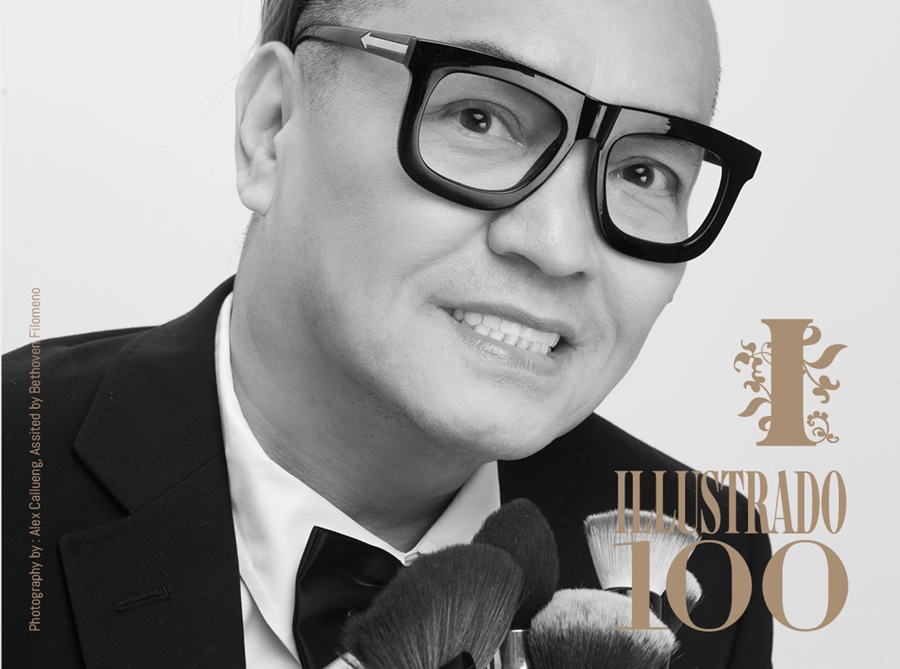 BOBBY CAPARAS
Make Up Mogul
Widely considered as the Gulf's top Glam Guru, Bobby has a career that extends 36 years as one of the most admired make up artists in the Asia Pacific. Two years ago, he won the Asian Trend award for Make Up Artist Of The Year in Chengdu, China – proof positive of Bobby's ability to transcend trends and stay relevant amidst the ever-evolving standards of beauty.  Bobby elaborates: "They say experience is gold, but I'd say perseverance is platinum! I always push myself each time I do a project motivated not only by financial reward, but mostly by my love for the art of makeup and style. Passion ignites creativity. It is the impetus that propels us to greater heights. You don't influence or rock the status quo with familiarity. You do so with a spirit of adventure and curiosity."
Photo by Alex Callueng; Photography Assistant – Bethoven Filomeno Special thanks to – Giordano, Nikon, Liali Jewellery, Lulu, Mitsubishi and Western Union.