Thoughtleader: Cristina Magallon
Writer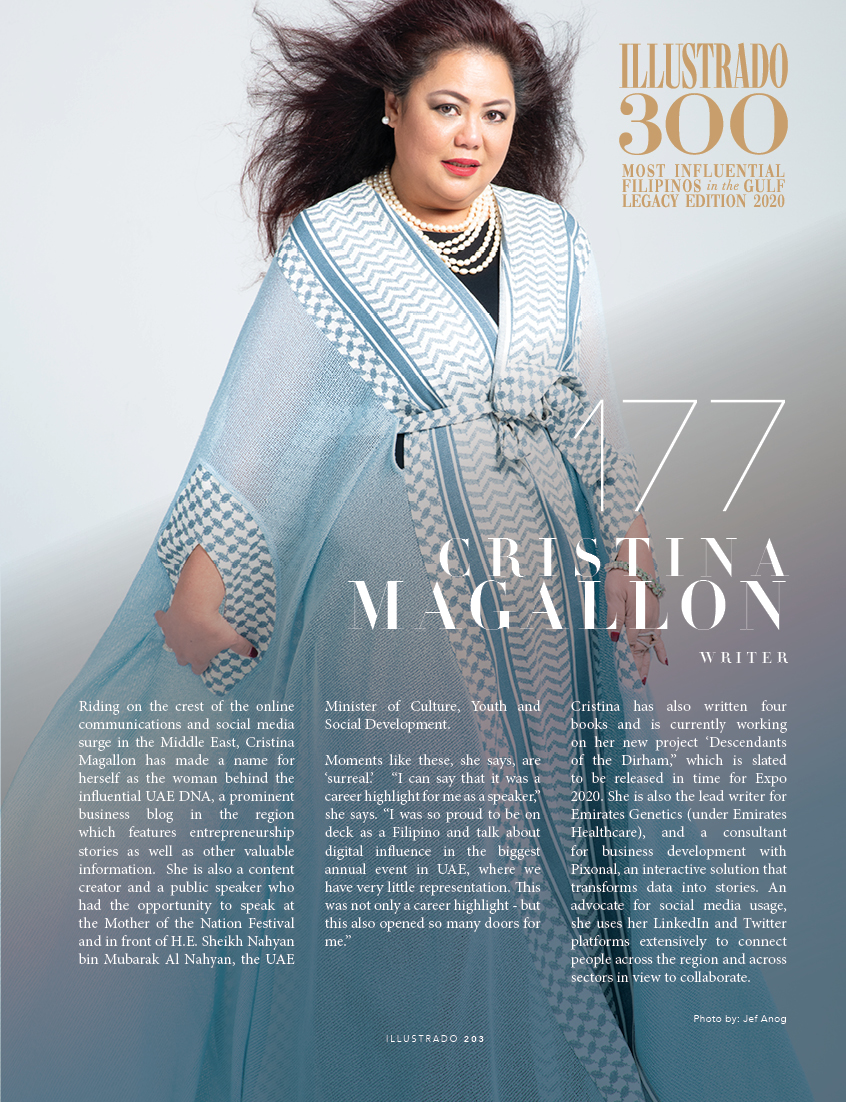 Riding on the crest of the online communications and social media surge in the Middle East, Cristina Magallon has made a name for herself as the woman behind the influential UAE DNA, a prominent business blog in the region which features entrepreneurship stories as well as other valuable information.  She is also a content creator and a public speaker who had the opportunity to speak at the Mother of the Nation Festival and in front of H.E. Sheikh Nahyan bin Mubarak Al Nahyan, the UAE Minister of Culture, Youth and Social Development.
Moments like these, she says, are 'surreal.'   "I can say that it was a career highlight for me as a speaker," she says. "I was so proud to be on deck as a Filipino and talk about digital influence in the biggest annual event in UAE, where we have very little representation. This was not only a career highlight – but this also opened so many doors for me."
Cristina has also written four books and is currently working on her new project 'Descendants of the Dirham," which is slated to be released in time for Expo 2020. She is also the lead writer for Emirates Genetics (under Emirates Healthcare), and a consultant for business development with Pixonal, an interactive solution that transforms data into stories. An advocate for social media usage, she uses her LinkedIn and Twitter platforms extensively to connect people across the region and across sectors in view to collaborate.
Illustrado 300 Most Influential Filipinos in the Gulf is Supported by: Kaya Skin Clinic,  Emirates Airline, and Unilever.
Special Thanks to Michael Cinco, Ezra Couture , Giordano, Darcey Flowers, IKON Solutions, Victors Freight, MPQ Tourism, Asia Gulf Companies –La Carne & Filfood, WOL Water
Get a copy of Illustrado 300 Most Influential Filipinos in the Gulf Legacy Edition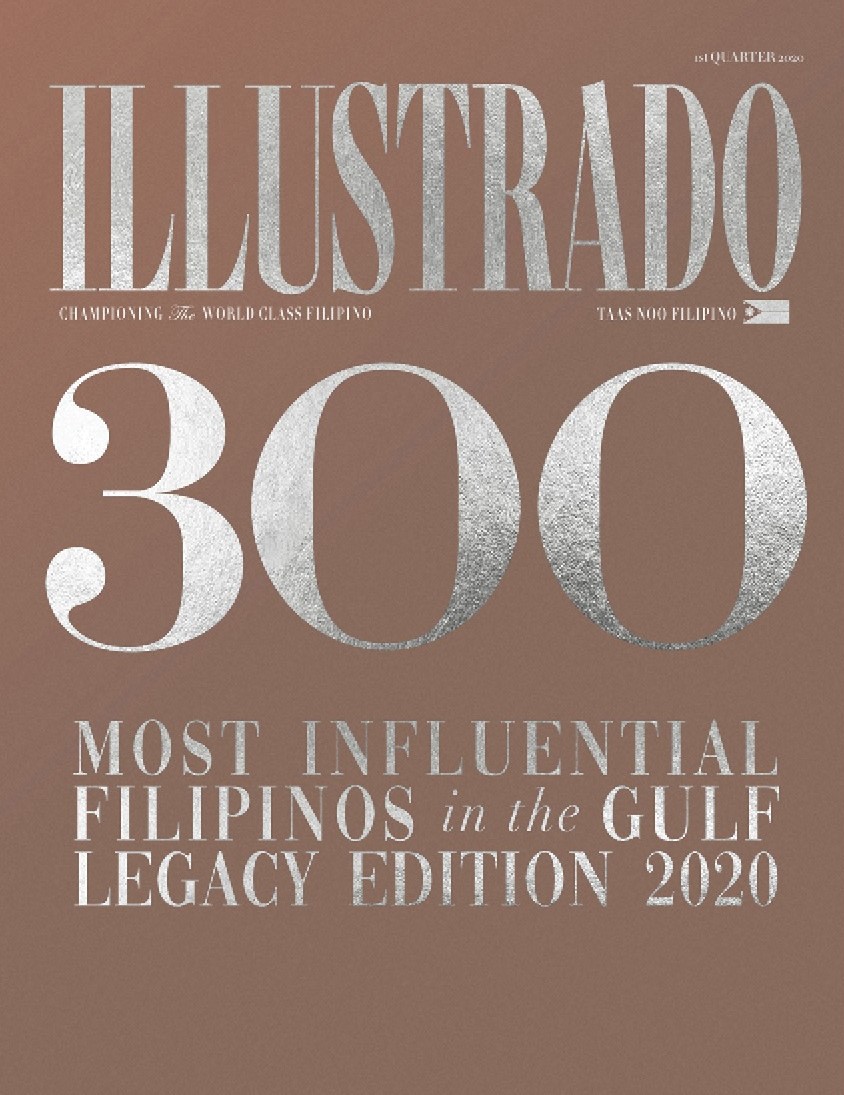 Cristina Magallon
Writer, Publisher
Go-getter Cristina Magallon runs UAE DNA, an authority in chronicling business stories from around the UAE. With a strong online presence on platforms like Linkedin and Twitter, UAE DNA has become an epicenter that purveys valuable information to aspiring entrepreneurs and facilitates cross-cultural idea sharing among its followers across the GCC and beyond.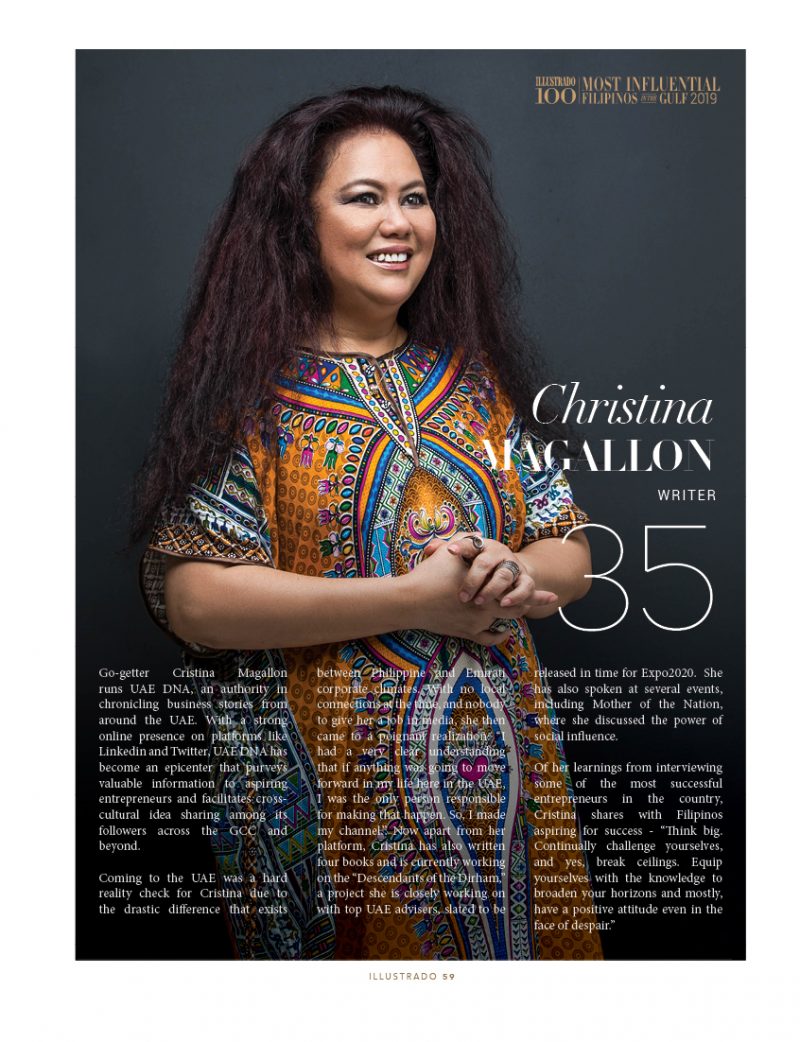 Coming to the UAE was a hard reality check for Cristina due to the drastic difference that exists between Philippine and Emirati corporate climates. With no local connections at the time, and nobody to give her a job in media, she then came to a poignant realization: "I had a very clear understanding that if anything was going to move forward in my life here in the UAE, I was the only person responsible for making that happen. So, I made my channel.". Now apart from her platform, Cristina has also written four books and is currently working on the "Descendants of the Dirham," a project she is closely working on with top UAE advisers, slated to be released in time for Expo2020.  She has also spoken at several events, including Mother of the Nation, where she discussed the power of social influence.
Of her learnings from interviewing some of the most successful entrepreneurs in the country, Cristina shares with Filipinos aspiring for success.
"Think big. Continually challenge yourselves, and yes, break ceilings. Equip yourselves with the knowledge to broaden your horizons and mostly, have a positive attitude even in the face of despair."
……………………….
Special thanks to our sponsors: Emirates Airline, Stars n Bars La Mer, Liali, Instax – Grandstores UAE, Dusit Thani Dubai, Gver – Your Friendly Marketplace for Sharing, Meeting Dancewear , MPQ, CMG, Filbrit, and our partners Rozen Antonio Photography,  Alex Callueng Photography, Jef Anog Photography, and Ethereal Photography.