Trailblazer – Donell Gumiran
Photographer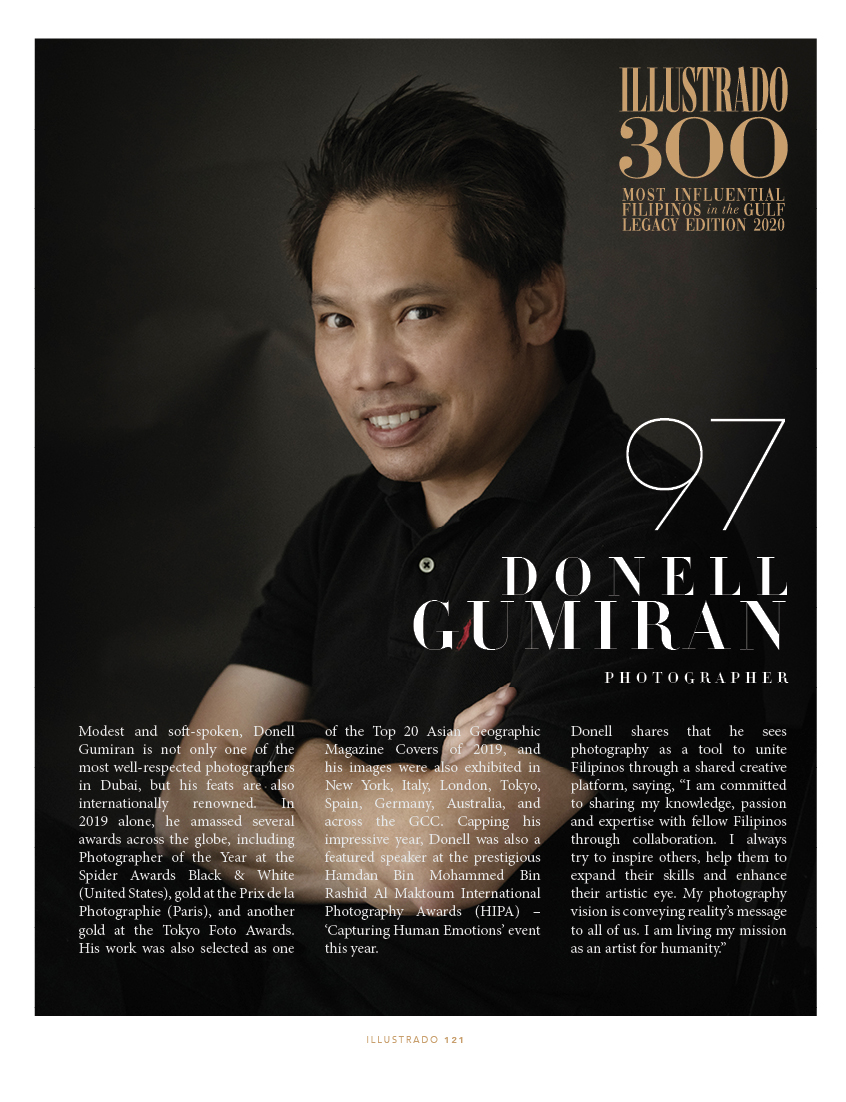 Modest and soft-spoken, Donell Gumiran is not only one of the most well-respected photographers in Dubai, but his feats are also internationally renowned. In 2019 alone, he amassed several awards across the globe, including Photographer of the Year at the Spider Awards Black & White (United States), gold at the Prix de la Photographie (Paris), and another gold at the Tokyo Foto Awards. His work was also selected as one of the Top 20 Asian Geographic Magazine Covers of 2019, and his images were also exhibited in New York, Italy, London, Tokyo, Spain, Germany, Australia, and across the GCC. Capping his impressive year, Donell was also a featured speaker at the prestigious Hamdan Bin Mohammed Bin Rashid Al Maktoum International Photography Awards (HIPA) – 'Capturing Human Emotions' event this year.
Donell shares that he sees photography as a tool to unite Filipinos through a shared creative platform, saying, "I am committed to sharing my knowledge, passion and expertise with fellow Filipinos through collaboration. I always try to inspire others, help them to expand their skills and enhance their artistic eye. My photography vision is conveying reality's message to all of us. I am living my mission as an artist for humanity."
Illustrado 300 Most Influential Filipinos in the Gulf is Supported by: Kaya Skin Clinic,  Emirates Airline, and Unilever.
Special Thanks to Michael Cinco, Ezra Couture , Giordano, Darcey Flowers, IKON Solutions, Victors Freight, MPQ Tourism, Asia Gulf Companies –La Carne & Filfood, WOL Water
Get a copy of Illustrado 300 Most Influential Filipinos in the Gulf Legacy Edition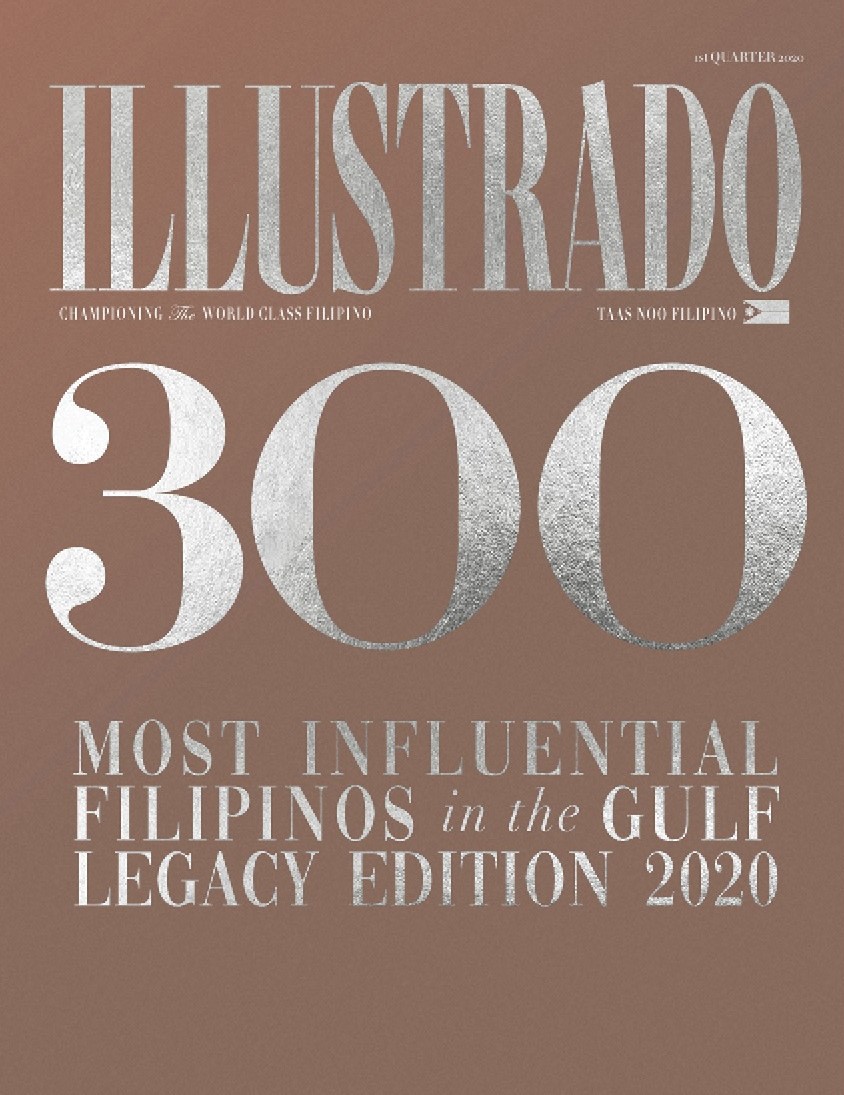 Donell Gumiran
Photographer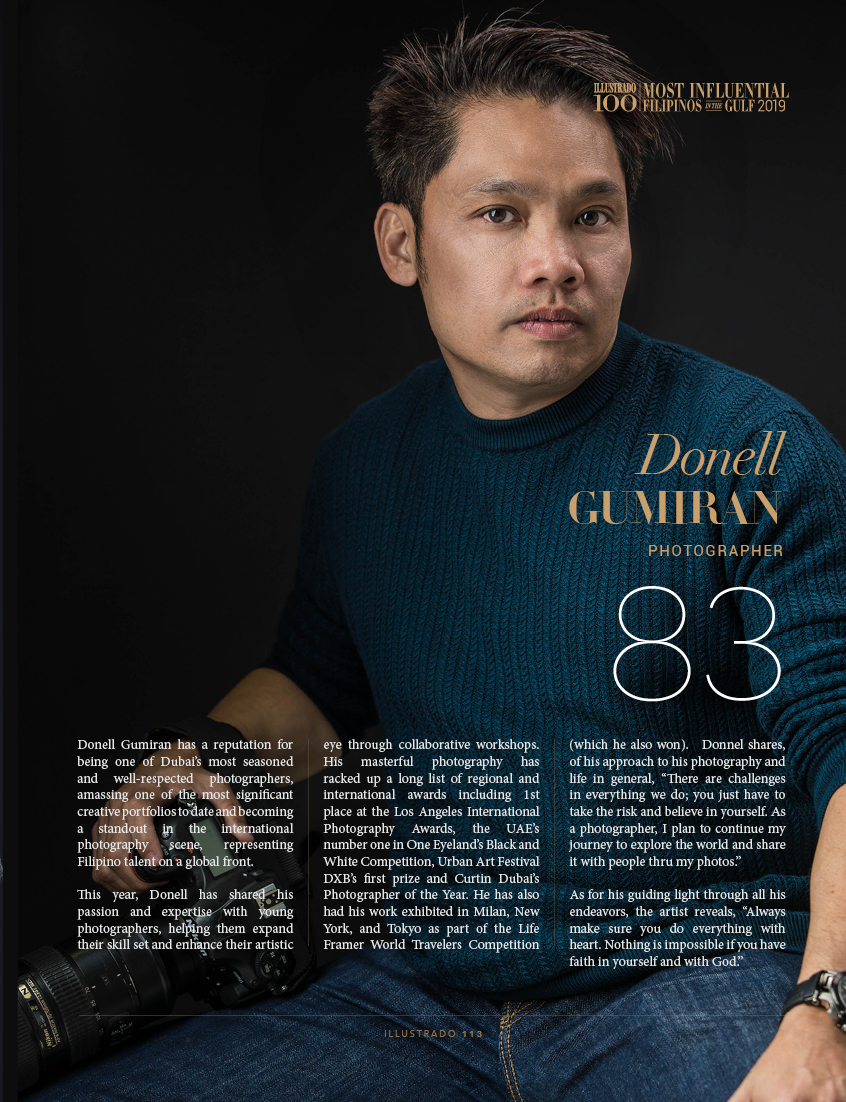 Donell Gumiran has a reputation for being one of Dubai's most seasoned and well-respected photographers, amassing one of the most significant creative portfolios to date and becoming a standout in the international photography scene, representing Filipino talent on a global front.
This year, Donell has shared his passion and expertise with young photographers, helping them expand their skill set and enhance their artistic eye through collaborative workshops. His masterful photography has racked up a long list of regional and international awards including 1st place at the Los Angeles International Photography Awards, the UAE's number one in One Eyeland's Black and White Competition, Urban Art Festival DXB's first prize and Curtin Dubai's Photographer of the Year. He has also had his work exhibited in Milan, New York, and Tokyo as part of the Life Framer World Travelers Competition (which he also won).   Donnel shares, of his approach to his photography and life in general, "There are challenges in everything we do; you just have to take the risk and believe in yourself. As a photographer, I plan to continue my journey to explore the world and share it with people thru my photos."
As for his guiding light through all his endeavors, the artist reveals, "Always make sure you do everything with heart. Nothing is impossible if you have faith in yourself and with God."
……………………….
Special thanks to our sponsors: Emirates Airline, Stars n Bars La Mer, Liali, Instax – Grandstores UAE, Dusit Thani Dubai, Gver – Your Friendly Marketplace for Sharing, Meeting Dancewear , MPQ, CMG, Filbrit, and our partners Rozen Antonio Photography,  Alex Callueng Photography, Jef Anog Photography, and Ethereal Photography.