Thoughtleader – Eduardo Viray
Retail Professional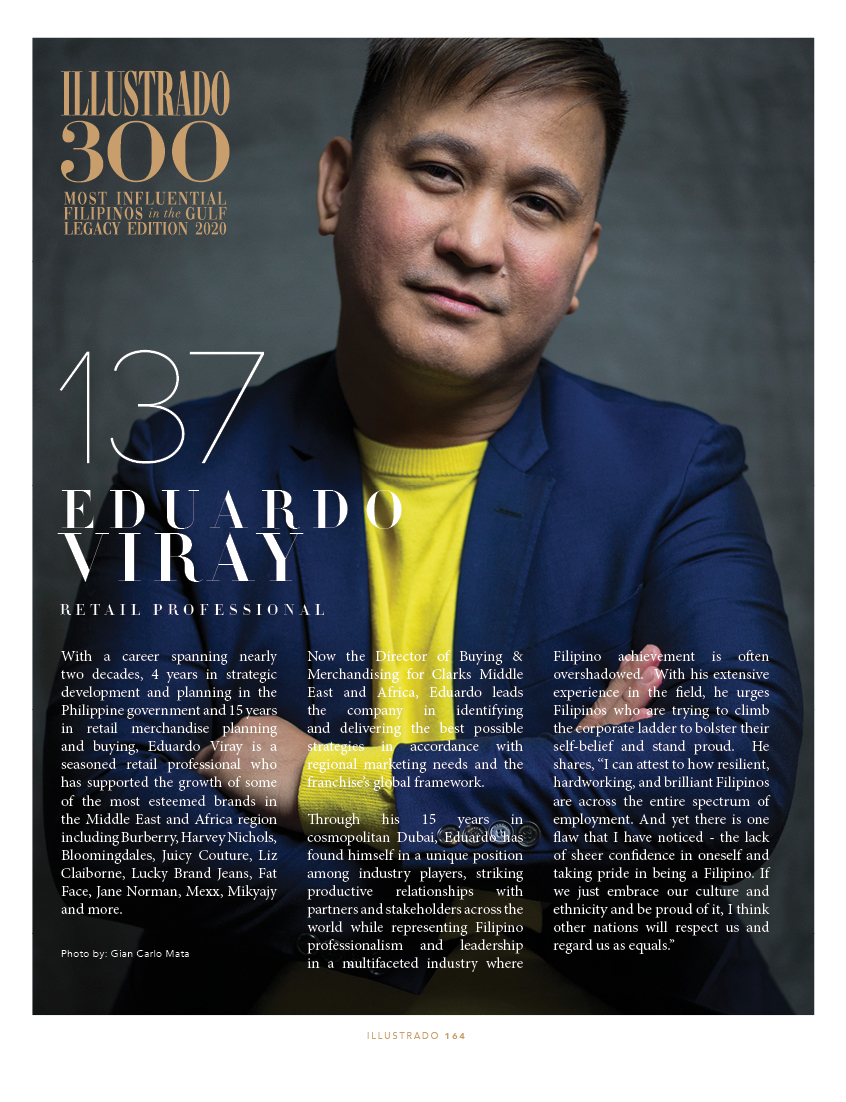 With a career spanning nearly two decades, 4 years in strategic development and planning in the Philippine government and 15 years in retail merchandise planning and buying, Eduardo Viray is a seasoned retail professional who has supported the growth of some of the most esteemed brands in the Middle East and Africa region including Burberry, Harvey Nichols, Bloomingdales, Juicy Couture, Liz Claiborne, Lucky Brand Jeans, Fat Face, Jane Norman, Mexx, Mikyajy and more.
Now the Director of Buying & Merchandising for Clarks Middle East and Africa, Eduardo leads the company in identifying and delivering the best possible strategies in accordance with regional marketing needs and the franchise's global framework.
Through his 15 years in cosmopolitan Dubai, Eduardo has found himself in a unique position among industry players, striking productive relationships with partners and stakeholders across the world while representing Filipino professionalism and leadership in a multifaceted industry where Filipino achievement is often overshadowed.  With his extensive experience in the field, he urges Filipinos who are trying to climb the corporate ladder to bolster their self-belief and stand proud.  He shares, "I can attest to how resilient, hardworking, and brilliant Filipinos are across the entire spectrum of employment. And yet there is one flaw that I have noticed – the lack of sheer confidence in oneself and taking pride in being a Filipino. If we just embrace our culture and ethnicity and be proud of it, I think other nations will respect us and regard us as equals."
Illustrado 300 Most Influential Filipinos in the Gulf is Supported by: Kaya Skin Clinic,  Emirates Airline, and Unilever.
Special Thanks to Michael Cinco, Ezra Couture , Giordano, Darcey Flowers, IKON Solutions, Victors Freight, MPQ Tourism, Asia Gulf Companies –La Carne & Filfood, WOL Water
Get a copy of Illustrado 300 Most Influential Filipinos in the Gulf Legacy Edition