Thoughtleader – Edwin Duria 
Entrepreneur and Community Mentor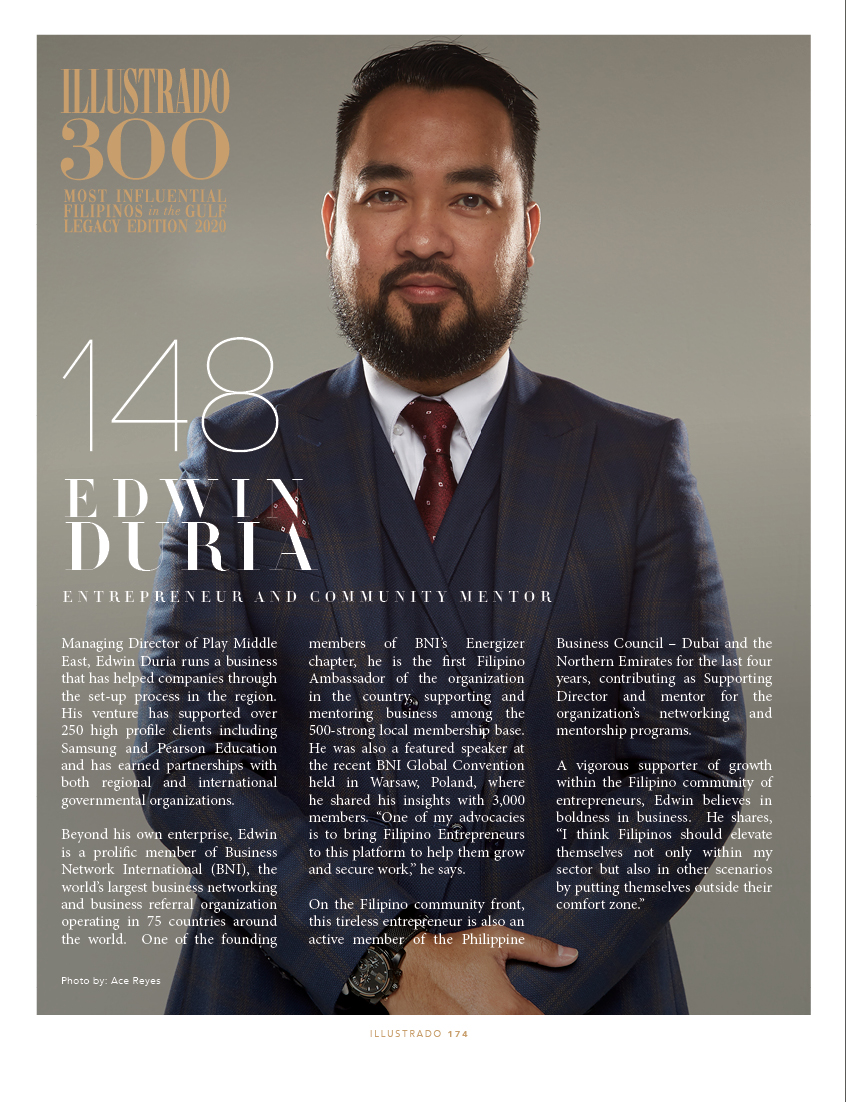 Managing Director of Play Middle East, Edwin Duria runs a business that has helped companies through the set-up process in the region.  His venture has supported over 250 high profile clients including Samsung and Pearson Education and has earned partnerships with both regional and international governmental organizations.
Beyond his own enterprise, Edwin is a prolific member of Business Network International (BNI), the world's largest business networking and business referral organization operating in 75 countries around the world.  One of the founding members of BNI's Energizer chapter, he is the first Filipino Ambassador of the organization in the country, supporting and mentoring business among the 500-strong local membership base.  He was also a featured speaker at the recent BNI Global Convention held in Warsaw, Poland, where he shared his insights with 3,000 members. "One of my advocacies is to bring Filipino Entrepreneurs to this platform to help them grow and secure work," he says.
On the Filipino community front, this tireless entrepreneur is also an active member of the Philippine Business Council – Dubai and the Northern Emirates for the last four years, contributing as Supporting Director and mentor for the organization's networking and mentorship programs.
A vigorous supporter of growth within the Filipino community of entrepreneurs, Edwin believes in boldness in business.  He shares, "I think Filipinos should elevate themselves not only within my sector but also in other scenarios by putting themselves outside their comfort zone."
Illustrado 300 Most Influential Filipinos in the Gulf is Supported by: Kaya Skin Clinic,  Emirates Airline, and Unilever.
Special Thanks to Michael Cinco, Ezra Couture , Giordano, Darcey Flowers, IKON Solutions, Victors Freight, MPQ Tourism, Asia Gulf Companies –La Carne & Filfood, WOL Water
Get a copy of Illustrado 300 Most Influential Filipinos in the Gulf Legacy Edition