Thoughtleader – Geny Baluyot
Marketing professional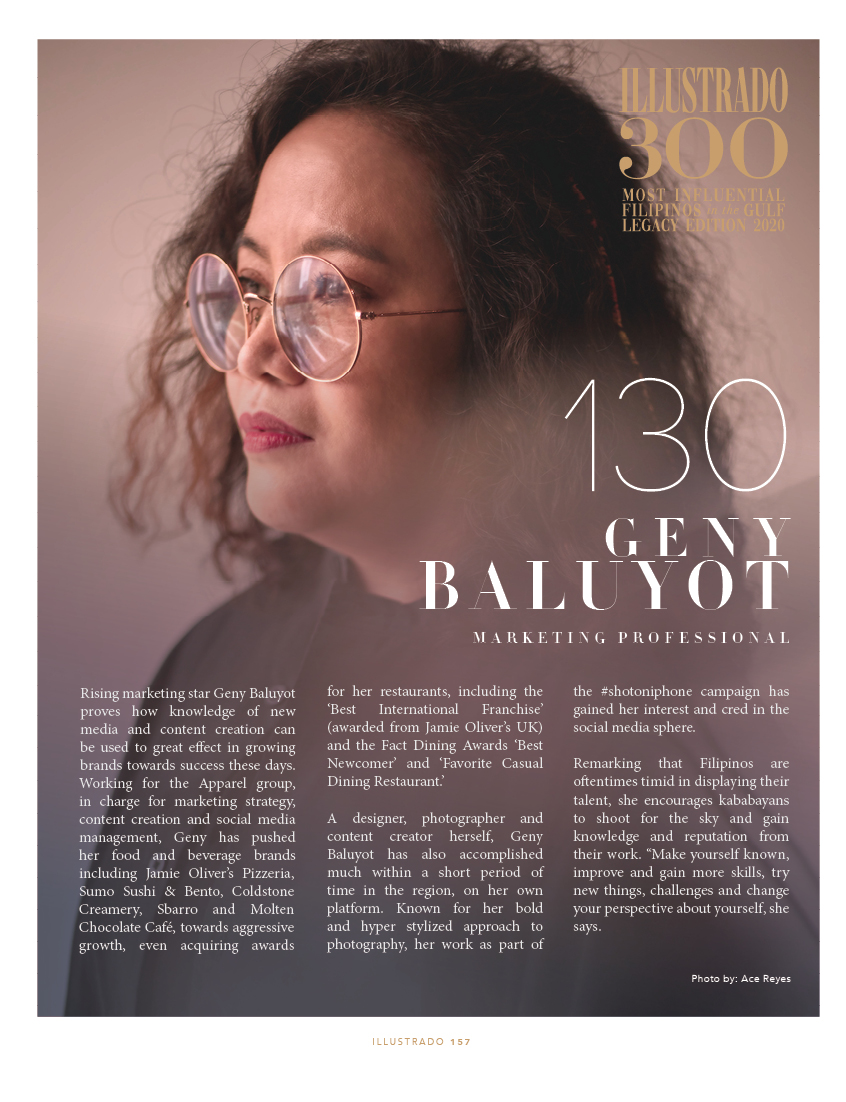 Rising marketing star Geny Baluyot proves how knowledge of new media and content creation can be used to great effect in growing brands towards success these days.  Working for the Apparel group, in charge for marketing strategy, content creation and social media management, Geny has pushed her food and beverage brands including Jamie Oliver's Pizzeria, Sumo Sushi & Bento, Coldstone Creamery, Sbarro and Molten Chocolate Café, towards aggressive growth, even acquiring awards for her restaurants, including the 'Best International Franchise' (awarded from Jamie Oliver's UK) and the Fact Dining Awards 'Best Newcomer' and 'Favorite Casual Dining Restaurant.'
A designer, photographer and content creator herself, Geny Baluyot has also accomplished much within a short period of time in the region, on her own platform. Known for her bold and hyper stylized approach to photography, her work as part of the #shotoniphone campaign has gained her interest and cred in the social media sphere.
Remarking that Filipinos are oftentimes timid in displaying their talent, she encourages kababayans to shoot for the sky and gain knowledge and reputation from their work. "Make yourself known, improve and gain more skills, try new things, challenges and change your perspective about yourself, she says.
Illustrado 300 Most Influential Filipinos in the Gulf is Supported by: Kaya Skin Clinic,  Emirates Airline, and Unilever.
Special Thanks to Michael Cinco, Ezra Couture , Giordano, Darcey Flowers, IKON Solutions, Victors Freight, MPQ Tourism, Asia Gulf Companies –La Carne & Filfood, WOL Water
Get a copy of Illustrado 300 Most Influential Filipinos in the Gulf Legacy Edition