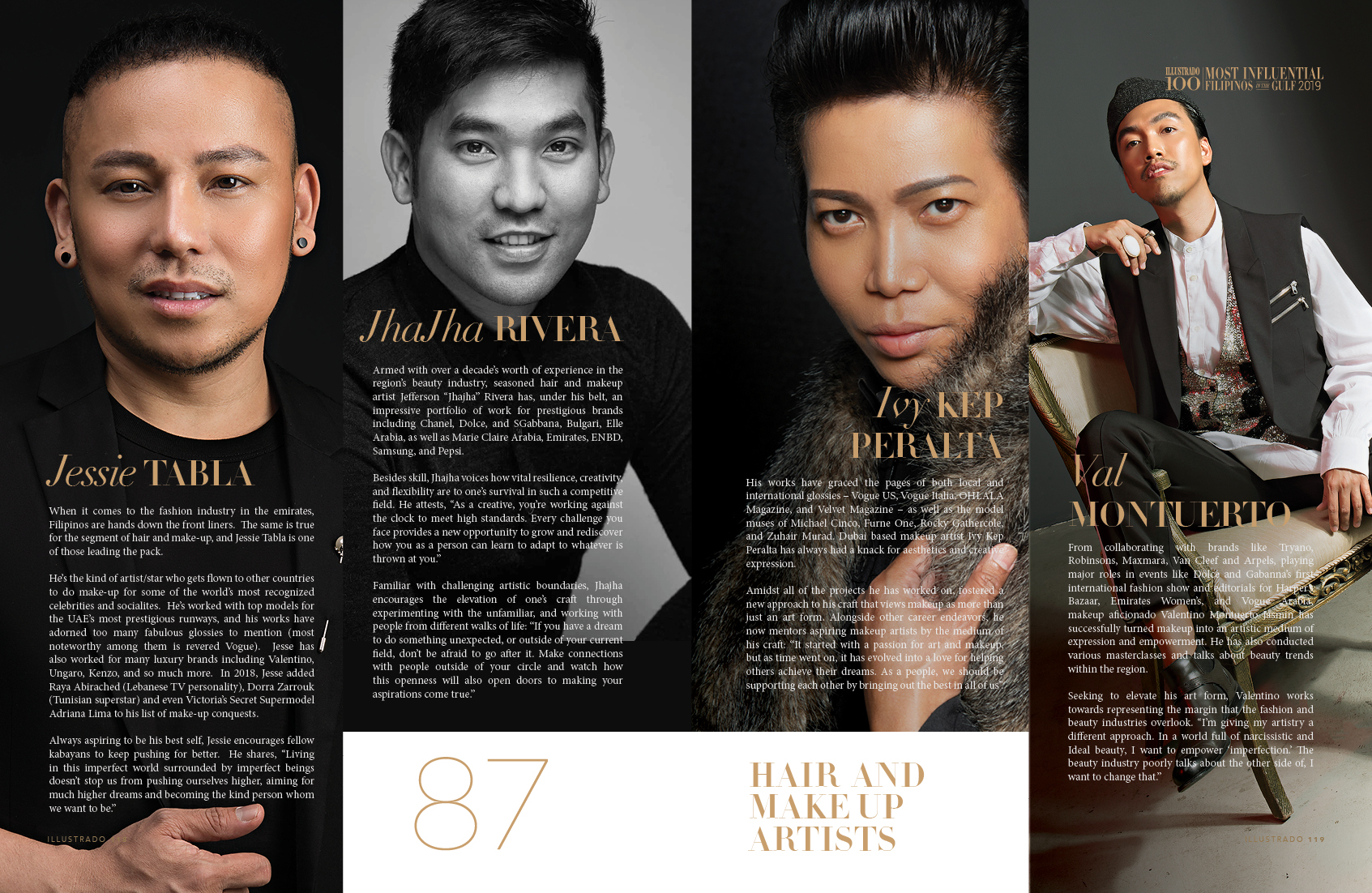 Jessie Tabla
When it comes to the fashion industry in the emirates, Filipinos are hands down the front liners.  The same is true for the segment of hair and make-up, and Jessie Tabla is one of those leading the pack.
He's the kind of artist/star who gets flown to other countries to do make-up for some of the world's most recognized celebrities and socialites.  He's worked with top models for the UAE's most prestigious runways, and his works have adorned too many fabulous glossies to mention (most noteworthy among them is revered Vogue).  Jesse has also worked for many luxury brands including Valentino, Ungaro, Kenzo, and so much more.  In 2018, Jesse added Raya Abirached (Lebanese TV personality), Dorra Zarrouk (Tunisian superstar) and even Victoria's Secret Supermodel Adriana Lima to his list of make-up conquests.
Always aspiring to be his best self, Jessie encourages fellow kabayans to keep pushing for better.  He shares, "Living in this imperfect world surrounded by imperfect beings doesn't stop us from pushing ourselves higher, aiming for much higher dreams and becoming the kind person whom we want to be."
Jefferson "Jhajha" Rivera  
Armed with over a decade's worth of experience in the region's beauty industry, seasoned hair and makeup artist Jefferson "Jhajha" Rivera has, under his belt, an impressive portfolio of work for prestigious brands including Chanel, Dolce, and Gabbana, Bulgari, Elle Arabia, as well as Marie Claire Arabia, Emirates, ENBD, Samsung, and Pepsi.
Besides skill, Jhajha voices how vital resilience, creativity, and flexibility are to one's survival in such a competitive field. He attests, "As a creative, you're working against the clock to meet high standards. Every challenge you face provides a new opportunity to grow and rediscover how you as a person can learn to adapt to whatever is thrown at you."
Familiar with challenging artistic boundaries, Jhajha encourages the elevation of one's craft through experimenting with the unfamiliar, and working with people from different walks of life: "If you have a dream to do something unexpected, or outside of your current field, don't be afraid to go after it. Make connections with people outside of your circle and watch how this openness will also open doors to making your aspirations come true."
Ivy Kep Peralta 
His works have graced the pages of both local and international glossies – Vogue US, Vogue Italia, OHLALA Magazine, and Velvet Magazine – as well as the model muses of Michael Cinco, Furne One, Rocky Gathercole, and Zuhair Murad. Dubai based makeup artist Ivy Kep Peralta has always had a knack for aesthetics and creative expression.
Amidst all of the projects he has worked on, fostered a new approach to his craft that views makeup as more than just an art form. Alongside other career endeavors, he now mentors aspiring makeup artists: "It started with a passion for art and makeup, but as time went on, it has evolved into a love for helping others achieve their dreams. As a people, we should be supporting each other by bringing out the best in all of us".
Valentino Montuerto Jasmin
From collaborating with brands like Tryano, Robinsons, Maxmara, Van Cleef and Arpels, playing significant roles in events like Dolce and Gabanna's first international fashion show and editorials for Harper's Bazaar, Emirates Women's, and Vogue Arabia, makeup aficionado Valentino Montuerto Jasmin has successfully turned makeup into an artistic medium of expression and empowerment. He has also conducted various masterclasses and talks about beauty trends within the region.
Seeking to elevate his art form, Valentino works towards representing the margin that the fashion and beauty industries overlook. "I'm giving my artistry a different approach. In a world full of narcissistic and Ideal beauty, I want to empower 'imperfection.' The beauty industry poorly talks about the other side of, I want to change that."
……………………….
Special thanks to our sponsors: Emirates Airline, Stars n Bars La Mer, Liali, Instax – Grandstores UAE, Dusit Thani Dubai, Gver – Your Friendly Marketplace for Sharing, Meeting Dancewear , MPQ, CMG, Filbrit, and our partners Rozen Antonio Photography,  Alex Callueng Photography, Jef Anog Photography, and Ethereal Photography.