Iman & Luchie Suguitan
Social Entrepreneurs
Known as the 'chocolate sisters,' Iman and Luchie Suguitan are social entrepreneurs who celebrate the art of cacao in its truest form. By supporting local farmers in Agusan Del Sur through their "OFW para sa Magsasaka" initiative founded in 2016, they have brought Filipino chocolate to the Emirates, while providing livelihood opportunities in the Philippines.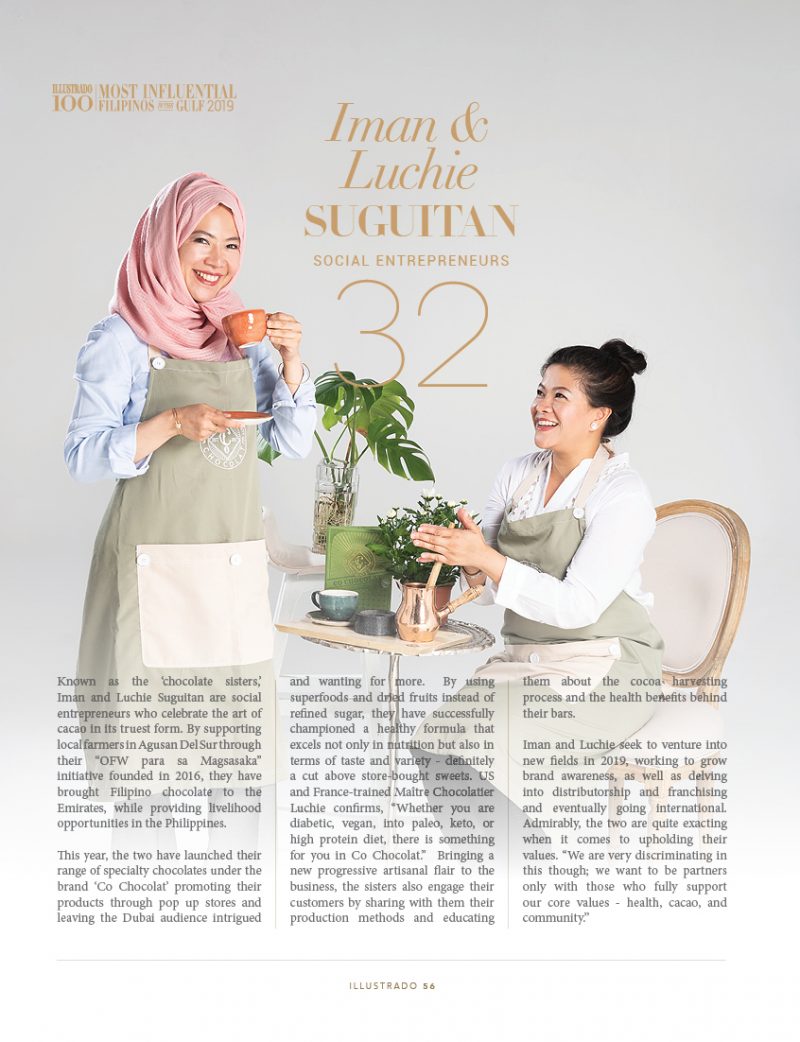 This year, the two have launched their range of specialty chocolates under the brand 'Co Chocolat' promoting their products through pop up stores and leaving the Dubai audience intrigued and wanting for more.  By using superfoods and dried fruits instead of refined sugar, they have successfully championed a healthy formula that excels not only in nutrition but also in terms of taste and variety – definitely a cut above store-bought sweets. US and France-trained Maître Chocolatier Luchie confirms, "Whether you are diabetic, vegan, into paleo, keto, or high protein diet, there is something for you in Co Chocolat."  Bringing a new progressive artisanal flair to the business, the sisters also engage their customers by sharing with them their production methods and educating them about the cocoa harvesting process and the health benefits behind their bars.
Iman and Luchie seek to venture into new fields in 2019, working to grow brand awareness, as well as delving into distributorship and franchising and eventually going international. Admirably, the two are quite exacting when it comes to upholding their values. "We are very discriminating in this though; we want to be partners only with those who fully support our core values – health, cacao, and community."
……………………….
Special thanks to our sponsors: Emirates Airline, Stars n Bars La Mer, Liali, Instax – Grandstores UAE, Dusit Thani Dubai, Gver – Your Friendly Marketplace for Sharing, Meeting Dancewear , MPQ, CMG, Filbrit, and our partners Rozen Antonio Photography,  Alex Callueng Photography, Jef Anog Photography, and Ethereal Photography.