Chef Jade Saducas
Culinary Champion
Make no mistake, for this petite chef is a giant in her field. Pastry Chef and Cake Designer World Champion Jade Saducas stands out distinguished and proud among many ultra-competitive professionals within the UAE's burgeoning culinary sphere, a field that, like everywhere else in the world, is heavily dominated by men.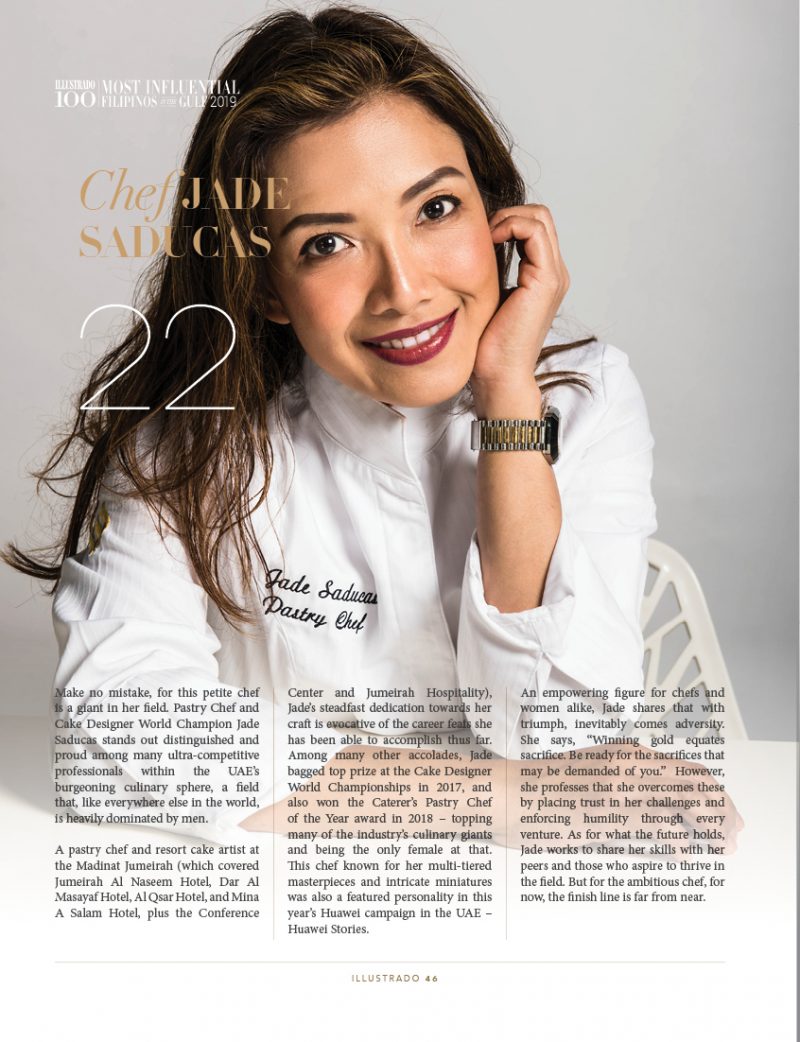 A pastry chef and resort cake artist at the Madinat Jumeirah (which covered Jumeirah Al Naseem Hotel, Dar Al Masayaf Hotel, Al Qsar Hotel, and Mina A Salam Hotel, plus the Conference Center and Jumeirah Hospitality), Jade's steadfast dedication towards her craft is evocative of the career feats she has been able to accomplish thus far. Among many other accolades, Jade bagged top prize at the Cake Designer World Championships in 2017, and also won the Caterer's Pastry Chef of the Year award in 2018 – topping many of the industry's culinary giants and being the only female at that. This chef known for her multi-tiered masterpieces and intricate miniatures was also a featured personality in this year's Huawei campaign in the UAE – Huawei Stories.
An empowering figure for chefs and women alike, Jade shares that with triumph, inevitably comes adversity. She says, "Winning gold equates sacrifice. Be ready for the sacrifices that may be demanded of you."  However, she professes that she overcomes these by placing trust in her challenges and enforcing humility through every venture.
As for what the future holds, Jade works to share her skills with her peers and those who aspire to thrive in the field. But for the ambitious chef, for now, the finish line is far from near.
……………………….
Special thanks to our sponsors: Emirates Airline, Stars n Bars La Mer, Liali, Instax – Grandstores UAE, Dusit Thani Dubai, Gver – Your Friendly Marketplace for Sharing, Meeting Dancewear , MPQ, CMG, Filbrit, and our partners Rozen Antonio Photography,  Alex Callueng Photography, Jef Anog Photography, and Ethereal Photography.