Tastemaker – Jhoe Lina 
Fashion Designer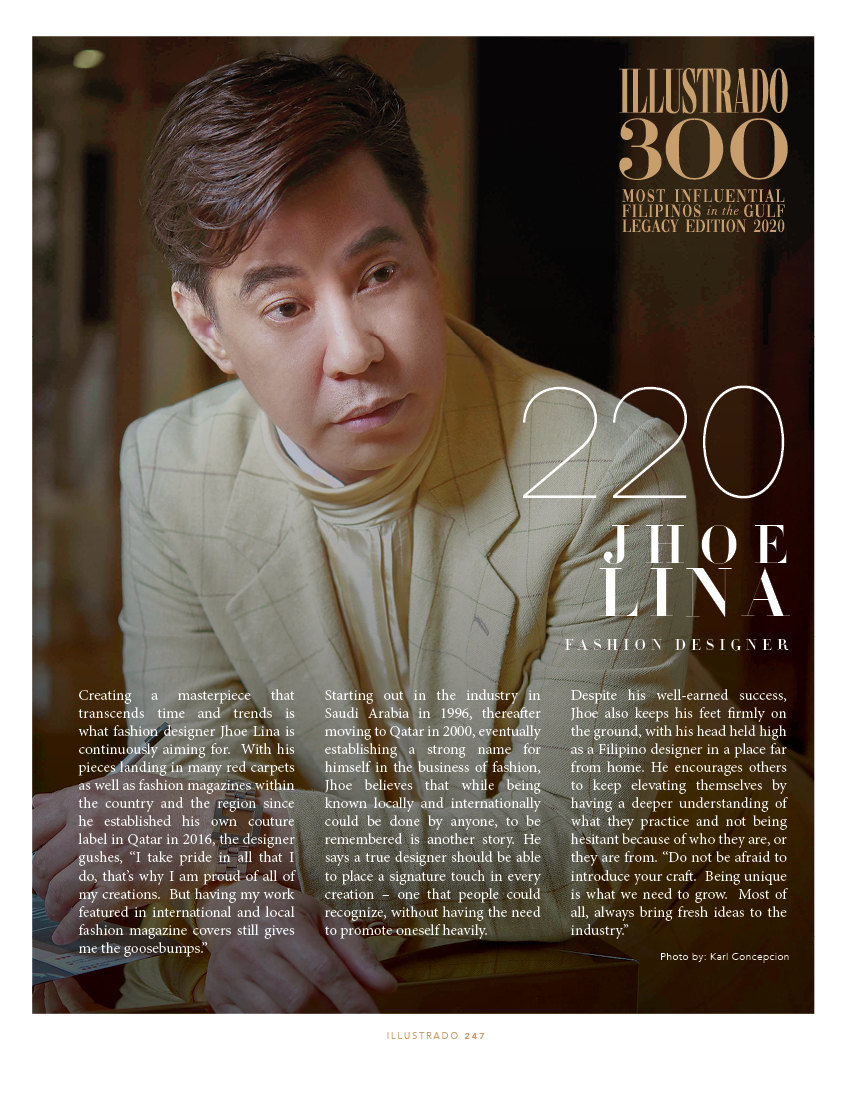 Creating a masterpiece that transcends time and trends is what fashion designer Jhoe Lina is continuously aiming for.  With his pieces landing in many red carpets as well as fashion magazines within the country and the region since he established his own couture label in Qatar in 2016, the designer gushes, "I take pride in all that I do, that's why I am proud of all of my creations.  But having my work featured in international and local fashion magazine covers still gives me the goosebumps."
Starting out in the industry in Saudi Arabia in 1996, thereafter moving to Qatar in 2000, eventually establishing a strong name for himself in the business of fashion, Jhoe believes that while being known locally and internationally could be done by anyone, to be remembered is another story. He says a true designer should be able to place a signature touch in every creation – one that people could recognize, without having the need to promote oneself heavily.
Despite his well-earned success, Jhoe also keeps his feet firmly on the ground, with his head held high as a Filipino designer in a place far from home. He encourages others to keep elevating themselves by having a deeper understanding of what they practice and not being hesitant because of who they are, or they are from. "Do not be afraid to introduce your craft.  Being unique is what we need to grow.  Most of all, always bring fresh ideas to the industry."
Illustrado 300 Most Influential Filipinos in the Gulf is Supported by: Kaya Skin Clinic,  Emirates Airline, and Unilever.
Special Thanks to Michael Cinco, Ezra Couture , Giordano, Darcey Flowers, IKON Solutions, Victors Freight, MPQ Tourism, Asia Gulf Companies –La Carne & Filfood, WOL Water
Get a copy of Illustrado 300 Most Influential Filipinos in the Gulf Legacy Edition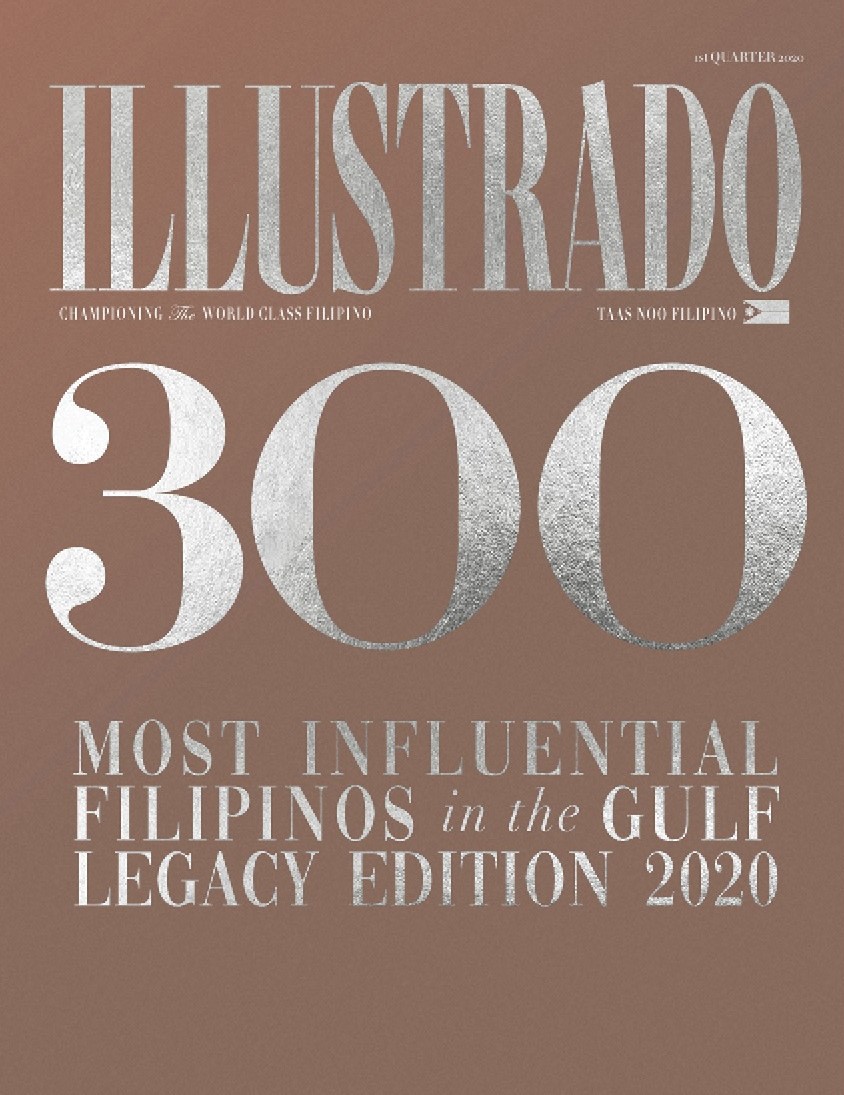 Jhoe Lina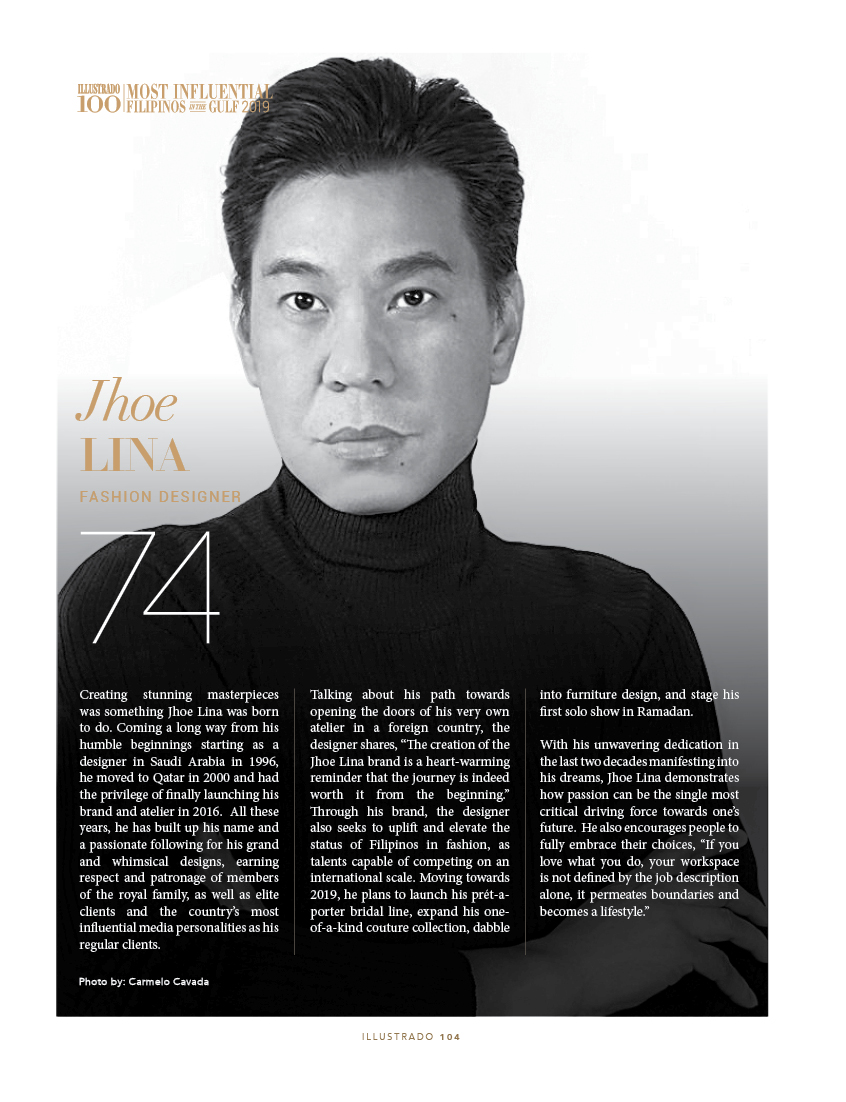 Creating stunning masterpieces was something Jhoe Lina was born to do. Coming a long way from his humble beginnings starting as a designer in Saudi Arabia in 1996, he moved to Qatar in 2000 and had the privilege of finally launching his brand and atelier in 2016.  All these years, he has built up his name and a passionate following for his grand and whimsical designs, earning respect and patronage of members of the royal family, as well as elite clients and the country's most influential media personalities as his regular clients.
Talking about his path towards opening the doors of his very own atelier in a foreign country, the designer shares, "The creation of the Jhoe Lina brand is a heart-warming reminder that the journey is indeed worth it from the beginning." Through his brand, the designer also seeks to uplift and elevate the status of Filipinos in fashion, as talents capable of competing on an international scale. Moving towards 2019, he plans to launch his prét-a-porter bridal line, expand his one-of-a-kind couture collection, dabble into furniture design, and stage his first solo show in Ramadan.
With his unwavering dedication in the last two decades manifesting into his dreams, Jhoe Lina demonstrates how passion can be the single most critical driving force towards one's future.  He also encourages people to fully embrace their choices, "If you love what you do, your workspace is not defined by the job description alone, it permeates boundaries and becomes a lifestyle." 
……………………….
Special thanks to our sponsors: Emirates Airline, Stars n Bars La Mer, Liali, Instax – Grandstores UAE, Dusit Thani Dubai, Gver – Your Friendly Marketplace for Sharing, Meeting Dancewear , MPQ, CMG, Filbrit, and our partners Rozen Antonio Photography,  Alex Callueng Photography, Jef Anog Photography, and Ethereal Photography.