Joana Bacalo
Clean Water Crusader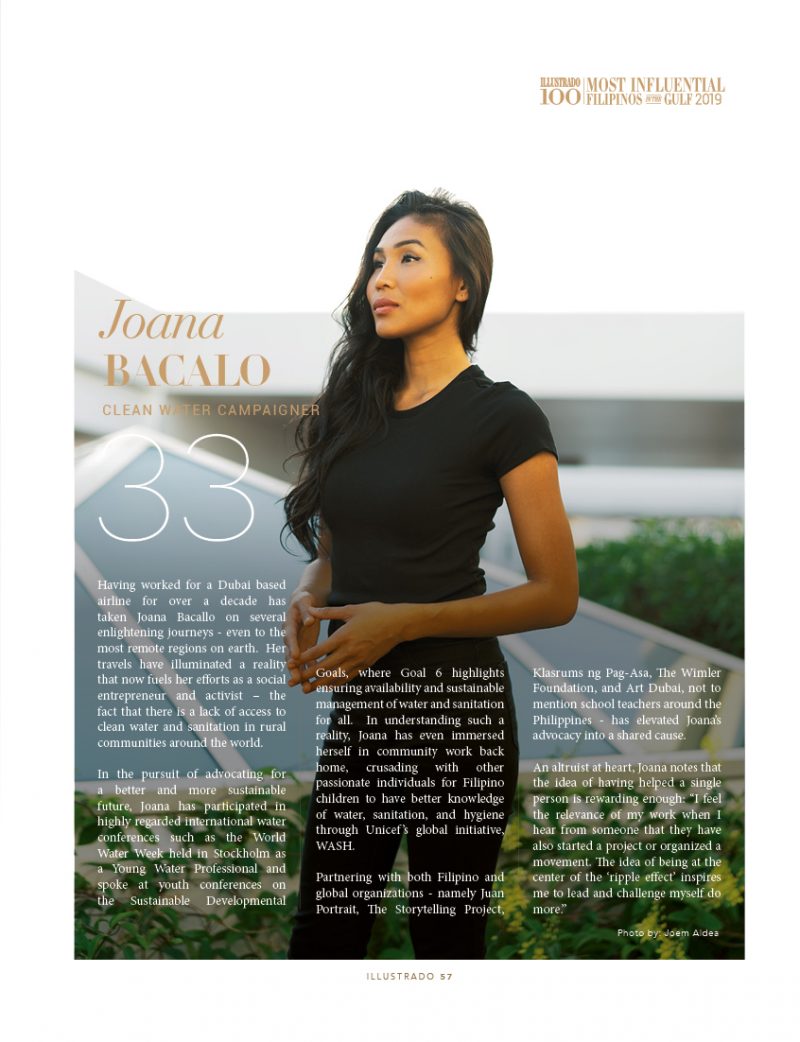 Having worked for a Dubai based airline for over a decade has taken Joana Bacallo on several enlightening journeys – even to the most remote regions on earth.  Her travels have illuminated a reality that now fuels her efforts as a social entrepreneur and activist – the fact that there is a lack of access to clean water and sanitation in rural communities around the world.
In the pursuit of advocating for a better and more sustainable future, Joana has participated in highly regarded international water conferences such as the World Water Week held in Stockholm as a Young Water Professional and spoke at youth conferences on the Sustainable Developmental Goals, where Goal 6 highlights ensuring availability and sustainable management of water and sanitation for all.  In understanding such a reality, Joana has even immersed herself in community work back home, crusading with other passionate individuals for Filipino children to have better knowledge of water, sanitation, and hygiene through Unicef's global initiative, WASH.
Partnering with both Filipino and global organizations – namely Juan Portrait, The Storytelling Project, Klasrums ng Pag-Asa, The Wimler Foundation, and Art Dubai, not to mention school teachers around the Philippines – has elevated Joana's advocacy into a shared cause.
An altruist at heart, Joana notes that the idea of having helped a single person is rewarding enough:
"I feel the relevance of my work when I hear from someone that they have also started a project or organized a movement. The idea of being at the center of the 'ripple effect' inspires me to lead and challenge myself do more."
……………………….
Special thanks to our sponsors: Emirates Airline, Stars n Bars La Mer, Liali, Instax – Grandstores UAE, Dusit Thani Dubai, Gver – Your Friendly Marketplace for Sharing, Meeting Dancewear , MPQ, CMG, Filbrit, and our partners Rozen Antonio Photography,  Alex Callueng Photography, Jef Anog Photography, and Ethereal Photography.