Jo Anthony Silva Masucol a.k.a Joe Dark
Fashion Personality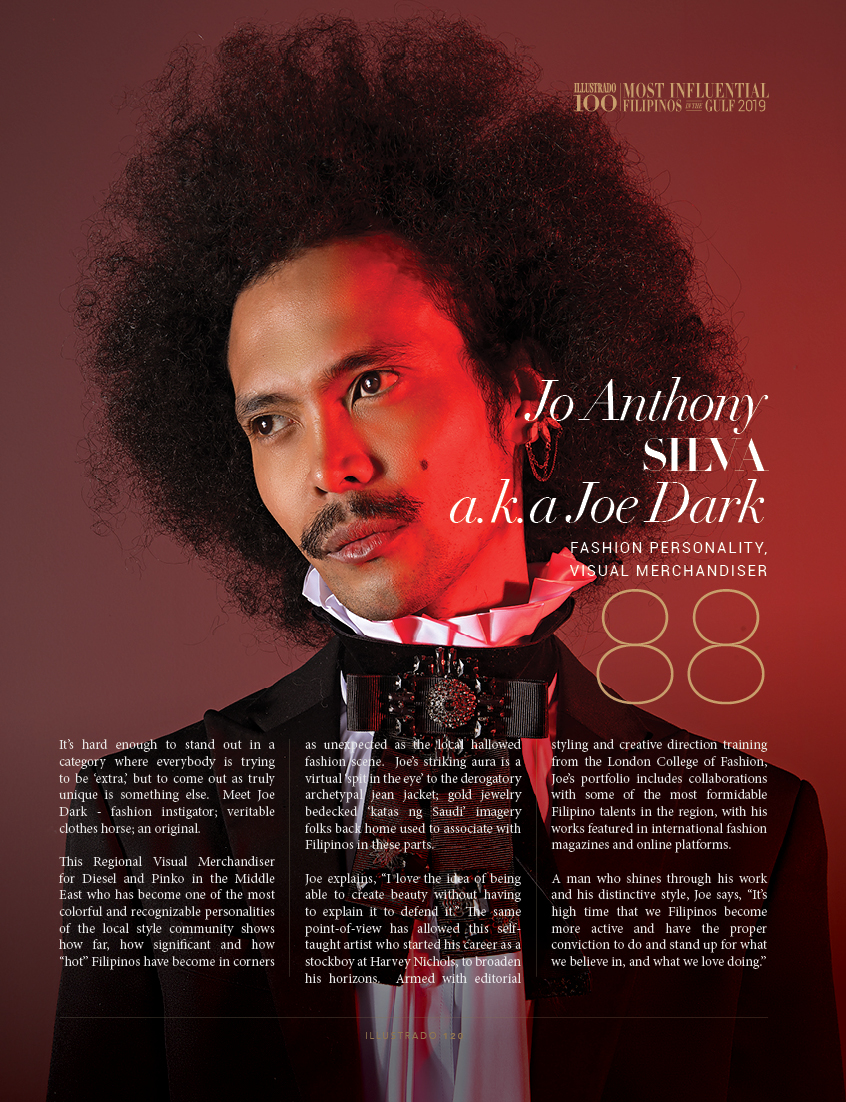 It's hard enough to stand out in a category where everybody is trying to be 'extra,' but to come out as truly unique is something else.  Meet Joe Dark – fashion instigator; veritable clothes horse; an original.
This Regional Visual Merchandiser for Diesel and Pinko in the Middle East who has become one of the most colorful and recognizable personalities of the local style community shows how far, how significant and how "hot" Filipinos have become in corners as unexpected as the local hallowed fashion scene.  Joe's striking aura is a virtual 'spit in the eye' to the derogatory archetypal jean jacket; gold jewelry bedecked 'katas ng Saudi' imagery folks back home used to associate with Filipinos in these parts.
Joe explains, "I love the idea of being able to create beauty without having to explain it to defend it." The same point-of-view has allowed this self-taught artist who started his career as a stockboy at Harvey Nichols, to broaden his horizons.  Armed with editorial styling and creative direction training from the London College of Fashion, Joe's portfolio includes collaborations with some of the most formidable Filipino talents in the region, with his works featured in international fashion magazines and online platforms.
A man who shines through his work and his distinctive style, Joe says, "It's high time that we Filipinos become more active and have the proper conviction to do and stand up for what we believe in, and what we love doing."
……………………….
Special thanks to our sponsors: Emirates Airline, Stars n Bars La Mer, Liali, Instax – Grandstores UAE, Dusit Thani Dubai, Gver – Your Friendly Marketplace for Sharing, Meeting Dancewear , MPQ, CMG, Filbrit, and our partners Rozen Antonio Photography,  Alex Callueng Photography, Jef Anog Photography, and Ethereal Photography.