Tastemaker – Jo Anthony Silva a.k.a Joe Dark
Stylist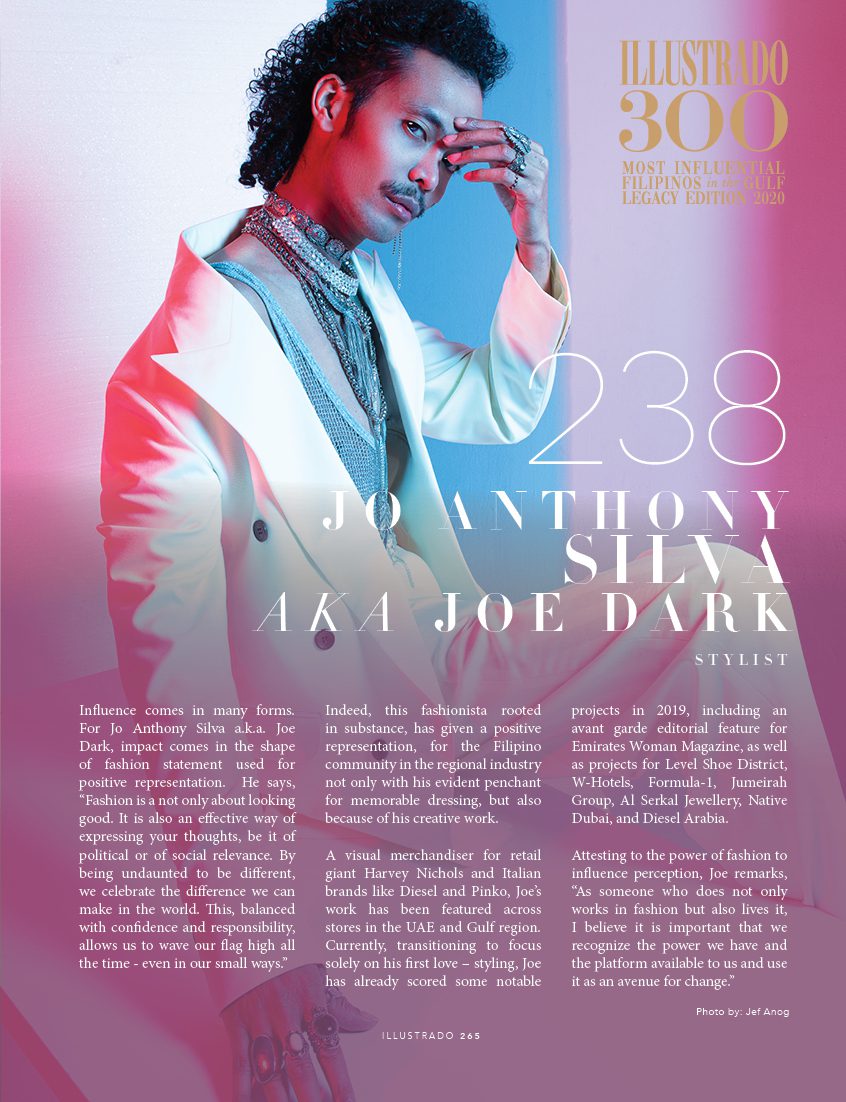 Influence comes in many forms.  For Jo Anthony Silva a.k.a. Joe Dark, impact comes in the shape of fashion statement used for positive representation.  He says, "Fashion is a not only about looking good. It is also an effective way of expressing your thoughts, be it of political or of social relevance. By being undaunted to be different, we celebrate the difference we can make in the world. This, balanced with confidence and responsibility, allows us to wave our flag high all the time – even in our small ways."
Indeed, this fashionista rooted in substance, has given a positive representation, for the Filipino community in the regional industry not only with his evident penchant for memorable dressing, but also because of his creative work.
A visual merchandiser for retail giant Harvey Nichols and Italian brands like Diesel and Pinko, Joe's work has been featured across stores in the UAE and Gulf region.  Currently, transitioning to focus solely on his first love – styling, Joe has already scored some notable projects in 2019, including an avant garde editorial feature for Emirates Woman Magazine, as well as projects for Level Shoe District, W-Hotels, Formula-1, Jumeirah Group, Al Serkal Jewellery, Native Dubai, and Diesel Arabia.
Attesting to the power of fashion to influence perception, Joe remarks, "As someone who does not only works in fashion but also lives it, I believe it is important that we recognize the power we have and the platform available to us and use it as an avenue for change."
Illustrado 300 Most Influential Filipinos in the Gulf is Supported by: Kaya Skin Clinic,  Emirates Airline, and Unilever.
Special Thanks to Michael Cinco, Ezra Couture , Giordano, Darcey Flowers, IKON Solutions, Victors Freight, MPQ Tourism, Asia Gulf Companies –La Carne & Filfood, WOL Water
Get a copy of Illustrado 300 Most Influential Filipinos in the Gulf Legacy Edition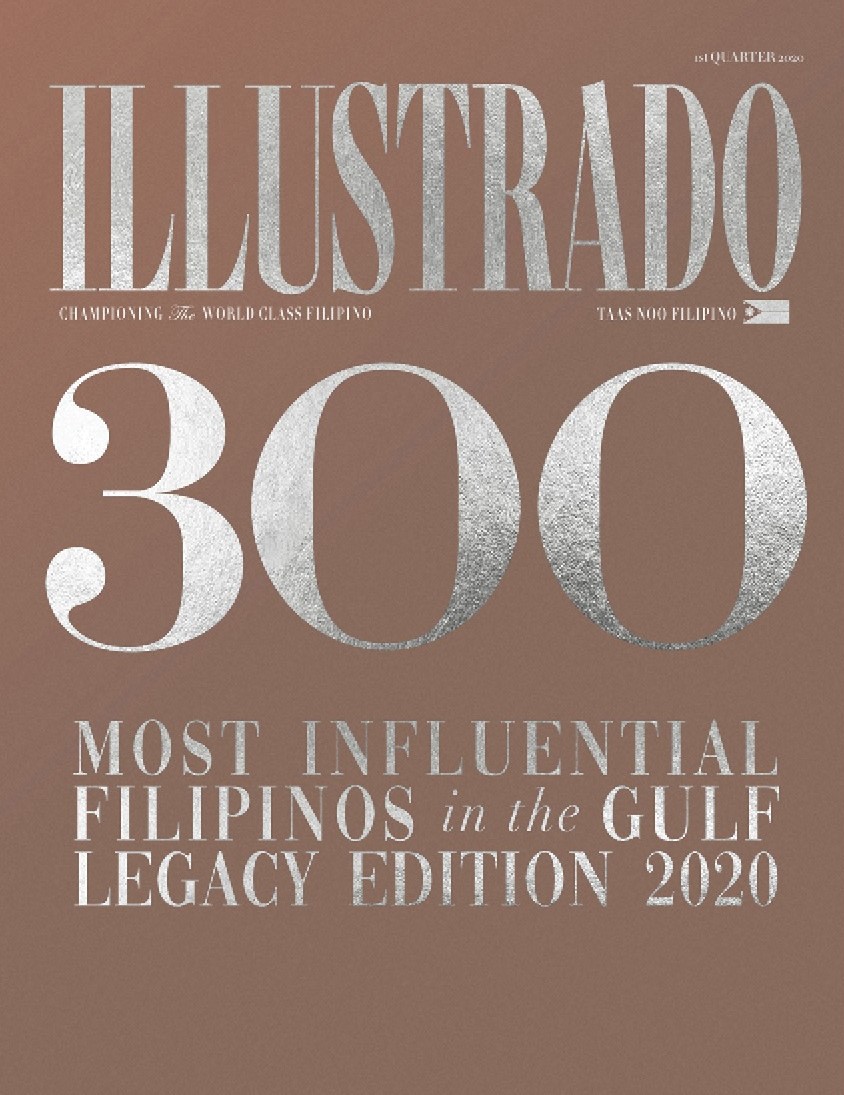 Jo Anthony Silva Masucol a.k.a Joe Dark
Fashion Personality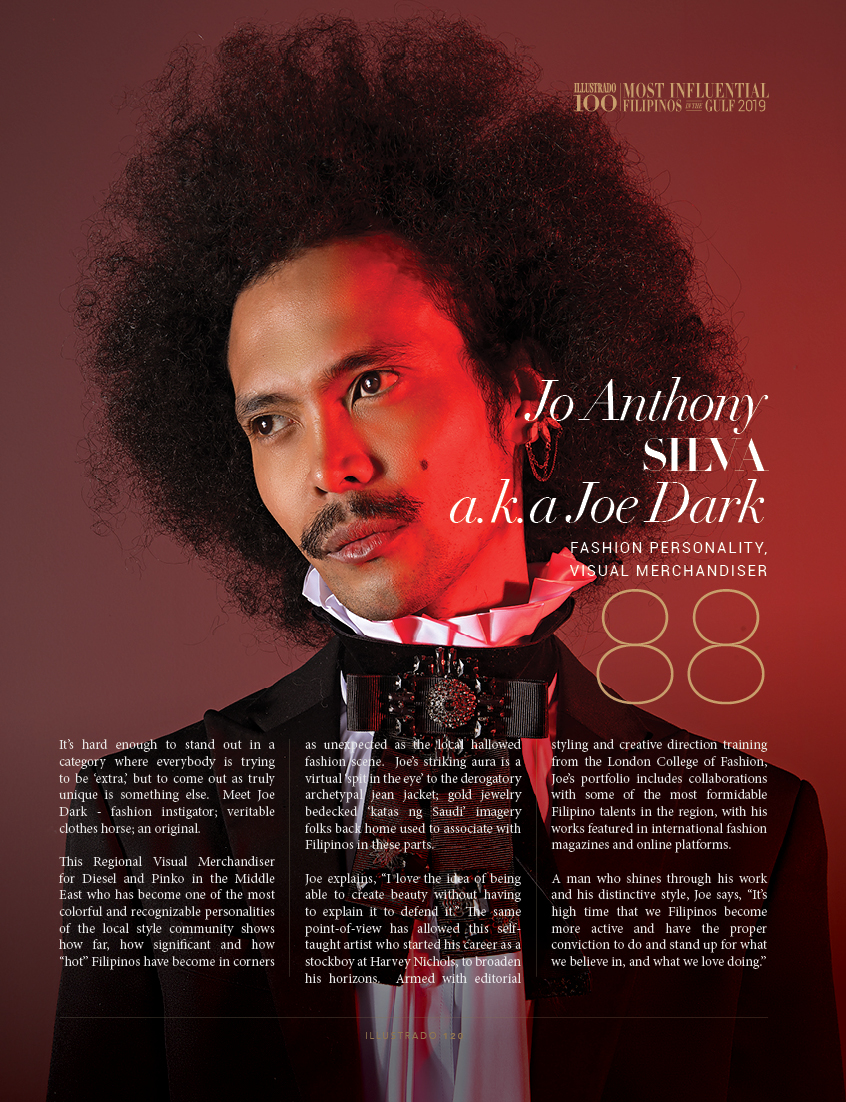 It's hard enough to stand out in a category where everybody is trying to be 'extra,' but to come out as truly unique is something else.  Meet Joe Dark – fashion instigator; veritable clothes horse; an original.
This Regional Visual Merchandiser for Diesel and Pinko in the Middle East who has become one of the most colorful and recognizable personalities of the local style community shows how far, how significant and how "hot" Filipinos have become in corners as unexpected as the local hallowed fashion scene.  Joe's striking aura is a virtual 'spit in the eye' to the derogatory archetypal jean jacket; gold jewelry bedecked 'katas ng Saudi' imagery folks back home used to associate with Filipinos in these parts.
Joe explains, "I love the idea of being able to create beauty without having to explain it to defend it." The same point-of-view has allowed this self-taught artist who started his career as a stockboy at Harvey Nichols, to broaden his horizons.  Armed with editorial styling and creative direction training from the London College of Fashion, Joe's portfolio includes collaborations with some of the most formidable Filipino talents in the region, with his works featured in international fashion magazines and online platforms.
A man who shines through his work and his distinctive style, Joe says, "It's high time that we Filipinos become more active and have the proper conviction to do and stand up for what we believe in, and what we love doing."
……………………….
Special thanks to our sponsors: Emirates Airline, Stars n Bars La Mer, Liali, Instax – Grandstores UAE, Dusit Thani Dubai, Gver – Your Friendly Marketplace for Sharing, Meeting Dancewear , MPQ, CMG, Filbrit, and our partners Rozen Antonio Photography,  Alex Callueng Photography, Jef Anog Photography, and Ethereal Photography.