Thoughtleader – Jose Koska
Human Resources Expert & Community Champion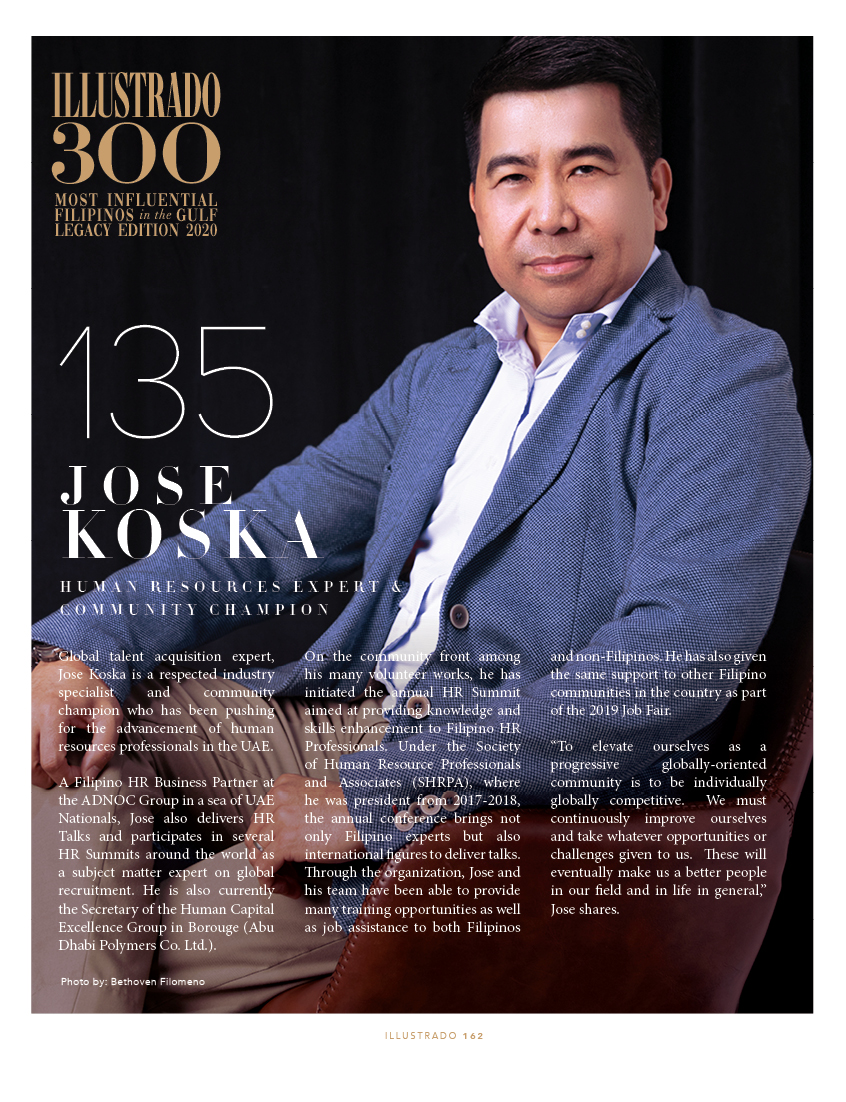 Global talent acquisition expert, Jose Koska's is a respected industry specialist and community champion who has been pushing for the advancement of human resources professionals in the UAE.
A Filipino HR Business Partner at the ADNOC Group in a sea of UAE Nationals, Jose also delivers HR Talks and participates in several HR Summits around the world as a subject matter expert on global recruitment. He is also currently the Secretary of the Human Capital Excellence Group in Borouge (Abu Dhabi Polymers Co. Ltd.).
On the community front among his many volunteer works, he has initiated the annual HR Summit aimed at providing knowledge and skills enhancement to Filipino HR Professionals. Under the Society of Human Resource Professionals and Associates (SHRPA), where he was president from 2017-2018, the annual conference brings not only Filipino experts but also international figures to deliver talks.  Through the organization, Jose and his team have been able to provide many training opportunities as well as job assistance to both Filipinos and non-Filipinos. He has also given the same support to other Filipino communities in the country as part of the 2019 Job Fair.
"To elevate ourselves as a progressive globally-oriented community is to be individually globally competitive.  We must continuously improve ourselves and take whatever opportunities or challenges given to us.  These will eventually make us a better people in our field and in life in general," Jose shares.
Illustrado 300 Most Influential Filipinos in the Gulf is Supported by: Kaya Skin Clinic,  Emirates Airline, and Unilever.
Special Thanks to Michael Cinco, Ezra Couture , Giordano, Darcey Flowers, IKON Solutions, Victors Freight, MPQ Tourism, Asia Gulf Companies –La Carne & Filfood, WOL Water
Get a copy of Illustrado 300 Most Influential Filipinos in the Gulf Legacy Edition