Maria Josephine Abina
Entrepreneur & Community Champion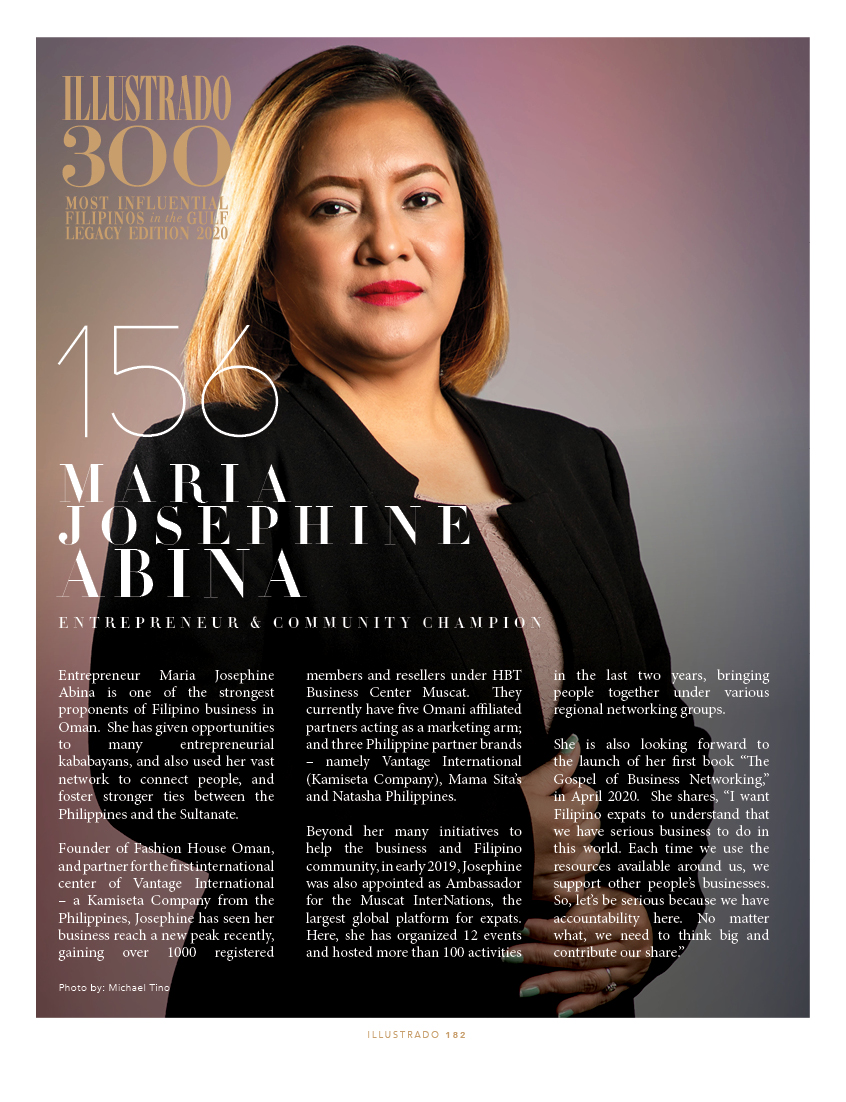 Entrepreneur Maria Josephine Abina is one of the strongest proponents of Filipino business in Oman.  She has given opportunities to many entrepreneurial kababayans, and also used her vast network to connect people, and foster stronger ties between the Philippines and the Sultanate.
Founder of Fashion House Oman, and partner for the first international center of Vantage International – a Kamiseta Company from the Philippines, Josephine has seen her business reach a new peak recently, gaining over 1000 registered members and resellers under HBT Business Center Muscat.  They currently have five Omani affiliated partners acting as a marketing arm; and three Philippine partner brands – namely Vantage International (Kamiseta Company), Mama Sita's and Natasha Philippines.
Beyond her many initiatives to help the business and Filipino community, in early 2019, Josephine was also appointed as Ambassador for the Muscat InterNations, the largest global platform for expats. Here, she has organized 12 events and hosted more than 100 activities in the last two years, bringing people together under various regional networking groups.
She is also looking forward to the launch of her first book "The Gospel of Business Networking," in April 2020.  She shares, "I want Filipino expats to understand that we have serious business to do in this world. Each time we use the resources available around us, we support other people's businesses. So, let's be serious because we have accountability here. No matter what, we need to think big and contribute our share."
Illustrado 300 Most Influential Filipinos in the Gulf is Supported by: Kaya Skin Clinic,  Emirates Airline, and Unilever.
Special Thanks to Michael Cinco, Ezra Couture , Giordano, Darcey Flowers, IKON Solutions, Victors Freight, MPQ Tourism, Asia Gulf Companies –La Carne & Filfood, WOL Water
Get a copy of Illustrado 300 Most Influential Filipinos in the Gulf Legacy Edition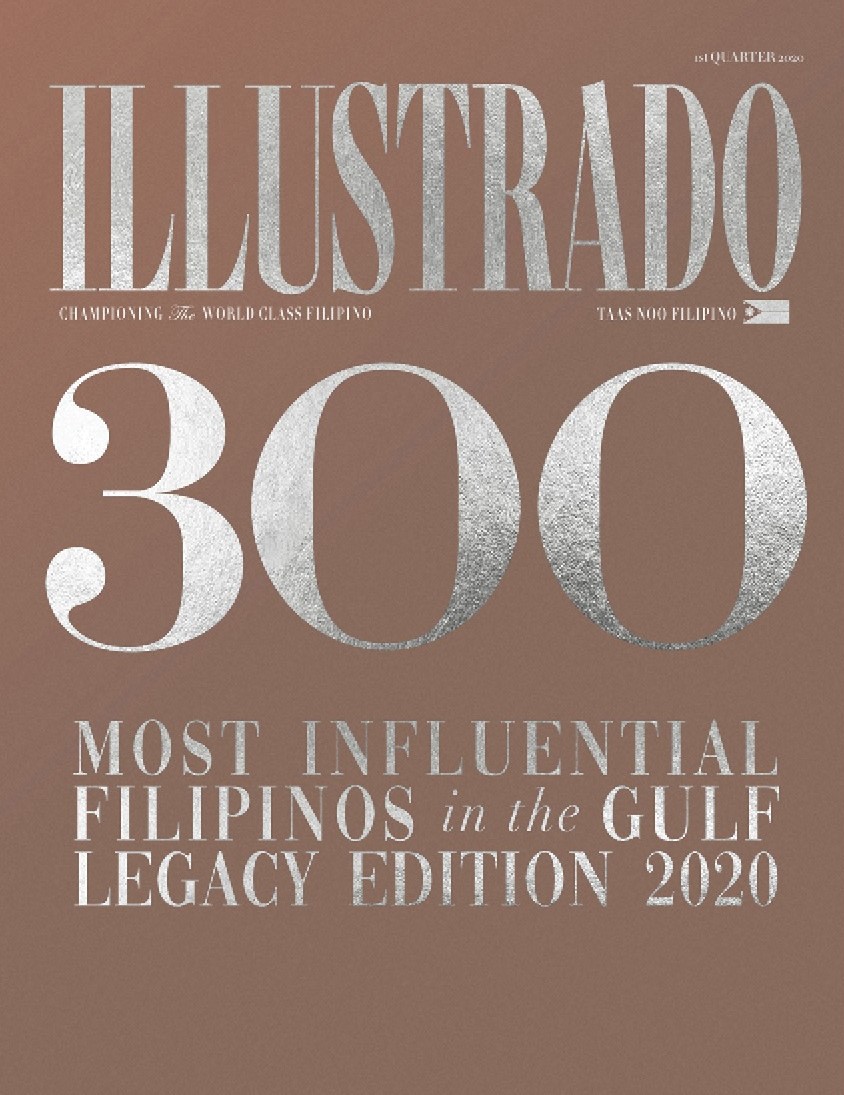 Maria Josephine Panagsagan Abina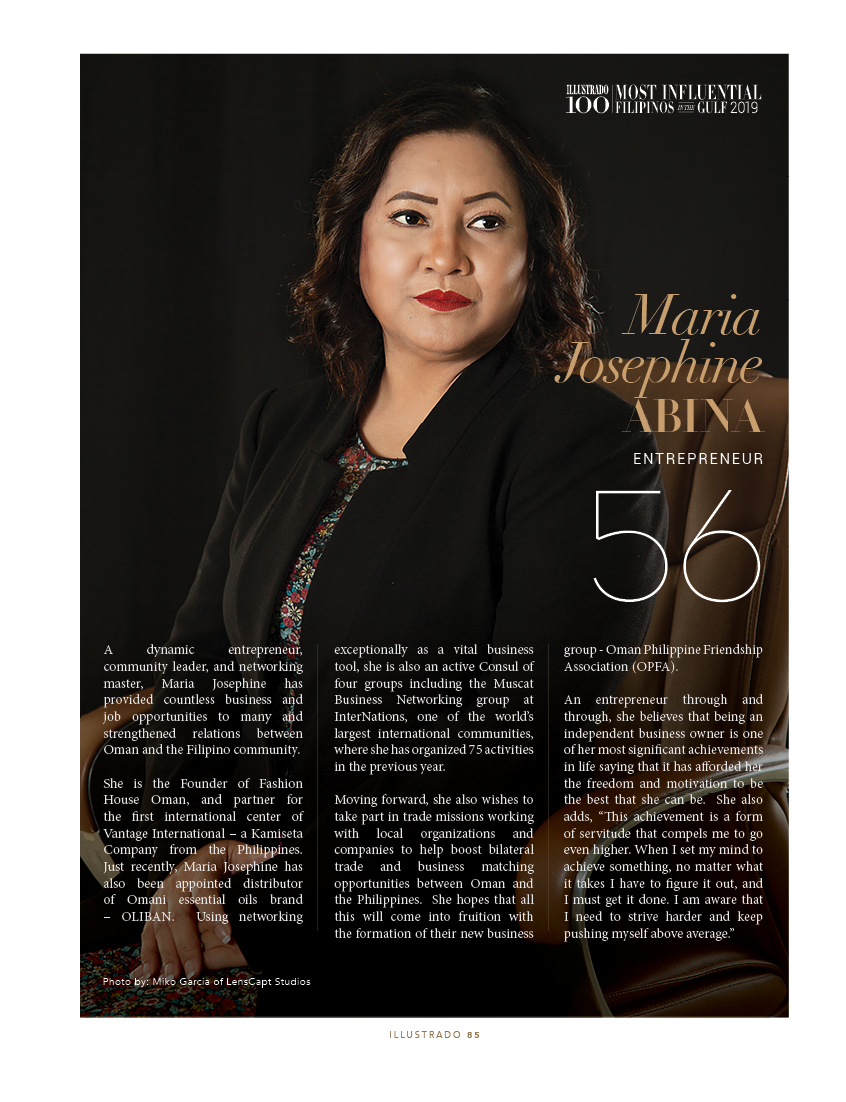 A dynamic entrepreneur, community leader, and networking master, Maria Josephine has provided countless business and job opportunities to many and strengthened relations between Oman and the Filipino community.
She is the Founder of Fashion House Oman, and partner for the first international center of Vantage International – a Kamiseta Company from the Philippines. Just recently, Maria Josephine has also been appointed distributor of Omani essential oils brand – OLIBAN.  Using networking exceptionally as a vital business tool, she is also an active Consul of four groups including the Muscat Business Networking group at InterNations, one of the world's largest international communities, where she has organized 75 activities in the previous year.
Moving forward, she also wishes to take part in trade missions working with local organizations and companies to help boost bilateral trade and business matching opportunities between Oman and the Philippines.  She hopes that all this will come into fruition with the formation of their new business group – Oman Philippine Friendship Association (OPFA).
An entrepreneur through and through, she believes that being an independent business owner is one of her most significant achievements in life saying that it has afforded her the freedom and motivation to be the best that she can be.  She also adds, "This achievement is a form of servitude that compels me to go even higher. When I set my mind to achieve something, no matter what it takes I have to figure it out, and I must get it done. I am aware that I need to strive harder and keep pushing myself above average."
……………………….
Special thanks to our sponsors: Emirates Airline, Stars n Bars La Mer, Liali, Instax – Grandstores UAE, Dusit Thani Dubai, Gver – Your Friendly Marketplace for Sharing, Meeting Dancewear , MPQ, CMG, Filbrit, and our partners Rozen Antonio Photography,  Alex Callueng Photography, Jef Anog Photography, and Ethereal Photography.