Trailblazer – Mariyah 'Mahryska' Gaspacho
Content Creator & Social Media Influencer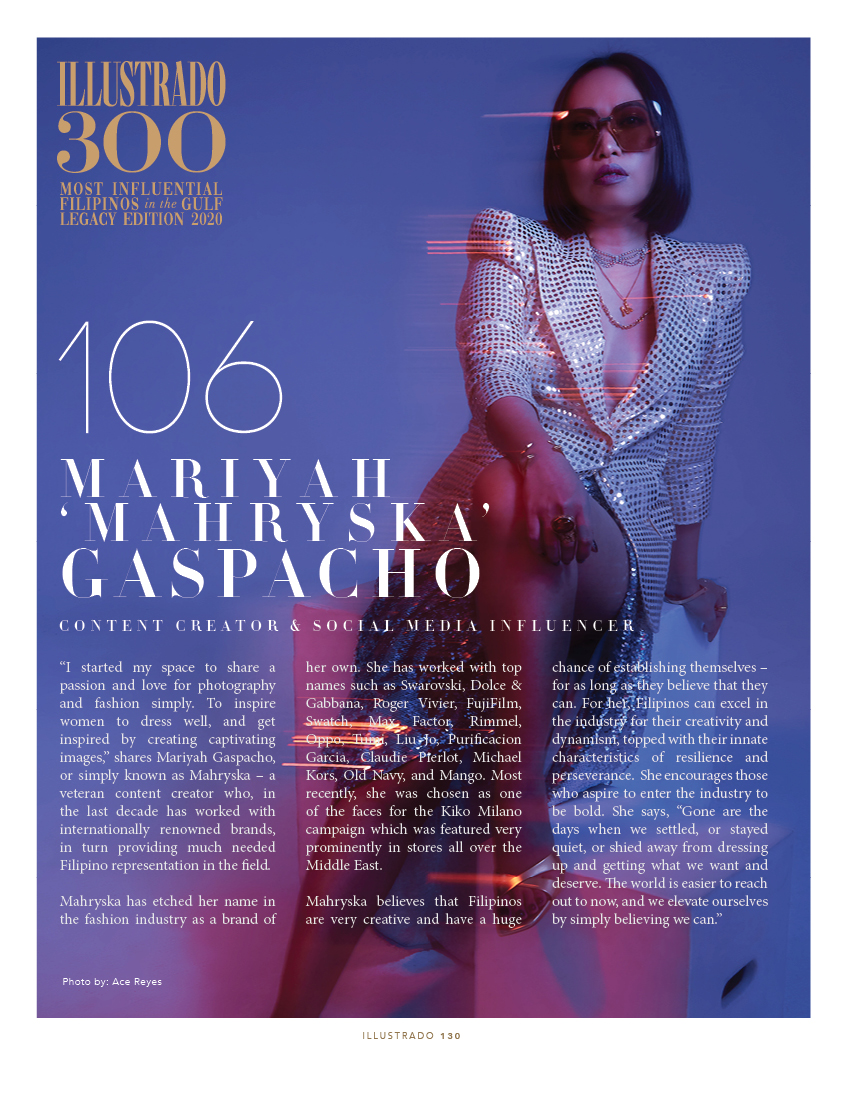 "I started my space to share a passion and love for photography and fashion simply. To inspire women to dress well, and get inspired by creating captivating images," shares Mariyah Gaspacho, or simply known as Mahryska – a veteran content creator who, in the last decade has worked with internationally renowned brands, in turn providing much needed Filipino representation in the field.
Mahryska has etched her name in the fashion industry as a brand of her own. She has worked with top names such as Swarovski, Dolce & Gabbana, Roger Vivier, FujiFilm, Swatch, Max Factor, Rimmel, Oppo, Tumi, Liu Jo, Purificacion Garcia, Claudie Pierlot, Michael Kors, Old Navy, and Mango. Most recently, she was chosen as one of the faces for the Kiko Milano campaign which was featured very prominently in stores all over the Middle East.
Mahryska believes that Filipinos are very creative and have a huge chance of establishing themselves – for as long as they believe that they can. For her, Filipinos can excel in the industry for their creativity and dynamism, topped with their innate characteristics of resilience and perseverance.  She encourages those who aspire to enter the industry to be bold. She says, "Gone are the days when we settled, or stayed quiet, or shied away from dressing up and getting what we want and deserve. The world is easier to reach out to now, and we elevate ourselves by simply believing we can." 
Illustrado 300 Most Influential Filipinos in the Gulf is Supported by: Kaya Skin Clinic,  Emirates Airline, and Unilever.
Special Thanks to Michael Cinco, Ezra Couture , Giordano, Darcey Flowers, IKON Solutions, Victors Freight, MPQ Tourism, Asia Gulf Companies –La Carne & Filfood, WOL Water
Get a copy of Illustrado 300 Most Influential Filipinos in the Gulf Legacy Edition