Trailblazer – Dr. Nino Decenorio
Educator & Community Champion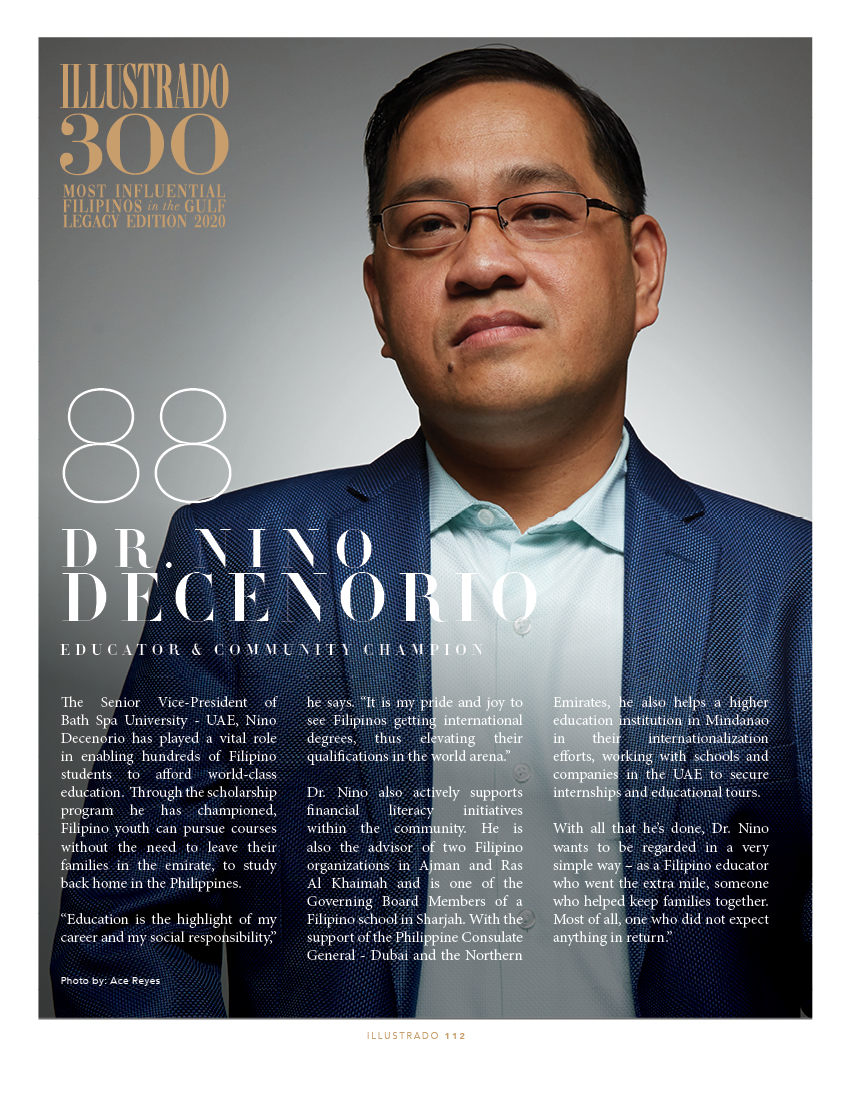 The Senior Vice-President of Bath Spa University – UAE, Nino Decenorio has played a vital role in enabling hundreds of Filipino students to afford world-class education.  Through the scholarship program he has championed, Filipino youth can pursue courses without the need to leave their families in the emirate, to study back home in the Philippines.
"Education is the highlight of my career and my social responsibility," he says. "It is my pride and joy to see Filipinos getting international degrees, thus elevating their qualifications in the world arena."
Dr. Nino also actively supports financial literacy initiatives within the community. He is also the advisor of two Filipino organizations in Ajman and Ras Al Khaimah and is one of the Governing Board Members of a Filipino school in Sharjah. With the support of the Philippine Consulate General – Dubai and the Northern Emirates, he also helps a higher education institution in Mindanao in their internationalization efforts, working with schools and companies in the UAE to secure internships and educational tours.
With all that he's done, Dr. Nino wants to be regarded in a very simple way – as a Filipino educator who went the extra mile, someone who helped keep families together.  Most of all, one who did not expect anything in return."
Illustrado 300 Most Influential Filipinos in the Gulf is Supported by: Kaya Skin Clinic,  Emirates Airline, and Unilever.
Special Thanks to Michael Cinco, Ezra Couture , Giordano, Darcey Flowers, IKON Solutions, Victors Freight, MPQ Tourism, Asia Gulf Companies –La Carne & Filfood, WOL Water
Get a copy of Illustrado 300 Most Influential Filipinos in the Gulf Legacy Edition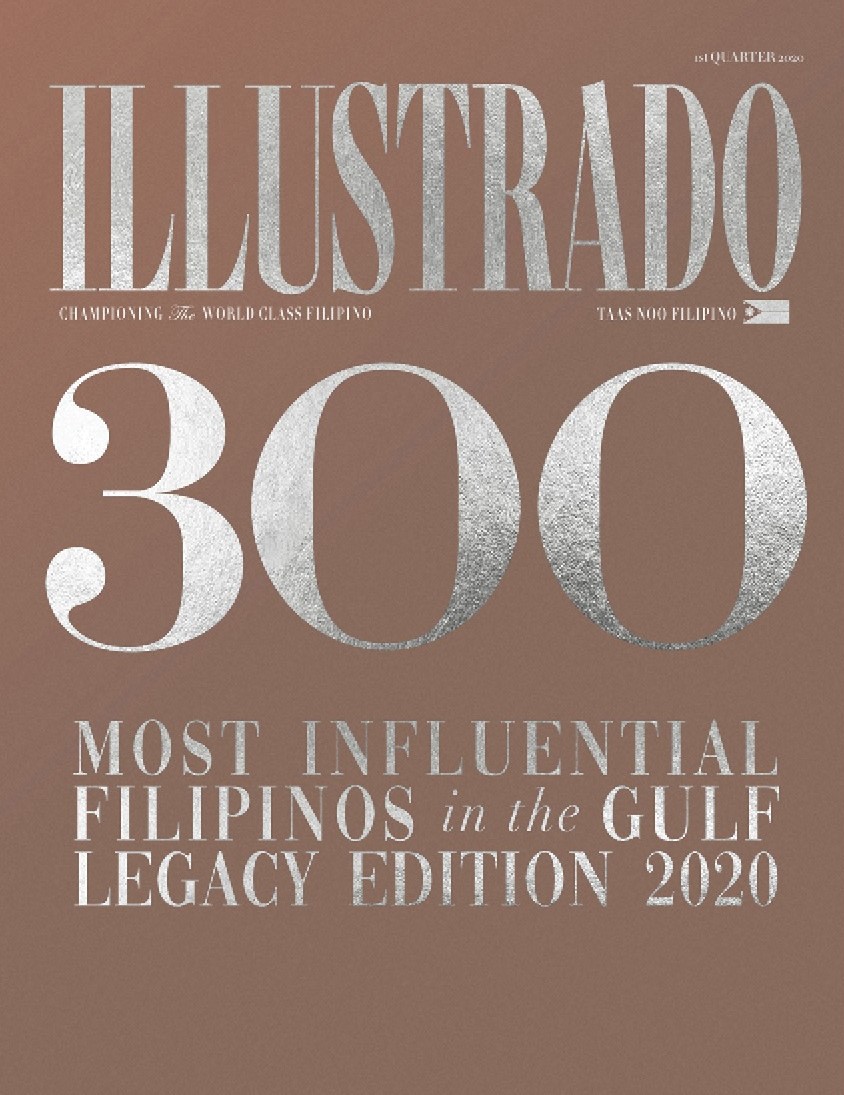 Dr. Nino Miranda Decenorio
Educator, Altruist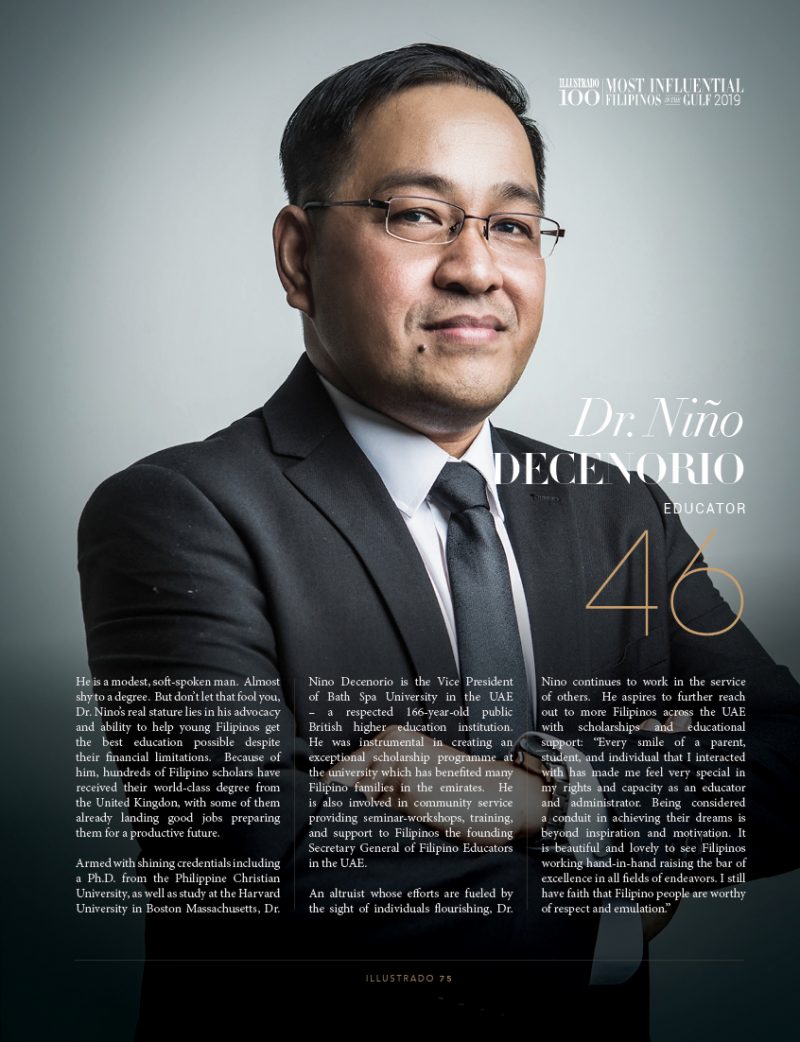 He is a modest, soft-spoken man.  Almost shy to a degree.  But don't let that fool you, Dr. Nino's real stature lies in his advocacy and ability to help young Filipinos get the best education possible despite their financial limitations.  Because of him, hundreds of Filipino scholars have received their world-class degree from the United Kingdom, with some of them already landing good jobs preparing them for a productive future.
Armed with shining credentials including a Ph.D. from the Philippine Christian University, as well as study at the Harvard University in Boston Massachusetts, Dr. Nino Decenorio is the Vice President of Bath Spa University in the UAE – a respected 166-year-old public British higher education institution.  He was instrumental in creating an exceptional scholarship programme at the university which has benefited many Filipino families in the emirates.  He is also involved in community service providing seminar-workshops, training, and support to Filipinos the founding Secretary General of Filipino Educators in the UAE.
An altruist whose efforts are fueled by the sight of individuals flourishing, Dr. Nino continues to work in the service of others.  He aspires to further reach out to more Filipinos across the UAE with scholarships and educational support: "Every smile of a parent, student, and individual that I interacted with has made me feel very special in my rights and capacity as an educator and administrator. Being considered a conduit in achieving their dreams is beyond inspiration and motivation. It is beautiful and lovely to see Filipinos working hand-in-hand raising the bar of excellence in all fields of endeavors. I still have faith that Filipino people are worthy of respect and emulation."
……………………….
Special thanks to our sponsors: Emirates Airline, Stars n Bars La Mer, Liali, Instax – Grandstores UAE, Dusit Thani Dubai, Gver – Your Friendly Marketplace for Sharing, Meeting Dancewear , MPQ, CMG, Filbrit, and our partners Rozen Antonio Photography,  Alex Callueng Photography, Jef Anog Photography, and Ethereal Photography.