Pamela De Leon
Journalist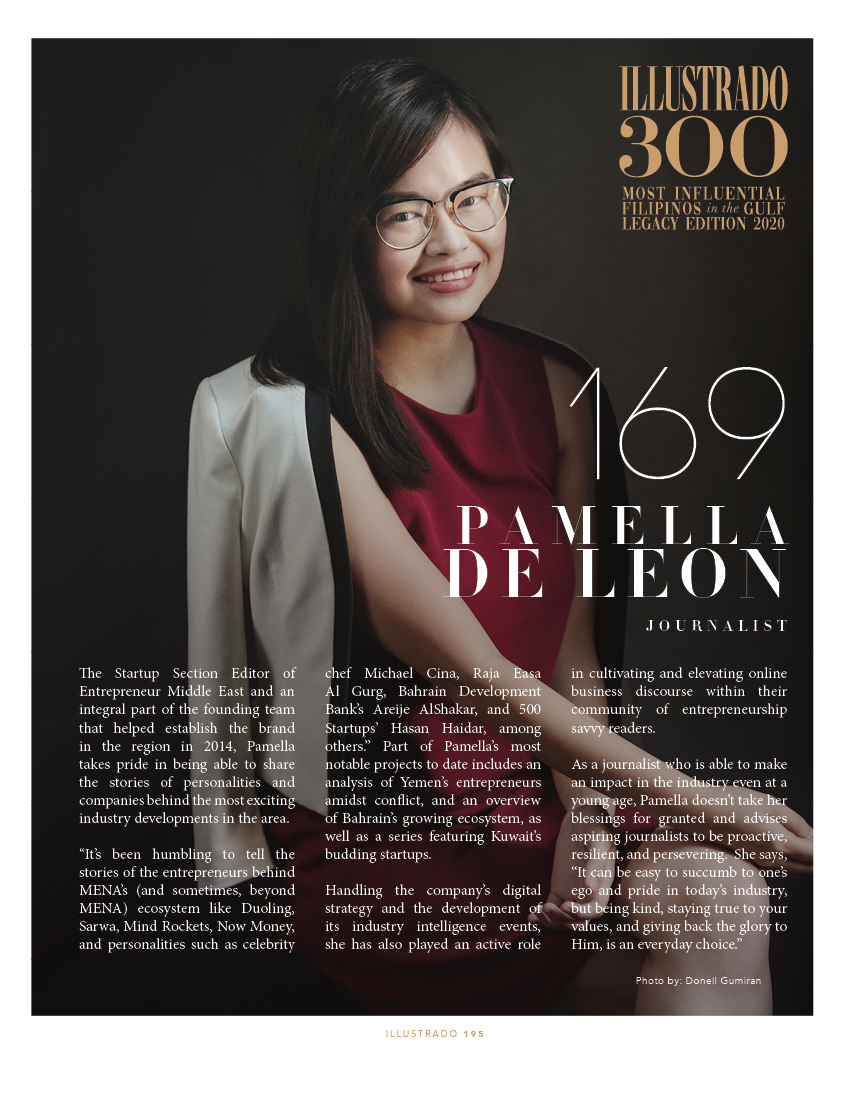 The Startup Section Editor of Entrepreneur Middle East and an integral part of the founding team that helped establish the brand in the region in 2014, Pamella takes pride in being able to share the stories of personalities and companies behind the most exciting industry developments in the area.
"It's been humbling to tell the stories of the entrepreneurs behind MENA's (and sometimes, beyond MENA) ecosystem like Duoling, Sarwa, Mind Rockets, Now Money, and personalities such as celebrity chef Michael Cina, Raja Easa Al Gurg, Bahrain Development Bank's Areije AlShakar, and 500 Startups' Hasan Haidar, among others." Part of Pamella's most notable projects to date includes an analysis of Yemen's entrepreneurs amidst conflict, and an overview of Bahrain's growing ecosystem, as well as a series featuring Kuwait's budding startups.
Handling the company's digital strategy and the development of its industry intelligence events, she has also played an active role in cultivating and elevating online business discourse within their community of entrepreneurship savvy readers.
As a journalist who is able to make an impact in the industry even at a young age, Pamella doesn't take her blessings for granted and advises aspiring journalists to be proactive, resilient, and persevering.  She says, "It can be easy to succumb to one's ego and pride in today's industry, but being kind, staying true to your values, and giving back the glory to Him, is an everyday choice."
Illustrado 300 Most Influential Filipinos in the Gulf is Supported by: Kaya Skin Clinic,  Emirates Airline, and Unilever.
Special Thanks to Michael Cinco, Ezra Couture , Giordano, Darcey Flowers, IKON Solutions, Victors Freight, MPQ Tourism, Asia Gulf Companies –La Carne & Filfood, WOL Water
Get a copy of Illustrado 300 Most Influential Filipinos in the Gulf Legacy Edition