Tastemaker – Phio Enaje
Fashion Designer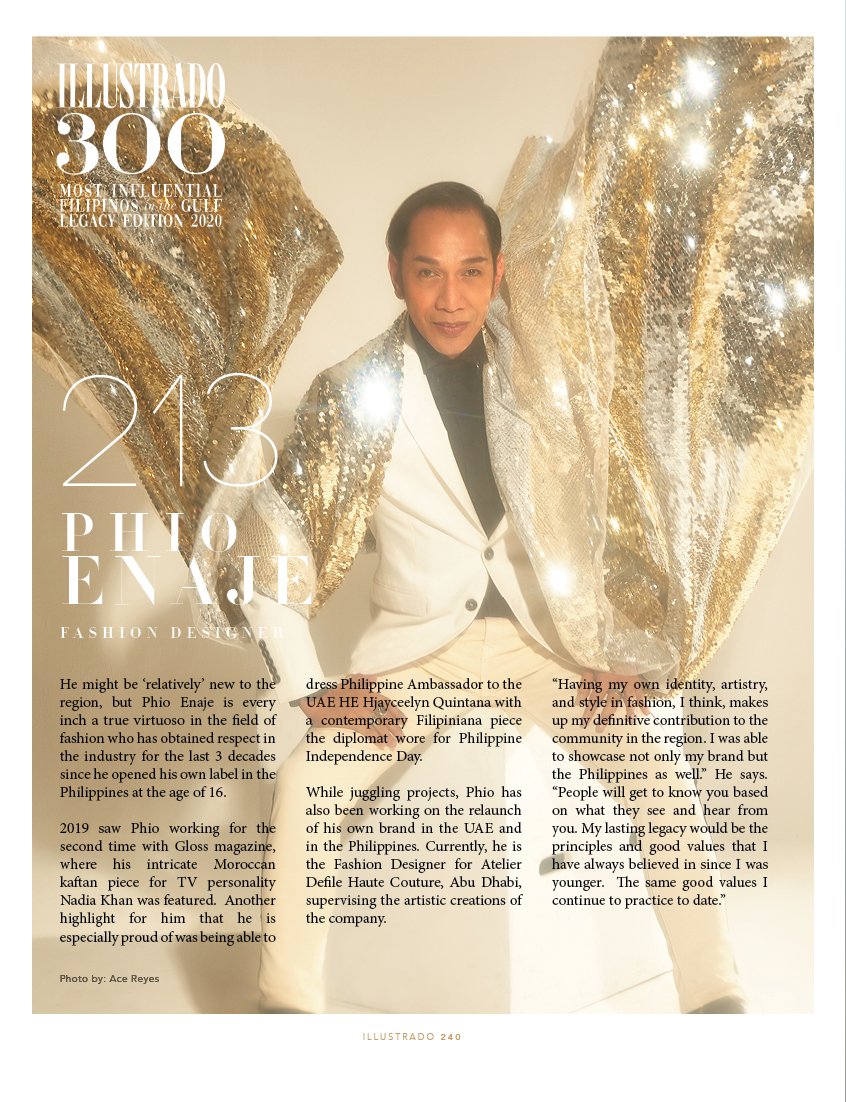 He might be 'relatively' new to the region, but Phio Enaje is every inch a true virtuoso in the field of fashion who has obtained respect in the industry for the last 3 decades since he opened his own label in the Philippines at the age of 16.
2019 saw Phio working for the second time with Gloss magazine, where his intricate Moroccan kaftan piece for TV personality Nadia Khan was featured.  Another highlight for him that he is especially proud of was being able to dress Philippine Ambassador to the UAE HE Hjayceelyn Quintana with a contemporary Filipiniana piece the diplomat wore for Philippine Independence Day.
While juggling projects, Phio has also been working on the relaunch of his own brand in the UAE and in the Philippines. Currently, he is the Fashion Designer for Atelier Defile Haute Couture, Abu Dhabi, supervising the artistic creations of the company.
"Having my own identity, artistry, and style in fashion, I think, makes up my definitive contribution to the community in the region. I was able to showcase not only my brand but the Philippines as well." He says. "People will get to know you based on what they see and hear from you. My lasting legacy would be the principles and good values that I have always believed in since I was younger.  The same good values I continue to practice to date."
Illustrado 300 Most Influential Filipinos in the Gulf is Supported by: Kaya Skin Clinic,  Emirates Airline, and Unilever.
Special Thanks to Michael Cinco, Ezra Couture , Giordano, Darcey Flowers, IKON Solutions, Victors Freight, MPQ Tourism, Asia Gulf Companies –La Carne & Filfood, WOL Water
Get a copy of Illustrado 300 Most Influential Filipinos in the Gulf Legacy Edition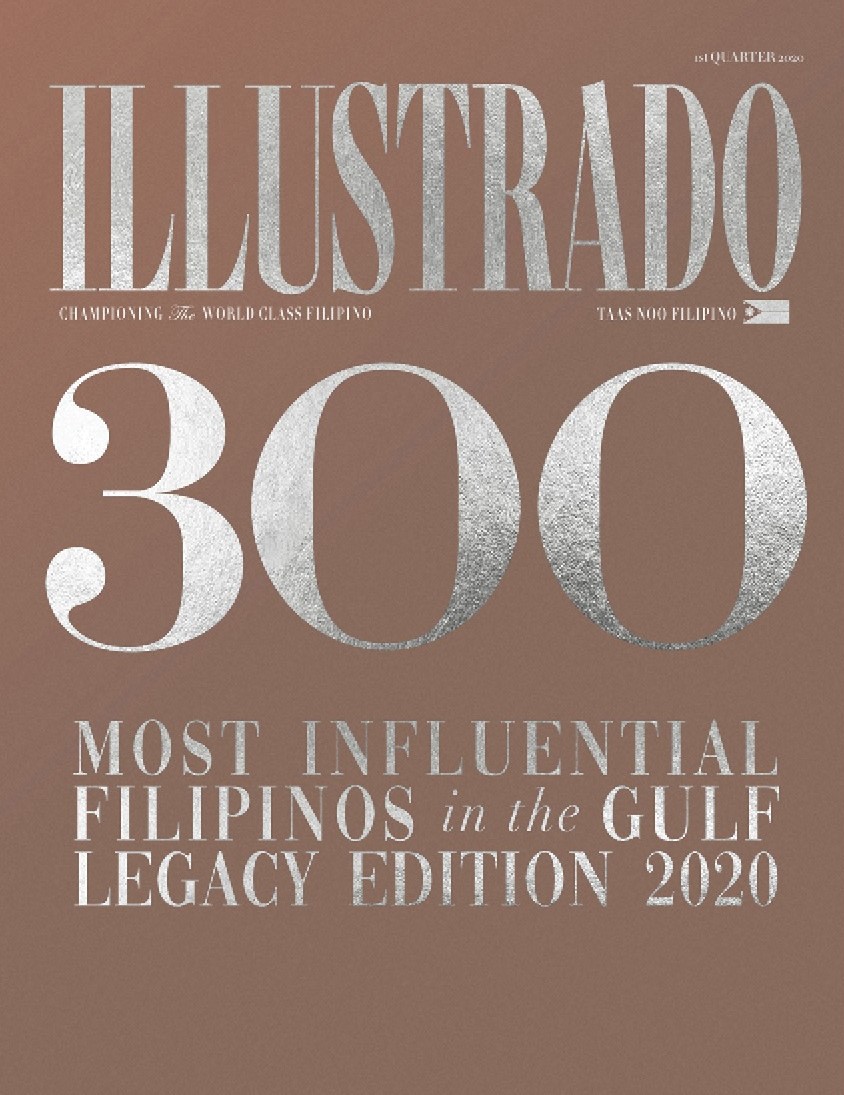 Phio Enaje
Fashion Designer – Abu Dhabi, UAE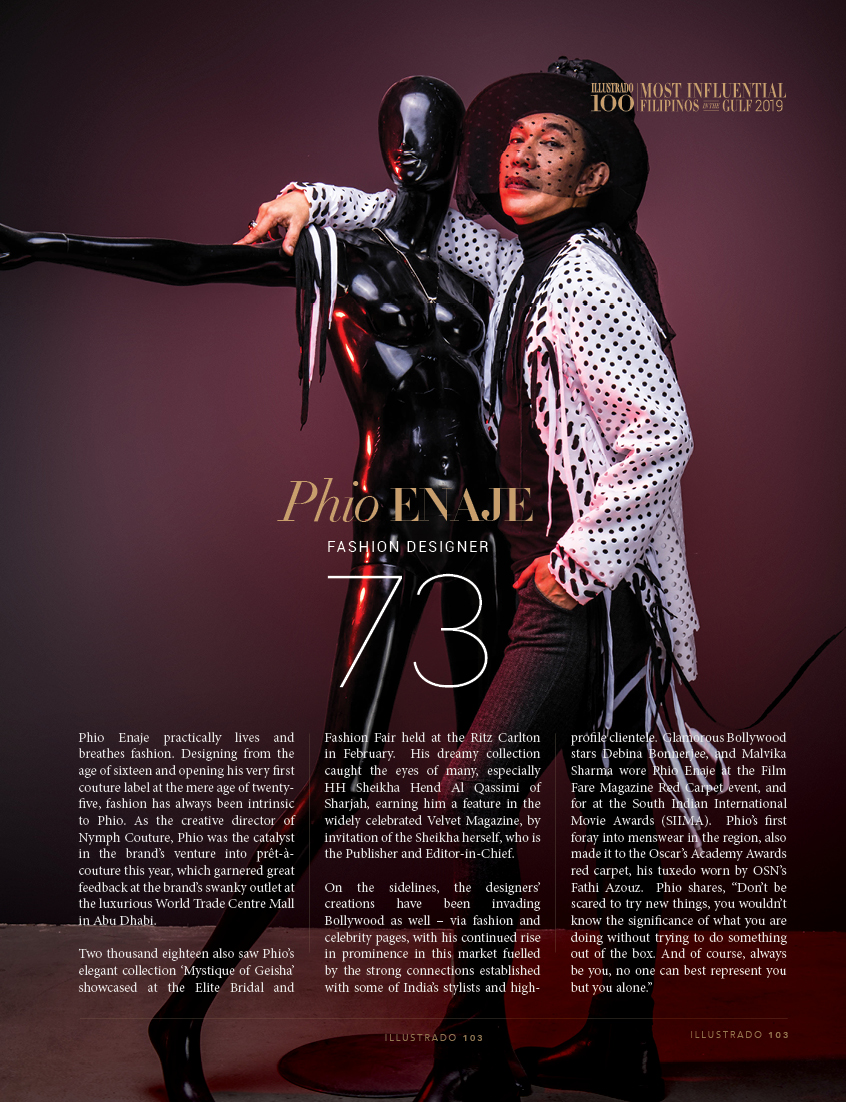 Phio Enaje practically lives and breathes fashion. Designing from the age of sixteen and opening his very first couture label at the mere age of twenty-five, fashion has always been intrinsic to Phio. As the creative director of Nymph Couture, Phio was the catalyst in the brand's venture into prêt-à-couture this year, which garnered great feedback at the brand's swanky outlet at the luxurious World Trade Centre Mall in Abu Dhabi.
Two thousand eighteen also saw Phio's elegant collection 'Mystique of Geisha' showcased at the Elite Bridal and Fashion Fair held at the Ritz Carlton in February.  His dreamy collection caught the eyes of many, especially HH Sheikha Hend Al Qassimi of Sharjah, earning him a feature in the widely celebrated Velvet Magazine, by invitation of the Sheikha herself, who is the Publisher and Editor-in-Chief.
On the sidelines, the designers' creations have been invading Bollywood as well – via fashion and celebrity pages, with his continued rise in prominence in this market fuelled by the strong connections established with some of India's stylists and high-profile clientele.  Glamorous Bollywood stars Debina Bonnerjee, and Malvika Sharma wore Phio Enaje at the Film Fare Magazine Red Carpet event, and for at the South Indian International Movie Awards (SIIMA).  Phio's first foray into menswear in the region, also made it to the Oscar's Academy Awards red carpet, his tuxedo worn by OSN's Fathi Azouz.  Phio shares, "Don't be scared to try new things, you wouldn't know the significance of what you are doing without trying to do something out of the box. And of course, always be you, no one can best represent you but you alone."
……………………….
Special thanks to our sponsors: Emirates Airline, Stars n Bars La Mer, Liali, Instax – Grandstores UAE, Dusit Thani Dubai, Gver – Your Friendly Marketplace for Sharing, Meeting Dancewear , MPQ, CMG, Filbrit, and our partners Rozen Antonio Photography,  Alex Callueng Photography, Jef Anog Photography, and Ethereal Photography.