Trailblazer – Rex Bacarra
Educator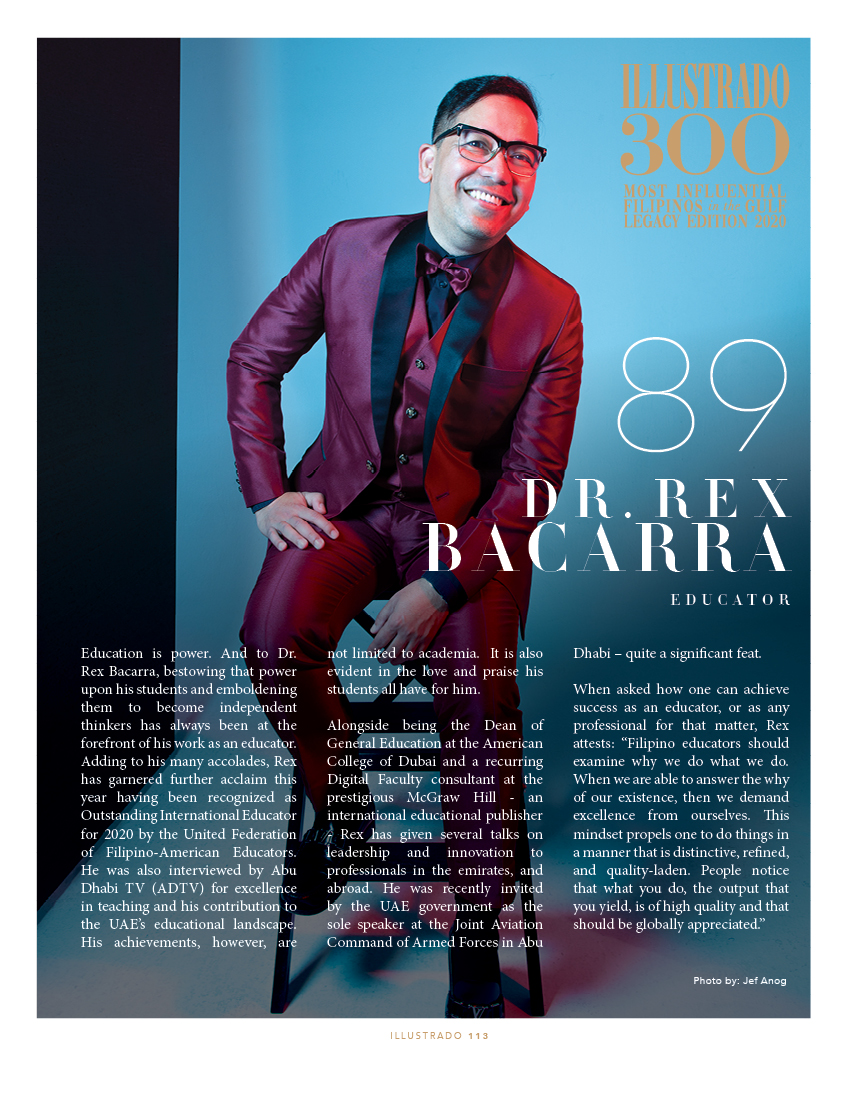 Education is power. And to Dr. Rex Bacarra, bestowing that power upon his students and emboldening them to become independent thinkers has always been at the forefront of his work as an educator. Adding to his many accolades, Rex has garnered further acclaim this year having been recognized as Outstanding International Educator for 2020 by the United Federation of Filipino-American Educators.  He was also interviewed by Abu Dhabi TV (ADTV) for excellence in teaching and his contribution to the UAE's educational landscape. His achievements, however, are not limited to academia.  It is also evident in the love and praise his students all have for him.
Alongside being the Dean of General Education at the American College of Dubai and a recurring Digital Faculty consultant at the prestigious McGraw Hill – an international educational publisher – Rex has given several talks on leadership and innovation to professionals in the emirates, and abroad. He was recently invited by the UAE government as the sole speaker at the Joint Aviation Command of Armed Forces in Abu Dhabi – quite a significant feat.
When asked how one can achieve success as an educator, or as any professional for that matter, Rex attests: "Filipino educators should examine why we do what we do. When we are able to answer the why of our existence, then we demand excellence from ourselves. This mindset propels one to do things in a manner that is distinctive, refined, and quality-laden. People notice that what you do, the output that you yield, is of high quality and that should be globally appreciated."
Illustrado 300 Most Influential Filipinos in the Gulf is Supported by: Kaya Skin Clinic,  Emirates Airline, and Unilever.
Special Thanks to Michael Cinco, Ezra Couture , Giordano, Darcey Flowers, IKON Solutions, Victors Freight, MPQ Tourism, Asia Gulf Companies –La Carne & Filfood, WOL Water
Get a copy of Illustrado 300 Most Influential Filipinos in the Gulf Legacy Edition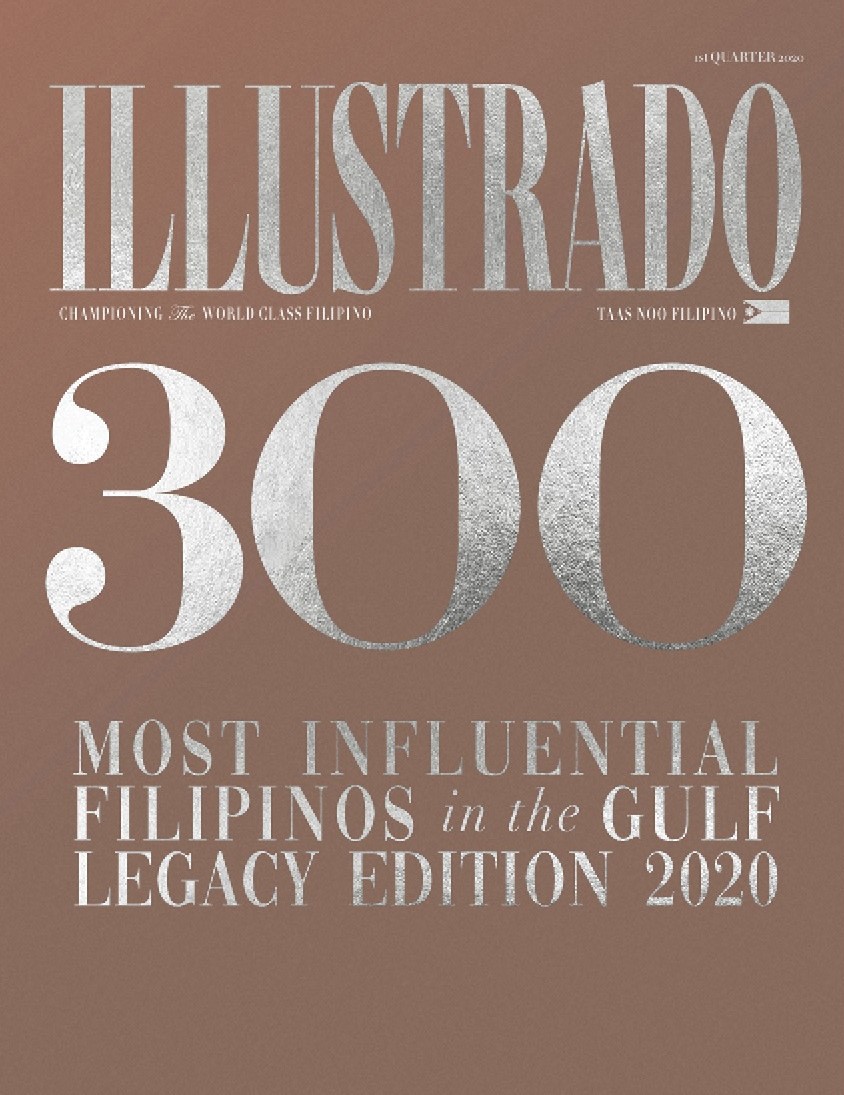 Rex Venard Bacarra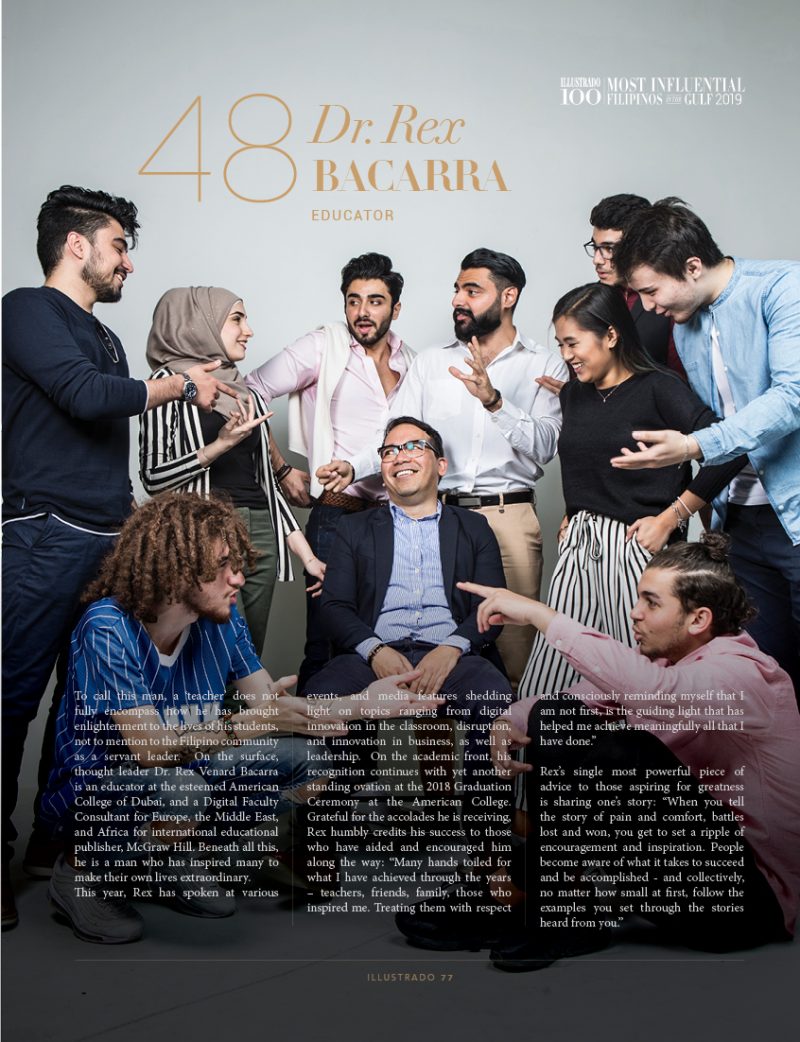 To call this man, a 'teacher' does not fully encompass how he has brought enlightenment to the lives of his students, not to mention to the Filipino community as a servant leader.  On the surface, thought leader Dr. Rex Venard Bacarra is an educator at the esteemed American College of Dubai, and a Digital Faculty Consultant for Europe, the Middle East, and Africa for international educational publisher, McGraw Hill. Beneath all this, he is a man who has inspired many to make their own lives extraordinary.
This year, Rex has spoken at various events, and media features shedding light on topics ranging from digital innovation in the classroom, disruption, and innovation in business, as well as leadership.  On the academic front, his recognition continues with yet another standing ovation at the 2018 Graduation Ceremony at the American College.  Grateful for the accolades he is receiving, Rex humbly credits his success to those who have aided and encouraged him along the way: "Many hands toiled for what I have achieved through the years – teachers, friends, family, those who inspired me. Treating them with respect and consciously reminding myself that I am not first, is the guiding light that has helped me achieve meaningfully all that I have done."
Rex's single most powerful piece of advice to those aspiring for greatness is sharing one's story: "When you tell the story of pain and comfort, battles lost and won, you get to set a ripple of encouragement and inspiration. People become aware of what it takes to succeed and be accomplished – and collectively, no matter how small at first, follow the examples you set through the stories heard from you."
……………………….
Special thanks to our sponsors: Emirates Airline, Stars n Bars La Mer, Liali, Instax – Grandstores UAE, Dusit Thani Dubai, Gver – Your Friendly Marketplace for Sharing, Meeting Dancewear , MPQ, CMG, Filbrit, and our partners Rozen Antonio Photography,  Alex Callueng Photography, Jef Anog Photography, and Ethereal Photography.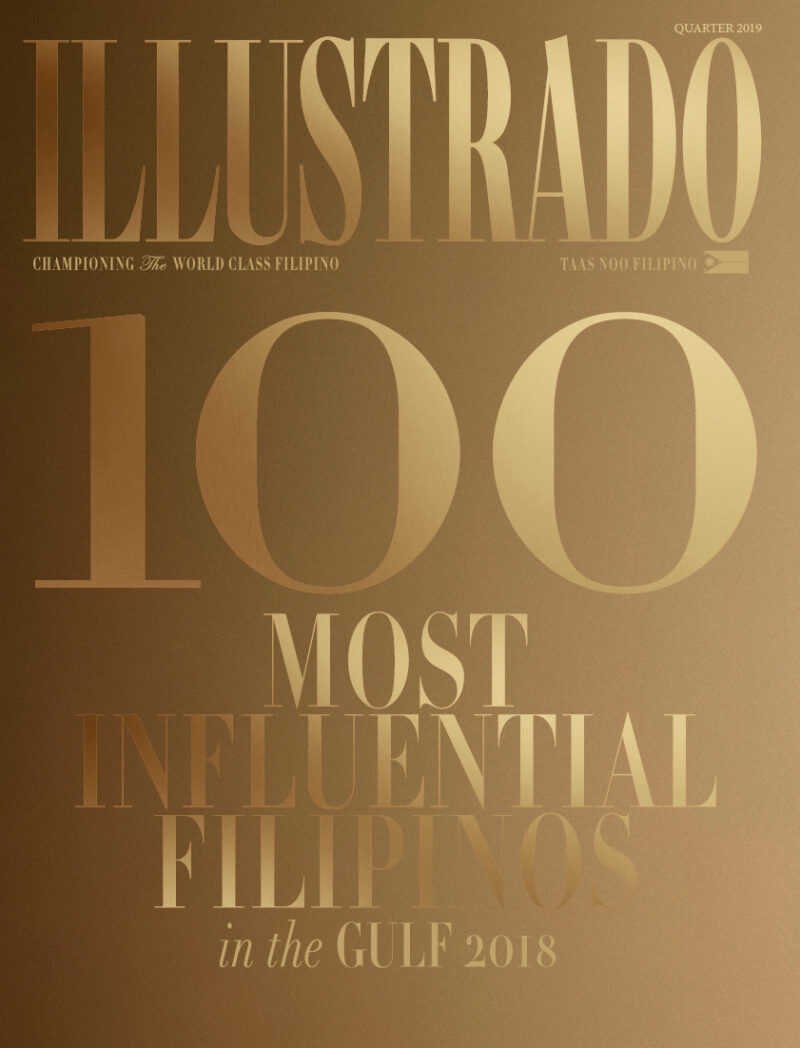 Rex Bacarra, PHD
University Professor
Photo by Alex Callueng; Photography Assistant – Bethoven Filomeno
A cut above your average college professor, Rex Bacarra exemplifies the Filipinos' ability to excel in an environment of diversity and ambition. A teacher of Philosophy and Humanities at the American College of Dubai, Rex considers his work – shaping the impressionable minds of today's youth – as the acme of his life's purpose. He articulates: "I encourage critical thinking among the ubiquitously multicultural young about the fundamental questions of life, its meaning, truth and falsehood, belief, and the nature of reality, knowledge and society."
Rex's earnest desire to impart knowledge and affect positive change in the lives of the younger generation has proven to be a boon to his career. He is highly regarded as one of AUD's top professors, and a clear favorite among the students.
During the graduation ceremony for the class of 2016, Rex was given a standing ovation by the entire hall when the Magna Cum Laude mentioned his name during his speech, and referred to him as "the most ideal professor."
In Rex's own words: "There is no legacy so rich as the gratitude of the young."
………….
ACKNOWLEDGEMENTS:
Special thanks to Illustrado 100 Most Influential Filipinos in the Gulf 2016 sponsors – Giordano, Nikon, Liali Jewellery, Lulu, Mitsubishi and Western Union.
…………………
Related Article:
Most Influential Filipinos in the Gulf: Kenneth Surath – Tastemaker
Most Influential Filipinos in the Gulf: Bong Guerrero – Trailblazer
Most Influential Filipinos in the Gulf: Izhcka Zeta –Tastemaker