Rising Marketing Stars
Behind some of the region's most prominent initiatives on the social media scene are young and brilliant Filipinos in the driving seat.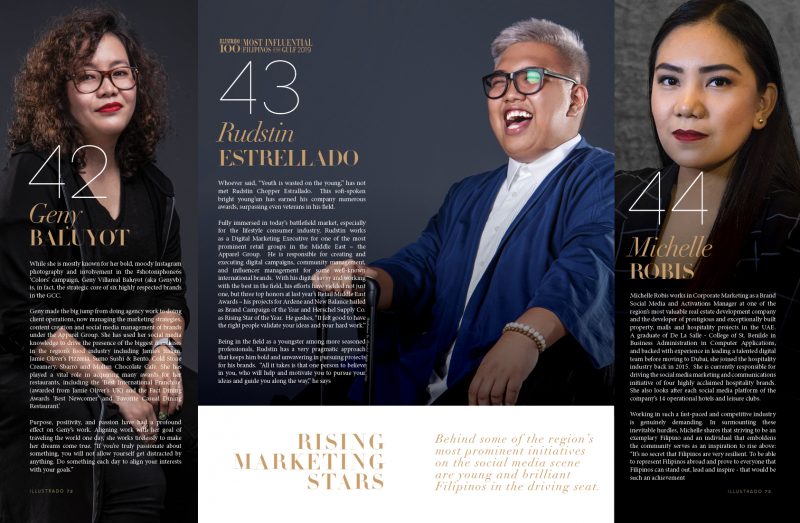 Geny Villareal Baluyot
While she is mostly known for her bold, moody Instagram photography and involvement in the #shotoniphone6s 'Colors' campaign, Geny Villareal Baluyot (aka Genyvb) is, in fact, the strategic core of six highly respected brands in the GCC.
Geny made the big jump from doing agency work to doing client operations, now managing the marketing strategies, content creation and social media management of brands under the Apparel Group. She has used her social media knowledge to drive the presence of the biggest franchises in the region's food industry including Jamie's Italian, Jamie Oliver's Pizzeria, Sumo Sushi & Bento, Cold Stone Creamery, Sbarro and Molten Chocolate Café. She has played a vital role in acquiring many awards for her restaurants, including the 'Best International Franchise' (awarded from Jamie Oliver's UK) and the Fact Dining Awards 'Best Newcomer' and 'Favorite Casual Dining Restaurant.'
Purpose, positivity, and passion have had a profound effect on Geny's work. Aligning work with her goal of traveling the world one day, she works tirelessly to make her dreams come true. "If you're truly passionate about something, you will not allow yourself get distracted by anything. Do something each day to align your interests with your goals."
Rudstin Chopper Estrellado
Whoever said, "Youth is wasted on the young," has not met Rudstin Chopper Estrallado.  This soft-spoken bright young'un has earned his company numerous awards, surpassing even veterans in his field.
Fully immersed in today's battlefield market, especially for the lifestyle consumer industry, Rudstin works as a Digital Marketing Executive for one of the most prominent retail groups in the Middle East – the Apparel Group.  He is responsible for creating and executing digital campaigns, community management, and influencer management for some well-known international brands.  With his digital savvy and working with the best in the field, his efforts have yielded not just one, but three top honors at last year's Retail Middle East Awards – his projects for Ardene and New Balance hailed as Brand Campaign of the Year and Herschel Supply Co. as Rising Star of the Year.  He gushes, "It felt good to have the right people validate your ideas and your hard work."
Being in the field as a youngster among more seasoned professionals, Rudstin has a very pragmatic approach that keeps him bold and unwavering in pursuing projects for his brands.  "All it takes is that one person to believe in you, who will help and motivate you to pursue your ideas and guide you along the way," he says
Michelle Robis
Michelle Robis works in Corporate Marketing as a Brand Social Media and Activations Manager at one of the region's most valuable real estate development company and the developer of prestigious and exceptionally built property, malls and hospitality projects in the UAE. A graduate of De La Salle – College of St. Benilde in Business Administration in Computer Applications, and backed with experience in leading a talented digital team before moving to Dubai, she joined the hospitality industry back in 2015.  She is currently responsible for driving the social media marketing and communications initiative of four highly acclaimed hospitality brands. She also looks after each social media platform of the company's 14 operational hotels and leisure clubs.
Working in such a fast-paced and competitive industry is genuinely demanding. In surmounting these inevitable hurdles, Michelle shares that striving to be an exemplary Filipino and an individual that emboldens the community serves as an inspiration to rise above: "It's no secret that Filipinos are very resilient. To be able to represent Filipinos abroad and prove to everyone that Filipinos can stand out, lead and inspire – that would be such an achievement.
……………………….
Special thanks to our sponsors: Emirates Airline, Stars n Bars La Mer, Liali, Instax – Grandstores UAE, Dusit Thani Dubai, Gver – Your Friendly Marketplace for Sharing, Meeting Dancewear , MPQ, CMG, Filbrit, and our partners Rozen Antonio Photography,  Alex Callueng Photography, Jef Anog Photography, and Ethereal Photography.