Rollan Rodriguez
Artist & Catalyst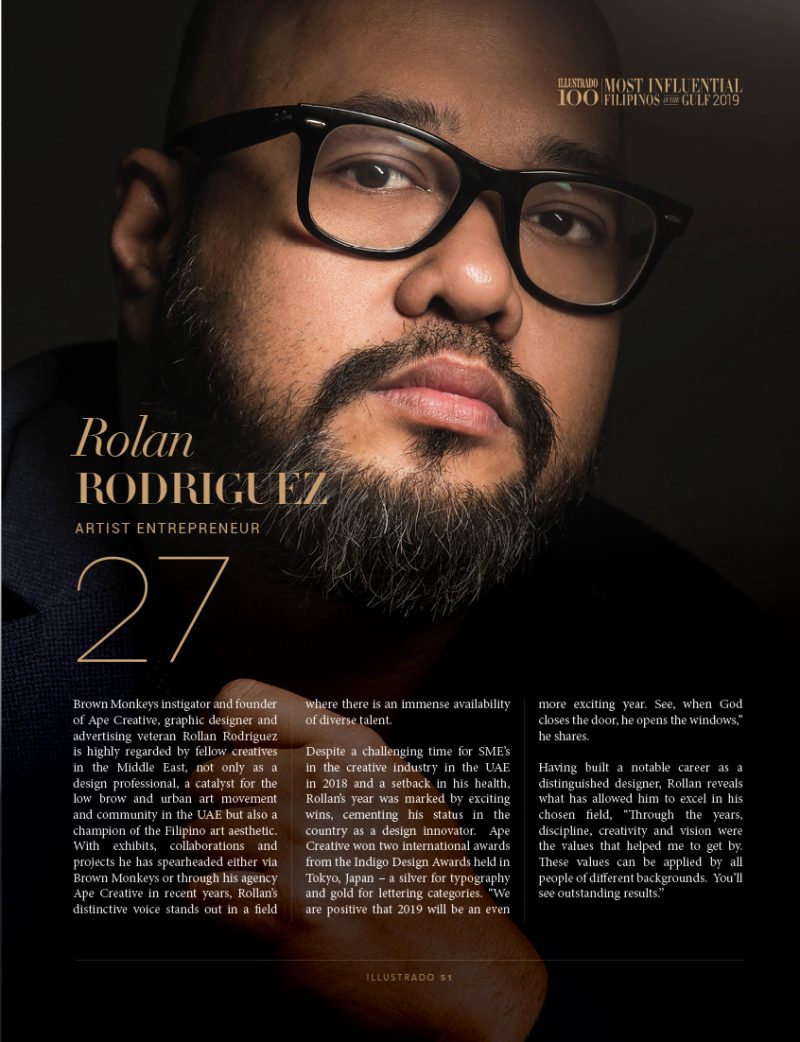 Brown Monkeys instigator and founder of Ape Creative, graphic designer and advertising veteran Rollan Rodriguez is highly regarded by fellow creatives in the Middle East, not only as a design professional, a catalyst for the low brow and urban art movement and community in the UAE but also a champion of the Filipino art aesthetic. With exhibits, collaborations and projects he has spearheaded either via Brown Monkeys or through his agency Ape Creative in recent years, Rollan's distinctive voice stands out in a field where there is an immense availability of diverse talent.
Despite a challenging time for SME's in the creative industry in the UAE in 2018 and a setback in his health, Rollan's year was marked by exciting wins, cementing his status in the country as a design innovator.  Ape Creative won two international awards from the Indigo Design Awards held in Tokyo, Japan – a silver for typography and gold for lettering categories. "We are positive that 2019 will be an even more exciting year. See, when God closes the door, he opens the windows," he shares.
Having built a notable career as a distinguished designer, Rollan reveals what has allowed him to excel in his chosen field, "Through the years, discipline, creativity and vision were the values that helped me to get by. These values can be applied by all people of different backgrounds.  You'll see outstanding results."
……………………….
Special thanks to our sponsors: Emirates Airline, Stars n Bars La Mer, Liali, Instax – Grandstores UAE, Dusit Thani Dubai, Gver – Your Friendly Marketplace for Sharing, Meeting Dancewear , MPQ, CMG, Filbrit, and our partners Rozen Antonio Photography,  Alex Callueng Photography, Jef Anog Photography, and Ethereal Photography.