Trailblazer – Romeo Puncia 
Missionary Athlete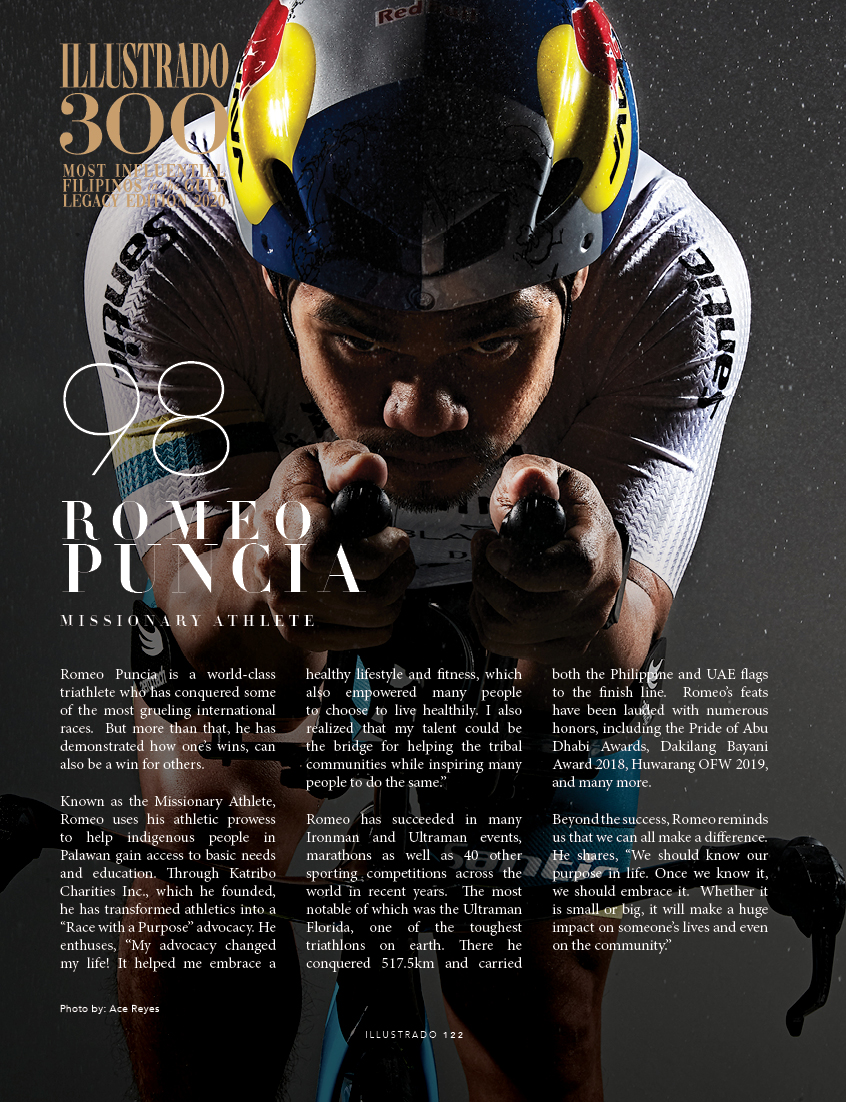 Romeo Puncia is a world-class triathlete who has conquered some of the most grueling international races.  But more than that, he has demonstrated how one's wins, can also be a win for others.
Known as the Missionary Athlete, Romeo uses his athletic prowess to help indigenous people in Palawan gain access to basic needs and education. Through Katribo Charities Inc., which he founded, he has transformed athletics into a "Race with a Purpose" advocacy. He enthuses, "My advocacy changed my life! It helped me embrace a healthy lifestyle and fitness, which also empowered many people to choose to live healthily. I also realized that my talent could be the bridge for helping the tribal communities while inspiring many people to do the same."
Romeo has succeeded in many Ironman and Ultraman events, marathons as well as 40 other sporting competitions across the world in recent years.  The most notable of which was the Ultraman Florida, one of the toughest triathlons on earth. There he conquered 517.5km and carried both the Philippine and UAE flags to the finish line.  Romeo's feats have been lauded with numerous honors, including the Pride of Abu Dhabi Awards, Dakilang Bayani Award 2018, Huwarang OFW 2019, and many more.
Beyond the success, Romeo reminds us that we can all make a difference.  He shares, "We should know our purpose in life. Once we know it, we should embrace it.  Whether it is small or big, it will make a huge impact on someone's lives and even on the community."
Illustrado 300 Most Influential Filipinos in the Gulf is Supported by: Kaya Skin Clinic,  Emirates Airline, and Unilever.
Special Thanks to Michael Cinco, Ezra Couture , Giordano, Darcey Flowers, IKON Solutions, Victors Freight, MPQ Tourism, Asia Gulf Companies –La Carne & Filfood, WOL Water
Get a copy of Illustrado 300 Most Influential Filipinos in the Gulf Legacy Edition