Thoughtleader – Roxanne Negrillo
Advertising & Marketing Communications Professional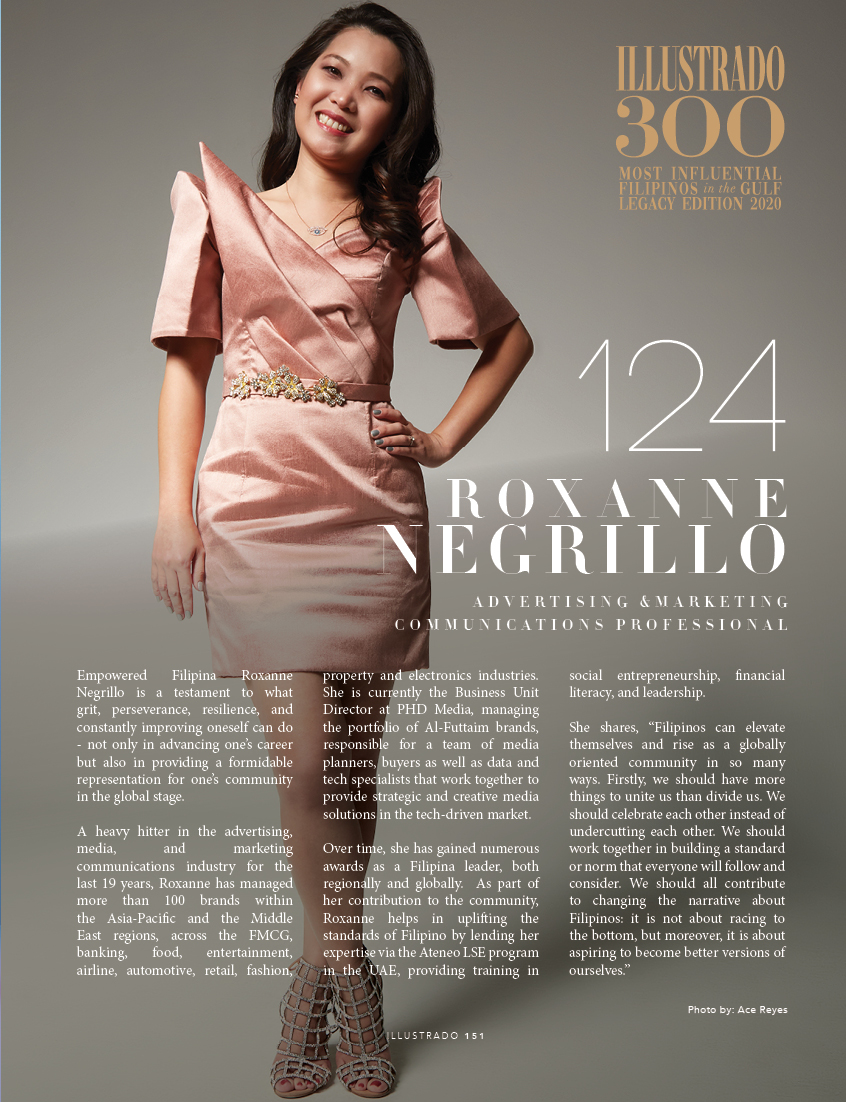 Empowered Filipina Roxanne Negrillo is a testament to what grit, perseverance, resilience, and constantly improving oneself can do – not only in advancing one's career but also in providing a formidable representation for one's community in the global stage.
A heavy hitter in the advertising, media, and marketing communications industry for the last 19 years, Roxanne has managed more than 100 brands within the Asia-Pacific and the Middle East regions, across the FMCG, banking, food, entertainment, airline, automotive, retail, fashion, property and electronics industries.  She is currently the Business Unit Director at PHD Media, managing the portfolio of Al-Futtaim brands, responsible for a team of media planners, buyers as well as data and tech specialists that work together to provide strategic and creative media solutions in the tech-driven market.
Over time, she has gained numerous awards as a Filipina leader, both regionally and globally.  As part of her contribution to the community, Roxanne helps in uplifting the standards of Filipino by lending her expertise via the Ateneo LSE program in the UAE, providing training in social entrepreneurship, financial literacy, and leadership.
She shares, "Filipinos can elevate themselves and rise as a globally oriented community in so many ways. Firstly, we should have more things to unite us than divide us. We should celebrate each other instead of undercutting each other. We should work together in building a standard or norm that everyone will follow and consider. We should all contribute to changing the narrative about Filipinos: it is not about racing to the bottom, but moreover, it is about aspiring to become better versions of ourselves."
Illustrado 300 Most Influential Filipinos in the Gulf is Supported by: Kaya Skin Clinic,  Emirates Airline, and Unilever.
Special Thanks to Michael Cinco, Ezra Couture , Giordano, Darcey Flowers, IKON Solutions, Victors Freight, MPQ Tourism, Asia Gulf Companies –La Carne & Filfood, WOL Water
Get a copy of Illustrado 300 Most Influential Filipinos in the Gulf Legacy Edition