Trailblazer – Shaima Hormillosa
Lifestyle Influencer & Fitness Trainer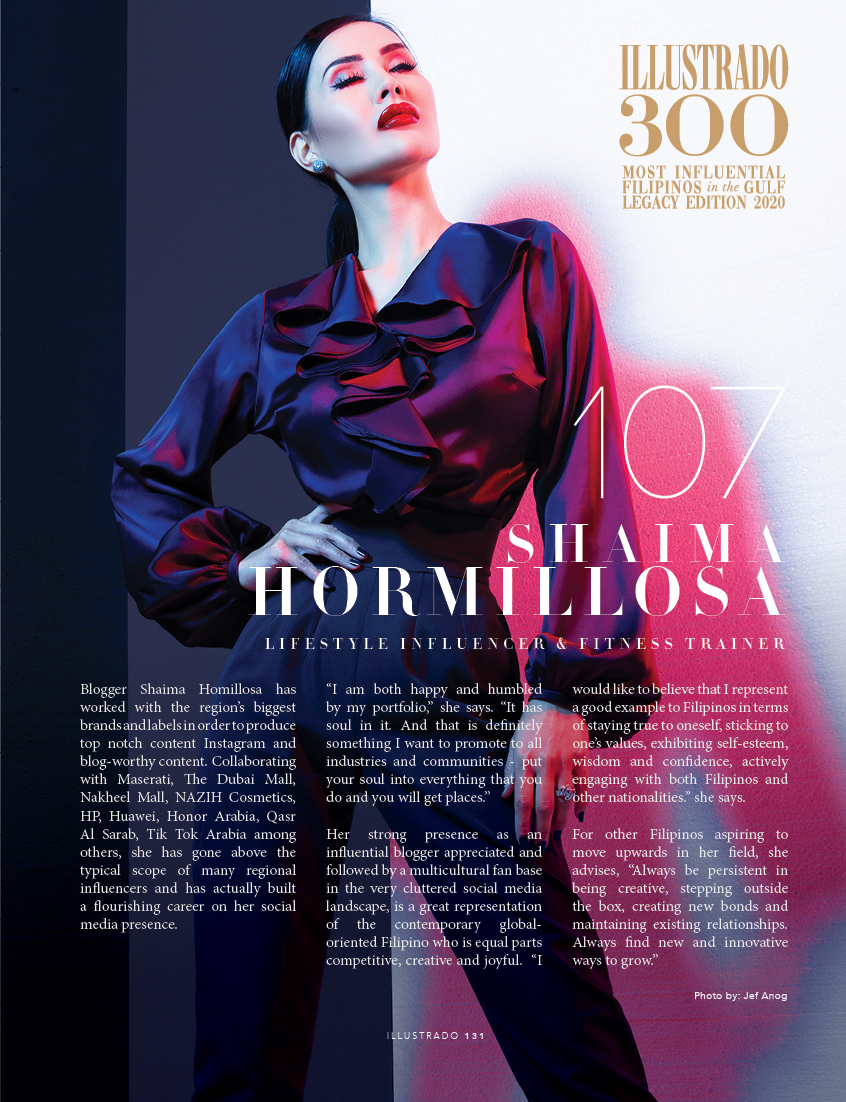 Blogger Shaima Homillosa has worked with the region's biggest brands and labels in order to produce top notch content Instagram and blog-worthy content. Collaborating with Maserati, The Dubai Mall, Nakheel Mall, NAZIH Cosmetics, HP, Huawei, Honor Arabia, Qasr Al Sarab, Tik Tok Arabia among others, she has gone above the typical scope of many regional influencers and has actually built a flourishing career on her social media presence.
"I am both happy and humbled by my portfolio," she says. "It has soul in it. And that is definitely something I want to promote to all industries and communities – put your soul into everything that you do and you will get places."
Her strong presence as an influential blogger appreciated and followed by a multicultural fan base in the very cluttered social media landscape, is a great representation of the contemporary global-oriented Filipino who is equal parts competitive, creative and joyful.  "I would like to believe that I represent a good example to Filipinos in terms of staying true to oneself, sticking to one's values, exhibiting self-esteem, wisdom and confidence, actively engaging with both Filipinos and other nationalities." she says.
For other Filipinos aspiring to move upwards in her field, she advises, "Always be persistent in being creative, stepping outside the box, creating new bonds and maintaining existing relationships.  Always find new and innovative ways to grow."
Illustrado 300 Most Influential Filipinos in the Gulf is Supported by: Kaya Skin Clinic,  Emirates Airline, and Unilever.
Special Thanks to Michael Cinco, Ezra Couture , Giordano, Darcey Flowers, IKON Solutions, Victors Freight, MPQ Tourism, Asia Gulf Companies –La Carne & Filfood, WOL Water
Get a copy of Illustrado 300 Most Influential Filipinos in the Gulf Legacy Edition