Thoughtleader – Tricia Jimenea
PR Maven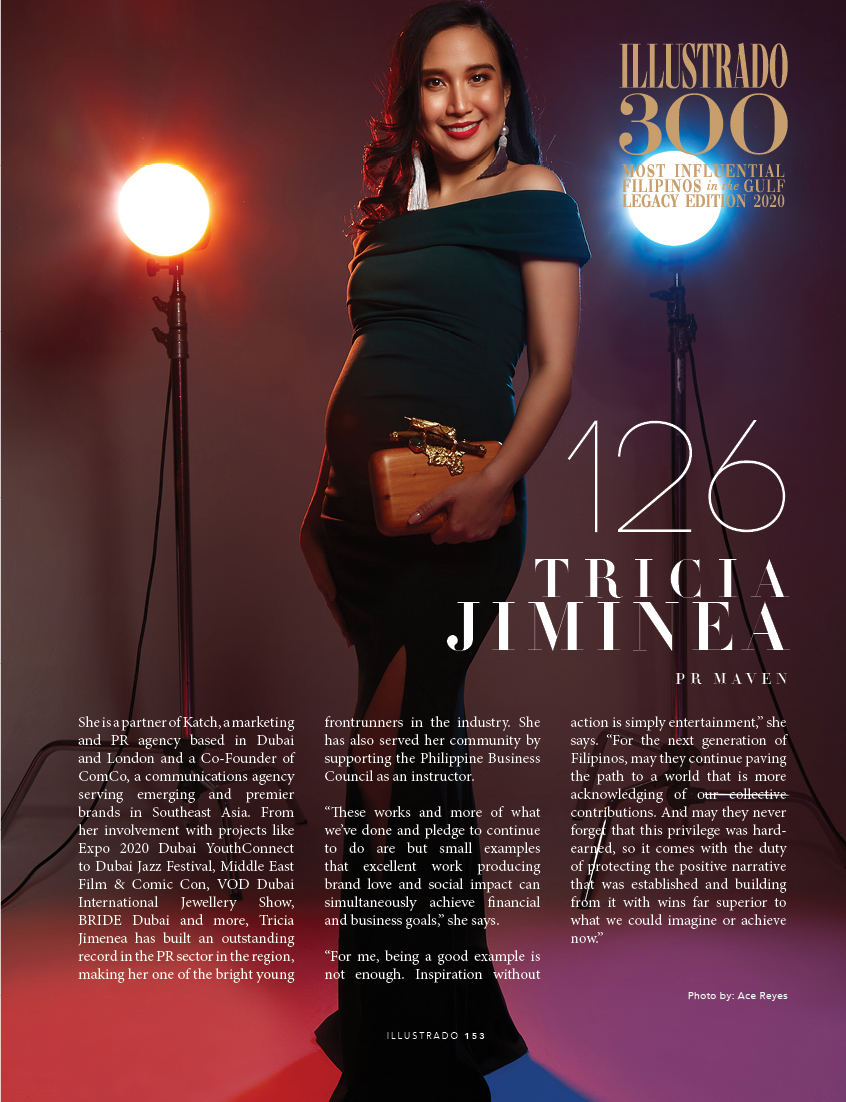 She is a partner of Katch, a marketing and PR agency based in Dubai and London and a Co-Founder of ComCo, a communications agency serving emerging and premier brands in Southeast Asia. From her involvement with projects like Expo 2020 Dubai YouthConnect to Dubai Jazz Festival, Middle East Film & Comic Con, VOD Dubai International Jewellery Show, BRIDE Dubai and more, Tricia Jimenea has built an outstanding record in the PR sector in the region, making her one of the bright young frontrunners in the industry. She has also served her community by supporting the Philippine Business Council as an instructor.
"These works and more of what we've done and pledge to continue to do are but small examples that excellent work producing brand love and social impact can simultaneously achieve financial and business goals," she says.
"For me, being a good example is not enough. Inspiration without action is simply entertainment," she says. "For the next generation of Filipinos, may they continue paving the path to a world that is more acknowledging of our collective contributions. And may they never forget that this privilege was hard-earned, so it comes with the duty of protecting the positive narrative that was established and building from it with wins far superior to what we could imagine or achieve now."
Illustrado 300 Most Influential Filipinos in the Gulf is Supported by: Kaya Skin Clinic,  Emirates Airline, and Unilever.
Special Thanks to Michael Cinco, Ezra Couture , Giordano, Darcey Flowers, IKON Solutions, Victors Freight, MPQ Tourism, Asia Gulf Companies –La Carne & Filfood, WOL Water
Get a copy of Illustrado 300 Most Influential Filipinos in the Gulf Legacy Edition