Thoughtleader: Veronica Bofill Tuaño
Entrepreneur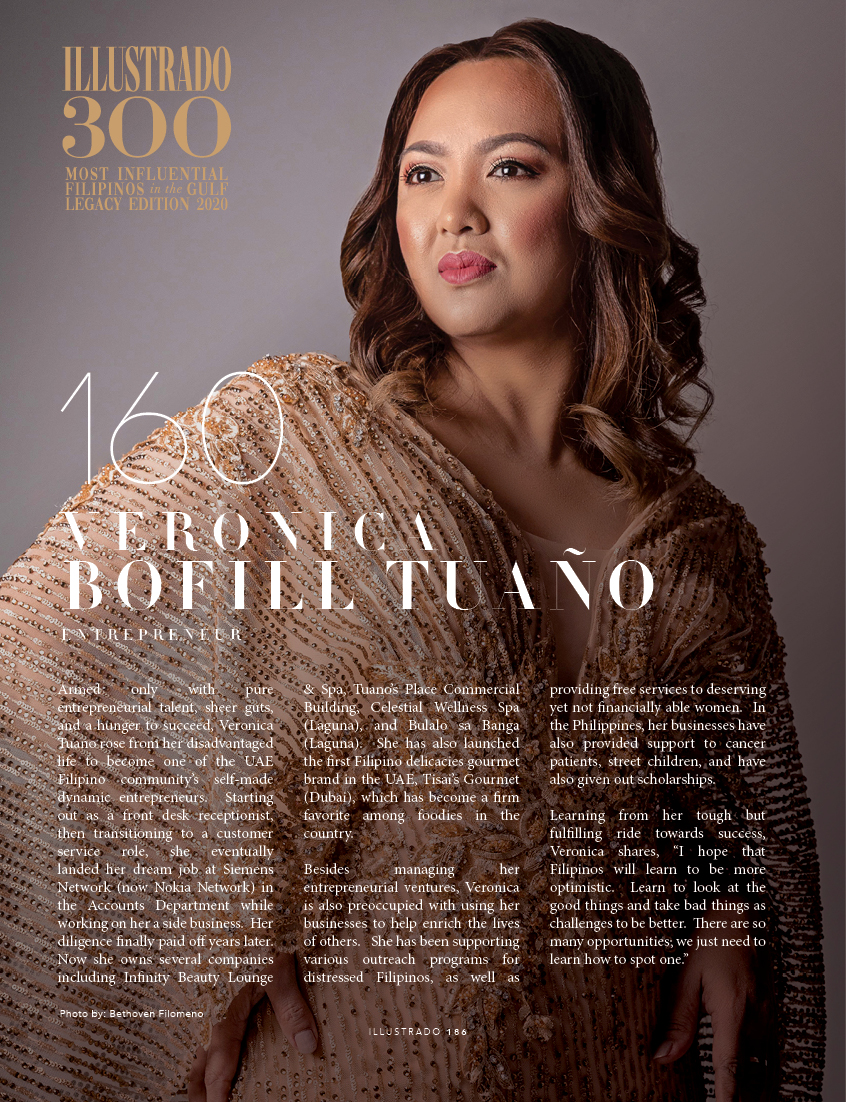 Armed only with pure entrepreneurial talent, sheer guts, and a hunger to succeed, Veronica Tuano rose from her disadvantaged life to become one of the UAE Filipino community's self-made dynamic entrepreneurs.  Starting out as a front desk receptionist, then transitioning to a customer service role, she eventually landed her dream job at Siemens Network (now Nokia Network) in the Accounts Department while working on her a side business.  Her diligence finally paid off years later.  Now she owns several companies including Infinity Beauty Lounge & Spa, Tuano's Place Commercial Building, Celestial Wellness Spa (Laguna), and Bulalo sa Banga (Laguna).  She has also launched the first Filipino delicacies gourmet brand in the UAE, Tisai's Gourmet (Dubai), which has become a firm favorite among foodies in the country.
Besides managing her entrepreneurial ventures, Veronica is also preoccupied with using her businesses to help enrich the lives of others.   She has been supporting various outreach programs for distressed Filipinos, as well as providing free services to deserving yet not financially able women.  In the Philippines, her businesses have also provided support to cancer patients, street children, and have also given out scholarships.
Learning from her tough but fulfilling ride towards success, Veronica shares, "I hope that Filipinos will learn to be more optimistic.  Learn to look at the good things and take bad things as challenges to be better.  There are so many opportunities; we just need to learn how to spot one."
Illustrado 300 Most Influential Filipinos in the Gulf is Supported by: Kaya Skin Clinic,  Emirates Airline, and Unilever.
Special Thanks to Michael Cinco, Ezra Couture , Giordano, Darcey Flowers, IKON Solutions, Victors Freight, MPQ Tourism, Asia Gulf Companies –La Carne & Filfood, WOL Water
Get a copy of Illustrado 300 Most Influential Filipinos in the Gulf Legacy Edition