CL Frostyle Trasmaño
Dancer/Hip Hop Proponent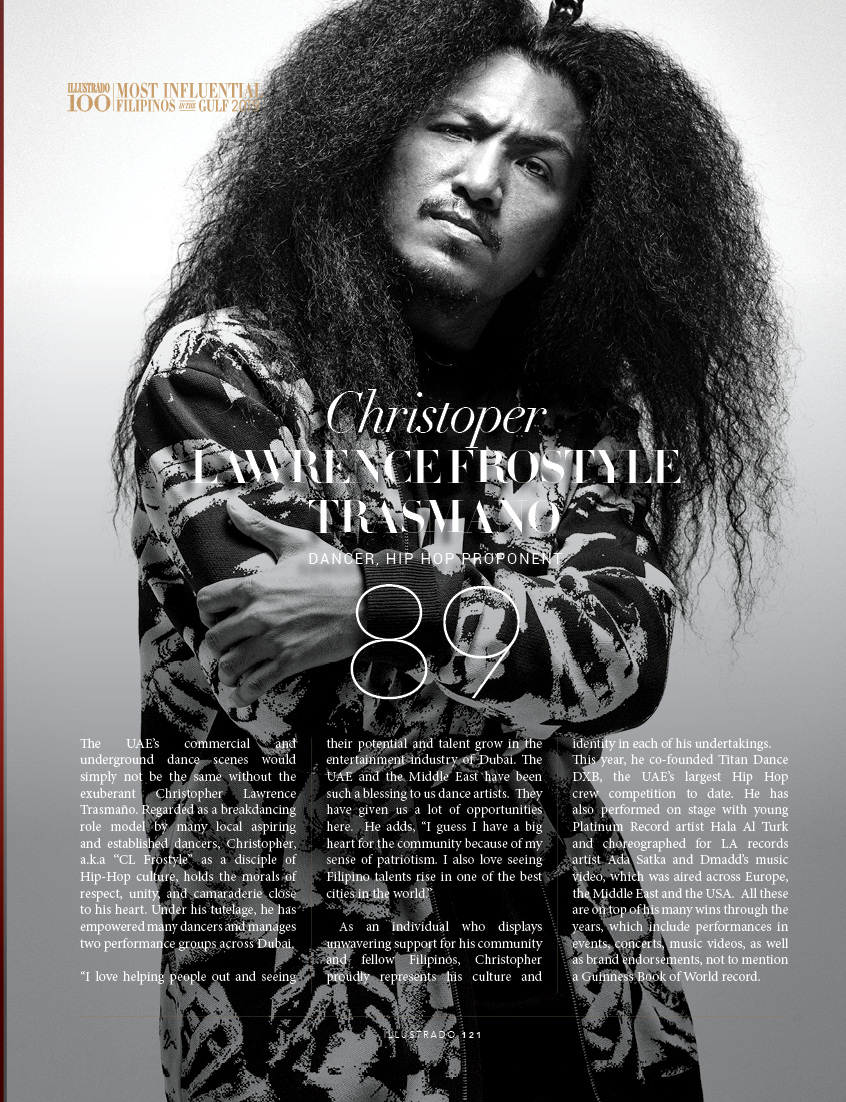 The UAE's commercial and underground dance scenes would simply not be the same without the exuberant Christopher Lawrence Trasmaño. Regarded as a breakdancing role model by many local aspiring and established dancers, Christopher, a.k.a "CL Frostyle" as a disciple of Hip-Hop culture, holds the morals of respect, unity, and camaraderie close to his heart. Under his tutelage, he has empowered many dancers and manages two performance groups across Dubai.
"I love helping people out and seeing their potential and talent grow in the entertainment industry of Dubai. The UAE and the Middle East have been such a blessing to us dance artists.  They have given us a lot of opportunities here.  He adds, "I guess I have a big heart for the community because of my sense of patriotism. I also love seeing Filipino talents rise in one of the best cities in the world."
 As an individual who displays unwavering support for his community and fellow Filipinos, Christopher proudly represents his culture and identity in each of his undertakings.  
This year, he co-founded Titan Dance DXB, the UAE's largest Hip Hop crew competition to date. He has also performed on stage with young Platinum Record artist Hala Al Turk and choreographed for LA records artist Ada Satka and Dmadd's music video, which was aired across Europe, the Middle East and the USA.  All these are on top of his many wins through the years, which include performances in events, concerts, music videos, as well as brand endorsements, not to mention a Guinness Book of World record.
……………………….
Special thanks to our sponsors: Emirates Airline, Stars n Bars La Mer, Liali, Instax – Grandstores UAE, Dusit Thani Dubai, Gver – Your Friendly Marketplace for Sharing, Meeting Dancewear , MPQ, CMG, Filbrit, and our partners Rozen Antonio Photography,  Alex Callueng Photography, Jef Anog Photography, and Ethereal Photography.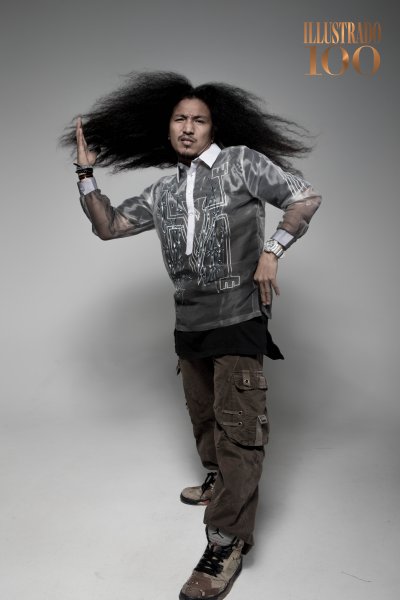 100 Most Influential Filipinos in the Gulf: Christopher Lawrence Frostyle Trasmaño – Dance Artist
For Christopher "CL Frostyle" Trasmaño, dance is not just about grace, fluidity or motion – but it is about culture.
"Hiphop culture in general – especially dance culture – has been such a positive influence in the world," he says. "One of the legendary bboys Remind once said –  "We can stop Wars." The culture which started in New York has now reached almost all parts of the world, and every year, hundreds of really high level international events are happening worldwide."
Last year, this Pinoy who is the most prominent in the local dance scene known not only for his moves but also his unmistakeable hairstyle and ebullient personality became part of two landmark dance documentaries.  The first one was "Beyond the Block" by dance legend Ricky Carranza,  where he represented Middle East Pinoy hiphop.  Then there was "Grit. Grace. Gold." a HipHop film produced for Sole Dxb where he was the only Filipino among the "OGs," as well as up and coming talents of bboying and hiphop in the emirates.
Nike also appointed Frostyle as brand ambassador in 2017, with his photos placed at the Mall of Emirates during the Nike Airmax 30th anniversary. He also became part of the FilClub and was instrumental in organizing the very first Bayanihan HipHop Dance showdown held at World Trade Center to give an avenue for Pinoy dance crews to showcase their skills.
"I just want to touch lives and guide the young generation of hiphop dancers in the real essence of it all – to spread love, peace, unity, knowledge and to have fun," he says.
_________________________________________________________________________________________
Photography by: Alex Callueng
Illustrado 100 was made possible by sponsors: Giordano, Liali Jewellery, Mitsubishi UAE- Al Habtoor Motors, Michael Cinco Couture, Mapúa Institute of Technology, Centro – Amwaj Rotana Hotel , Max's Restaurant Middle East and GVER – Your Friendly MarketPlace for Sharing
Co-Sponsors: Herschel Supply Co., Rove Hotels, The Medical City – Dubai , Filipino Institute UAE, MPQ Tourism, JAMES Travel and Tours Dubai, Off the Hook Seafood Restaurant, The Original Barrio Fiesta Restaurant – Dubai and Tapa King UAE.
Read more Illustrado 100 on www.illustradolife.com