Most Influential Filipinos in the Gulf 2016 – Ambassador Constancio Vingno Jr.
Philippine Ambassador to the UAE
"My true aspiration is for Filipinos not to leave their country and their families anymore in the first place to improve their lives – that every Filipino who goes abroad does it out of choice and not because they are forced to do it by economic circumstance." Such is the best case scenario for Ambassador Constancio Vingno Jr., the Philippine Ambassador to the UAE. As the de facto "father" of the Filipino expat community in the UAE, his is the colossal responsibility of overseeing the welfare of hundreds of thousands of OFWs, as well as creating stronger diplomatic ties. In his words: "As the Philippine Ambassador, I am mandated to put forward the national interest of our beloved Philippines and fellow Filipinos. This is in the areas of national security, economic diplomacy and assistance to nationals, also considered as the three main pillars of foreign policy."
Upon taking office on the last quarter of 2015, Ambassador Constancio hit the ground running and went on to secure numerous achievements all throughout 2016. He says, "I am happy to note that we have engaged with many UAE officials this year as compared to previous years. Looking ahead, we expect many bilateral engagements, including exchange of high level visits and signing of significant agreements between the Philippines and the UAE, the specific details of which I still cannot disclose at this point in time. I am also proud of the huge turnout of Filipinos in UAE not only for the overseas voters' registration but also during the one-month long overseas elections in the UAE. 31.74% of the registered voters in UAE came out to vote. The turnout has been the highest in the UAE since the Overseas Absentee Voting Act of 2003 was implemented."  
In addition to political and economic engagements with the UAE, Ambassador Constancio intends to continue improving consular functions, including assistance to nationals, and further enhance the Embassy's reach with the huge and active Filipino community. Of the legacy he wishes to impart to his kabayans, he says: "I want to be remembered as someone who has built an organization, founded on a more solid foundation, for others to build on."
ACKNOWLEDGEMENTS:
Special thanks to Illustrado 100 Most Influential Filipinos in the Gulf 2016 sponsors – Giordano, Nikon, Liali Jewellery, Lulu, Mitsubishi and Western Union.
---
Illustrado Portrait: H.E. Ambassador Constancio Vingno, Jr.
By Lalaine Chu-Benitez
Photos by Eros Goze for Illustrado Magazine

The atmosphere was light and airy, as we took in one of Reem Island Abu Dhabi's most impressive views through expansive floor-to-ceiling glass windows.  Here, with our perfectly chilled drink in hand, we listened as the delicate plucking of acoustic guitar floated through immaculate floors, sparkling crystal and gleaming china.  The song, a soothing and more soulful rendition of Led Zepellin's rock classic 'Stairway to Heaven.'
Just another Thursday in the capital?  Except that the venue was not just another watering hole – this was an official residence, and the 'guitar man'?  Well, that was the Philippine Ambassador to the UAE.
……………….
His Excellency, Constancio 'Bong' Vingno, Jr., has been a career diplomat for 40 years now.  The most senior diplomatic officer in the region, has served, to date, in  seven countries: Germany, Romania, Austria, Japan, Greece, and most recently South Africa.  Before moving to the UAE, he was Assistant Secretary at the Department of Foreign Affairs' Legislative Liaison Unit in Manila.
The man might as well also have the distinction of having one of the most memorably firm handshakes one could ever have the opportunity of experiencing.
If his firm handshake and purposeful but warm demeanor are anything to go by, the Ambassador seems to be on full throttle in carrying out his mandate in the country – this includes foreign policy-making recommendations, the promotion of the Philippine's national interest and the welfare of Overseas Filipinos (OFs), as well as fostering economic cooperation and cultural exchanges.
He says of his over two year posting which started in October 2015, "We're in a country with the highest sovereign wealth fund, so during my tenure, I hope to be able to help tap investments from the UAE.  We certainly have a lot to offer, especially considering that our country has the highest growth rate in Asia."
The Ambassador adds, "I also intend to revisit negotiations with the emirates – cultural and labor cooperation agreements, and continue promoting bilateral cooperation between our countries in the economic, scientific, technological and cultural fronts.  We also participate actively in political consultations that include discussions on international and regional developments and all aspects of relations between the Philippines and the United Arab Emirates."
………………………
Illustrado Portrait: H.E. Ambassador Constancio Vingno Jr.
Honed in diplomacy through the years, it is interesting to note that the Ambassador didn't really plan for a life in the Foreign Service in his youth.  Back then, he was an economics graduate moonlighting as a musician.  His musical prowess was such that he could play almost a hundred songs purely by memory on his guitar back then in his younger days. He also dreamt of eventually becoming a lawyer, entered law school but was unable to pursue it further as his interest turned to something else. He was working as an economics researcher at the NFA, and briefly playing part time musician in the evenings, when he got an entry to the diplomatic service in 1976.  He was only 23.
"I used to admire Ambassadors Pablo R. Suarez (former Undersecretary of Foreign Affairs and Philippine ambassador to the United States) and Tomas T. Syquia (former Chief Coordinator at the Department of Foreign Affairs and Philippine ambassador to the United Kingdom) back then.  They became my role models," the Ambassador recalls.  He continues, "In the beginning, being in the Foreign Service was simply a job for me.  That was until I landed a posting in Germany as attaché in charge of economic affairs and realized how much I enjoyed this job.  So, I took the Foreign Service exam in 1987 in Geneva, Switzerland, which I passed. Only then did I realize that this was what I really wanted to do in my life."
More than the perks that go with a position in the diplomatic corps, including that of being able to live around the world together with his family, Ambassador Vingno looks at his life in the Foreign Service with the utmost fulfillment, especially since he was given the opportunity to contribute something to the Philippines.  "The best thing about this job," he shares, "is when you are able to help a kababayan and engage the Filipino community and you see the results of your work.  When I see people saying 'thank you' – the satisfaction I get is truly amazing.  Maski pagod ako, hindi ko na napapansin, nakakatulog pa ako ng maayos." [Even if I'm tired, I don't mind it anymore, it even helps me sleep very well.]
And indeed, the job of an Ambassador can be very taxing, especially in a place known for an extremely high volume of work which comes with its own challenges.  The Ambassador says of their daily grind, "The sheer number of Filipinos residing in the UAE makes it rife for a lot of issues.  Imagine the proportion.  Our area [Abu Dhabi] where there are about 190,000 Filipinos is handled by an embassy with a personnel complement of 55 people, which includes the personnel of the embassy, attached agencies of the Philippine Overseas Labor Office, Overseas Workers Welfare Office, Social Welfare Attaché, Pag-Ibig and SSS representatives. Thankfully, we have a Consulate General in Dubai headed by a Consul General that takes care of the welfare of the rest of the Filipinos numbering about 410,000 living in Dubai and the Northern Emirates."  He adds, "In contrast, our embassies and consulates in other countries have much lesser citizens to look after."
Furthermore, over and above administrative routine, there is the gravitas of having to deal with all sorts of problems that come with hundreds of thousands of Filipinos in a foreign land, as the head of the community.  "The issues of Filipinos around the world are pretty much the same.  We have problems here that exist in other countries, too.  Also, even when our citizens commit a crime or do something wrong, it is our duty to ensure that they are taken care of, and that their rights are duly protected."
He confesses, "I used to be very affected by all the work – I was always feeling tired and exhausted.  But I am very fortunate that when I go home, I have a wife to talk to. Her just being there has a soothing and balming effect on me."
The Ambassador was referring to Madame Yoko Ramos-Vingno, the lady of the house, dressed in elegant malong and a simple shirt – her version of Filipiniana casual, who at that time left no stone unturned to make us feel welcome at the official residence.  A former career public servant, Madame Yoko who has a warm and pleasant air about her, assumed the role of diplomatic spouse when she quit her job as Director with the Office of the President to join the ambassador when the latter was then assigned as Consul at Osaka, Japan from 2002 to 2005 and played that role – not only providing support to her husband, but also creating and initiating activities via the social and cultural fronts. Together they make a formidable couple.
"I have always sought her advice and she is very supportive of me," the Ambassador continues. "Our children are also very understanding. They are very proud of my work."
Four decades on, it appears that the decision to fully immerse himself in the service has been truly an extraordinary choice.  Between his calling, his duty to the Philippines and its people, and the sense of fulfillment it brings, complimented by a family that provides him a safe haven where he can decompress and find support for the challenges he encounters along the way, the good Ambassador seems to have found the perfect balance – his amazing recipe for effectiveness and longevity in service, not to mention his optimistic outlook in life.
His ultimate secret to success?  He smiles, "Equanimity.  Don't take yourself all too seriously," the Ambassador says as a matter-of-fact, his eyes glinting mischievously, his fingers still busy plucking on strings as he tries to remember the notes of one of his favorite pieces in his youth.

"I actually look forward to retiring in two years," he shares.  "I will probably teach political science in the Philippines then.  Of course, spend more time taking care of our youngest son, Chase."  He reflects.

"That, and play more music."
Meet the Philippine Consul General in the UAE
………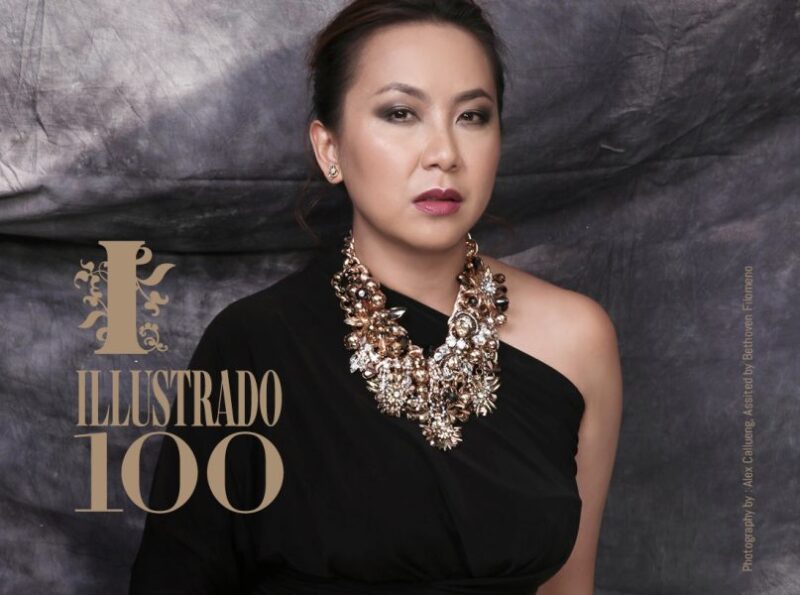 LALAINE CHU-BENITEZ
Editor-in-Chief and aspiring urban farmer "almost superwoman" Lalaine has been driving Illustrado's mission to uplift Filipinos in the region for almost a decade now.  A former corporate dynamo living in Dubai for over 20 years, she has been fortunate to see the emergence of Filipino clout and these parts, and believes that we are still at the beginning of our ascent and can rise even further.