Ezra Santos
Fashion Designer
Fresh from his latest runway conquest at Harbin Fashion Week in China this January 2019, where he has represented both the UAE and the Philippines, Ezra Santos' star continues to shine brightly as one of the most iconic Filipino designers of our generation.
With his position as a leading designer in the couture world in the Middle East and in the Philippines tightly-secured, Ezra's demeanor, much like most of his designs, is luxuriously elegant, but distinctively effortless.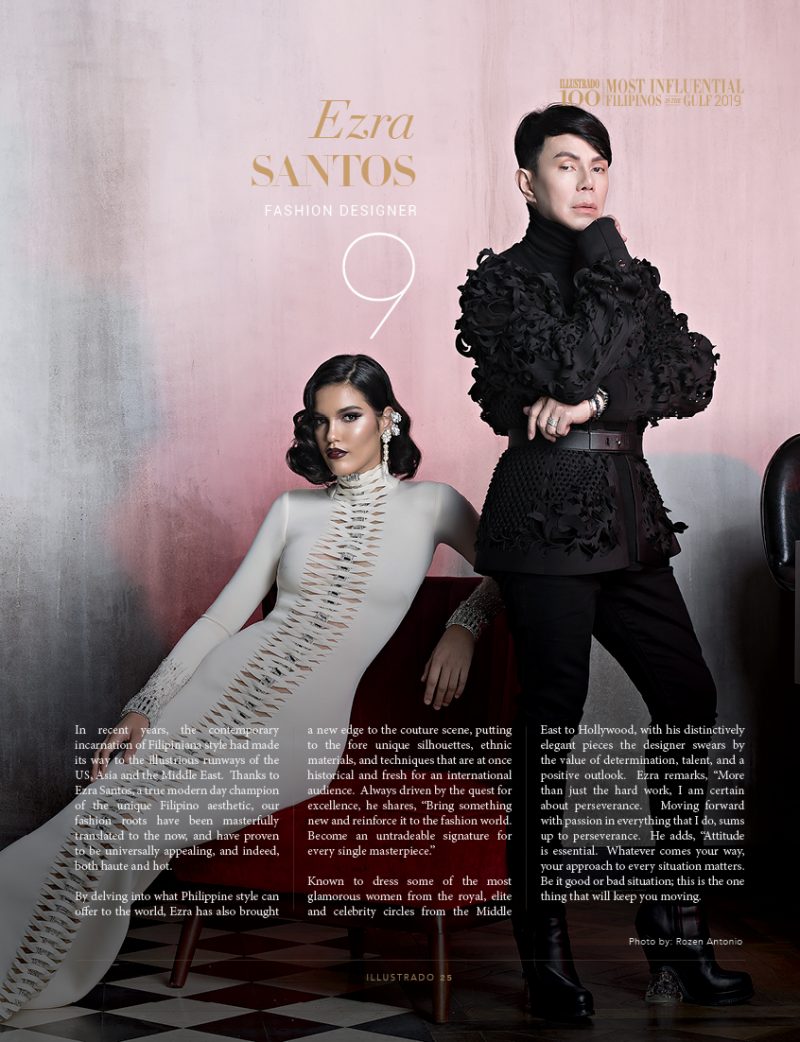 And his body of work has definitely earned his right of place.  Growing from strength to strength allowing him to make inroads even in other parts of the world including the US, Ezra maintains a steady clientele of royals, the elite, and A-listers.  Furthermore, his sharp acumen for innovation enabling him to churn out his unique fashion perspective at every turn has also kept his atelier as one of the wildly successful homegrown fashion businesses of Dubai.  Ezra shares as a matter-of-fact, "Challenges in the couture world are an understatement. This is why we always continue to observe the trend and enhance it through our own approach. One must innovate to exist." He adds, "Innovation nowadays has been as fast as the clock ticks. One must thrive to improve for the better and create self-sufficient works that supersede mediocrity."
Ezra's excellent discipline in his field works in synergy with his unwavering determination, "Through persistence, nothing is unachievable; the same goes as if you do not believe your current condition could be better, motivation will be rare too."
Believing in the power of the divine which he credits for his many triumphs and rising influence in the world, Ezra shares his perennial guiding light to his endeavors, "Prayers. Nothing in Ezra Couture or even in my personal life could possibly exist if not with prayers.  This has been a powerful tool that I could boldly share with others.  I also encourage others not to lose even a strand of hope in any situation.   Fashion trends, style choices, and collections come and go, but this one thing remains unmoved."
……………………….
Special thanks to our sponsors: Emirates Airline, Stars n Bars La Mer, Liali, Instax – Grandstores UAE, Dusit Thani Dubai, Gver – Your Friendly Marketplace for Sharing, Meeting Dancewear , MPQ, CMG, Filbrit, and our partners Rozen Antonio Photography,  Alex Callueng Photography, Jef Anog Photography, and Ethereal Photography.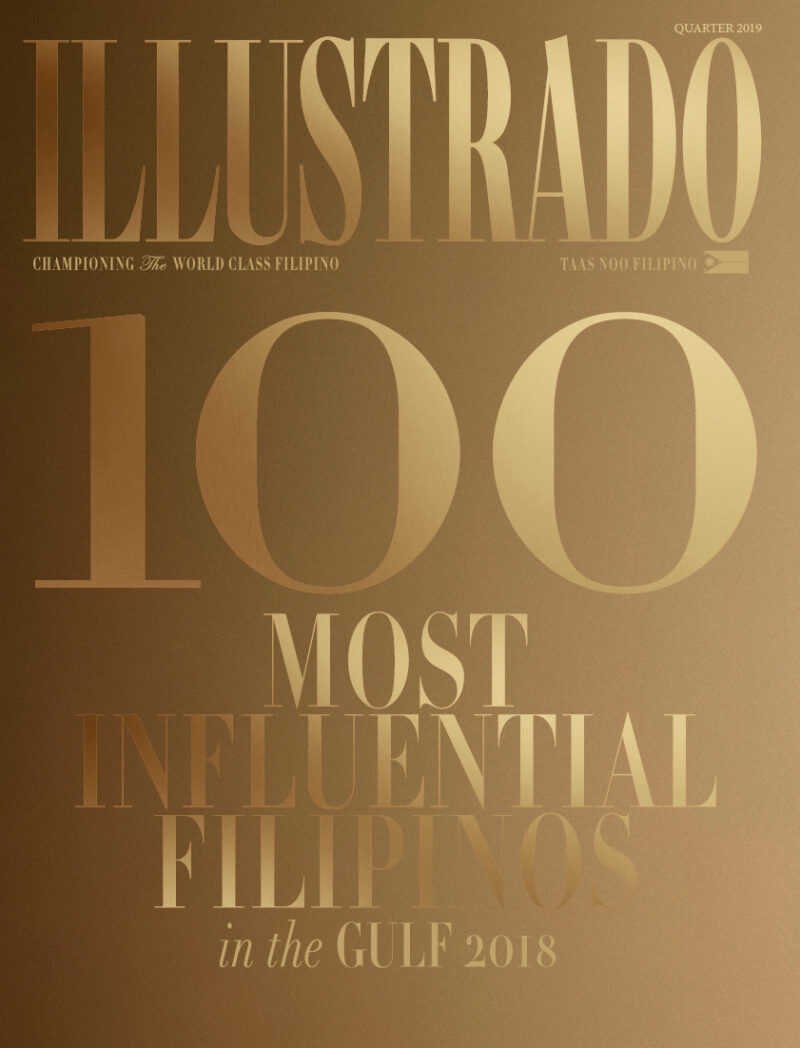 100 Most Influential Filipinos in the Gulf: Ezra Santos

In recent years, the contemporary incarnation of Filipiniana style had made its way to the illustrious runways of the US, Asia and the Middle East.  Thanks to Ezra Santos, a true modern day champion of the unique Filipino aesthetic, our fashion roots have been masterfully translated to the now, and have proven to be universally appealing, and indeed, both haute and hot.
By delving into what Philippine style can offer to the world, Ezra has also brought a new edge to the couture scene, putting to the fore unique silhouettes, ethnic materials, and techniques that are at once historical and fresh for an international audience.  Always driven by the quest for excellence, he shares, "Bring something new and reinforce it to the fashion world. Become an untradeable signature for every single masterpiece."
Known to dress some of the most glamorous women from the royal, elite and celebrity circles from the Middle East to Hollywood, with his distinctively elegant pieces the designer swears by the value of determination, talent, and a positive outlook.  Ezra remarks, "More than just the hard work, I am certain about perseverance.   Moving forward with passion in everything that I do, sums up to perseverance.  He adds, "Attitude is essential.  Whatever comes your way, your approach to every situation matters. Be it good or bad situation; this is the one thing that will keep you moving.
_________________________________________________________________________________________
Photography by: Rozen Antonio
Illustrado 100 was made possible by sponsors: Giordano, Liali Jewellery, Mitsubishi UAE- Al Habtoor Motors, Michael Cinco Couture, Mapúa Institute of Technology, Centro – Amwaj Rotana Hotel , Max's Restaurant Middle East and GVER – Your Friendly MarketPlace for Sharing
Co-Sponsors: Herschel Supply Co., Rove Hotels, The Medical City – Dubai , Filipino Institute UAE, MPQ Tourism, JAMES Travel and Tours Dubai, Off the Hook Seafood Restaurant, The Original Barrio Fiesta Restaurant – Dubai and Tapa King UAE. 
Read more Illustrado 100 on www.illustradolife.com