Gladys Mae Villa
Architect – Design Consultancy Firm Abu Dhabi
My Job
Residing in the UAE's capital since 2008, I am blessed to have been practicing my profession as a design professional in varied contractor and consulting capacities to clients from all over the Emirates. To put words to what I do, I am involved in designing and executing architectural plans in building construction. Or in a more simplified way, I work with creativity and numbers to make a place for people to call a home, office or merely a place to gather.
More than using both the left and right sides of my brain at work, I am opportune to be social. I lead a design team and met with people including their Excellencies (Sheikhs), the government and the private sector. In places no less than what the UAE offers to the world -luxury and comfort, I feel favored to say that 'I love my job' not only due to its perks but also because of the experience of working in a multicultural environment.
Once there was a time that my understanding of the local norms (as applied to building interiors) had been put to a test. I had met a VVIP client in a prominent building in Downtown Dubai. In between consultations, it is inevitable that someone goes to the washroom for a bladder break which I, for one, took. In a search to do this, I had found a sign that looks like what we Filipinos or non-Arabs would associate as feminine (i.e. a face silhouette similar to a woman with a long hair as seen in the side view). Little to my knowledge, I entered the men's toilet where I surprised a local guy clothed in the traditional kandura. All the while, the sign that I saw earlier was referring to the head of an Arab man wearing a keffiyeh. This short encounter had me thinking that every day is an opportunity to learn about a new culture.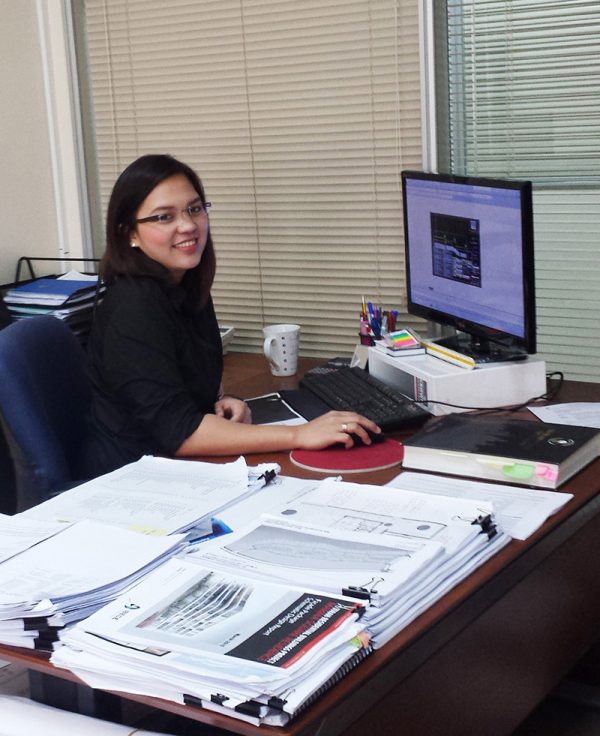 It's What I do: Gladys Mae Villa
My Typical Day
The body of my career was mostly built here in Abu Dhabi. It is, however, in no way different to others from across the globe. I check my emails first thing in the morning, do the bulk of my task to finish deadlines, occasionally go out of the office for site visits (even when I was pregnant) and drink lots of caffeine in between.
My Message to Filipinos
To all aspiring Filipinos hoping to start anew abroad, it isn't all the comfort and luxury you see that makes the life of an OFW. Rather, it's a mixture of hard work, resilience and openness. Hard work will bring you to what you need, resilience will keep you where you want to stay, and openness will lead you to what you dream of.
Design your work and build your design!