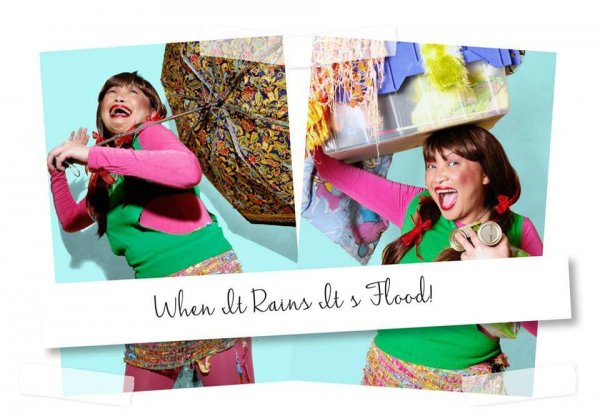 One thing na miss na miss ko na when I moved here sa Dubai is the rain. Sure it rains not once, but twice, even thrice a year here in the Middle East but it's nothing like what we experience back home. Growing up in the province, the rain brought good luck to us – it's a blessing in the sky – sureball na masagana ang ani and business in the farming industry will be fruitful. Winner!
I love the rain. It is so much fond and romantic at the same time. I remember taking a bath in the rain with my siblings and our pet askal dogs, Bulak and Putik. Priceless! I also love it when it starts raining in school, I would hide my umbrella so that I can make sukob to my crush's payong – pang-Close Up moment di ba? Tsaka fresh na fresh ang dating ko sa mga boys with my wet look. Nakatipid na ako sa tubig without taking shower, nakapag-pa-cute pa ako. Kaya lang when it floods medyo tragic na. Like there was this time na binaha ang campus namin in Manila – I had to cross the street habang nakasakay sa styrofoam – eh biglang nag cupsize – award! Magastos din – kasi every time you have to cross the baha, you have to pay PHP5 to be able to use the instant bridge (made out of a dos por dos). Yung iba talaga ginagawa pang negosyo ang baha. Kainez! On the brighter side of the coin, walang pasok sa school kapag malakas ang bagyo at baha – kaya happy lahat ng estudyante sa U-belt area.
Every time I miss the rain lalo na pag panahon ng tag-ulan, di na rin maiiwasan maalala yung experience back then with typhoon Ondoy – the most devastating disaster to hit our country – eh I was completely, totally, absolutely devastation. Grabeh! I was so shocked when I saw all the pictures and videos in Fezbook. A lot of people – rich and poor, old and young, boy, girl, bakla, tomboy – became victims because of the continuous rains and floods. Grabeh! Even the cars were not spared – most of the people lost all of their belongings. Kawawa naman. Eto na yata yung tinatawag na Global Warning. You know naman nature kung magbiro. But jokes are half meant, sabi nga ng guidance cancellor ko noon. This is no joke. I told myself. Because they really meant it. Grabeh!
I was so worried for my family and friends back home. OH-EM-GEE!!! Nagpanic talaga ako kasi sa kaka-Fezbuk ko bigla ko naalala na taga Luzon nga pala ako and most of my friends are in Metro Manila. I tried calling them then so many times pero puro Network Error – kaka-praning! I kept imagining kung ano na ang situation sa amin sa Bataan. Baka binaha na din kami at inanod yung mga gown kong pang-Santacruzan – saying naman yun! All of a suddenly, I kept seeing bad things in my mind. What if inabutan ng baha si Nanay habang nagma-majong sa kapitbahay? Pano kung nabasa at na-damaged lahat ng mga furniture and appliances na naipundar ko over the years? Pano kung pati yung latest Kenstar 40-inch Plasma TV na pinadala ko before the typhoon eh tinangay din ng baha? Hindi pa bayad yun sa credit card!!! Pano na ang mga pamangkin ko, saan na sila manonood ng Rosalinda nyan? Naku, I was so worried…
Continue reading Annie B Chronicles on our website – www.illustradolife.com
Pero after five hours of feeling scarry and helpless, I finally received a text message from my Ate that they are safe and sound in our home in Bataan. Mabuti na lang at nagkataong nagpapa-pintura daw sila ng bahay kaya naka-ligpit lahat ng gamit sa second floor kaya hindi na-damaged ang mga furniture at appliances namin. Hindi rin daw masyadong inabot ng baha ang house namin kasi mataas naman ang area namin. Hay salamat naman! I was so relieved to hear the good news. I don't think I can take it anymore if something bad happens to my family. Yun nga lang, bored daw sila kasi walang kuryente buong magdamag kaya hindi sila nakapanood ng The Buzz. But still, they're safe. Thanks God!
But moments later, I heard some bad news about my friends and former officemates who are living in Metro Manila. My former classmate and her family got stranded for almost 12 hours on top of their roof. My boss lost his brand new SUV na natangay ng flood. My friend is still looking for her grandfather who went missing in the floods. My ex-officemate's house got flooded up to their second floor and all of their furniture and appliances got wet and damaged – all of them gone and useless now. How sad to hear all of this. Such tragic news! Napa-tumbling ako!
Out of the blues, I felt blessed and lucky. First and for all, that nothing bad happened to my family back home. That all of my family members are complete and still alive and kicking. And that I am here, safe and sound in Dubai, able to earn money so I can provide for my loved ones. I cannot imagine all the pain and sufferings and sorrows that those poor unfortunate souls who were victim of the flood are feeling right now. Imagine you work very hard all of your life to build your house and decorate it but in the wink of an eye your possessions can be gone and disappear just like that. Swept away. Soiled and mudded. What a waist.
More than the tragedy ng Ondoy, I was touched and amazed on how the Filipinos are now united and helping each other during the crisis then. I admire those who go out of their weight just to be able to save those still in need, those who volunteer in rescuing the victims, whose who send money and donate releaf good for those poor unfortunate souls. That's the true Pinoy spirit! Bayanihan in action – extending each other right and left hand to help and save our fellow countrymen! I'm so proud of my kababayans back home. Even the ones abroad, they donate to the Red Cross – how thoughtful and caring for them.
Which brings me to think: how can I, as an OFW who is miles away from home, be able to help those in need, without riding an airplane and making long distance phone calls? Magastos yun eh.
Then an idea crossed at the back of my mind. What if I donate my stuffs to our less fortunate countrymen back home? I have so many things that could be useful to the needy. Most of these stuffs are just lying around my place. Konting diskarte lang plus lots of creativity equals instant donation! Dizzizit! Whithout battling an eye last, I quickly scanned my room, my closet and my baul and looked for things that can be donated. Here's a list of the stuff that I collected and sending back home to those who are in need:
Used blanket, comforters, bedsheets and towels. Maginaw sa atin because of the rainy weather so people need to be warm and dry. If not baka magkasakit sila. If they are creative enough, pwede ring gupitin at tahiin ang mga tela and transform them into evening gowns, sundresses, and poncho coats. At least mas fashionable pa compared to the usual clothes na pinamimigay sa releaf centers.
Used clothes and accessories. My super fashionista sweater will surely be useful lalo na sa mga lamigin. Madami akong mga tube tops pwedeng gawing pillow case! Ay, ang paborit platform ko – my dear shoeses – can be very useful sa pagsugod sa putikan – aminin ang mga germs at bacteria nagkalat everywhere! For those who want to improvise, my used stockings and pantyhoses can be used as fishing nets – since madaming mga isda ang lumalangoy din ngayon sa baha. I've seen this before sa pelikulang "Tempation Island." Isa ito sa mga survival tactics na ginawa ng mga Miss Manila Sunshine na na-stranded sa isang isla. Pang-McGyver di ba? Anyway one has to eat and survive and fish is healthier compared to canned goods na puro preservatives at bad cholesterol lang, di ba?
Shampoo, conditioners, body wash and bath salts. Most of the time bili tayo ng bili ng mga ganito pero hindi naman natin nauubos. Besides, what to do with all the water around? Eh di maligo nag maligo! Malinis na sila, mabango pa! Iwas sakit di ba?
Moisturizing lotions and Sunblock with SPF 25. Syempre naligo na rin sila aba eh dapat mag-moisturize para hindi mag-dry ang skin. At dapat lang may proper SPF  – para hindi sila magka-wrinkles at skin cancer.
Make-up, waterproof mascara, lipgloss and extra super strong hold hairspay. Importante pa ring magpaganda kahit umuulan at bumabaha. Alangan naman umappear na haggardness and kawawa. So since lagi pa rin umuulan dapat yung hindi nabubura at mag-sma-smadge ang make-up.
OLD CDs and DVDs. Yung other side pwedeng gawing mirror. Mahirap mag-apply ng waterproof mascara kapag hindi ka sanay. So dapat swak na swak ang paglalagay para hindi rin masayang ang cosmetics and others can share them. The more, the many-er!
Ayan, I hope these will be very useful to our kababayans back home. Konting imagination at creativity lang po yan. Remember, sa panahon ng ulan eh dapat pa rin tayong maging maganda, malinis at malusog. Pagpasenyahan nyo na lang po ang mga nakayanan ko.
At this point, I am encouraging all of our other fellow OFW's to do the same –  how ever small or big you can – to join hand in helping our unfortunate countrymen pag ganitong panahone. Aminin, walang bagay ang walang malay – finders keepers, losers winners. It's time for all of us to unite and become one. Let's not forsake the needy back home. Let's count our blessings and be thankful that we still have the ability to make a different. For you and for me.
So what are you waiting for? Don't just do something, stand there. Donate na! Dizzizit!
________________________________________________________________________________
Related articles:
The Annie B Chronicles: Da Idols of my Life