By Dr. Rex Venard Bacarra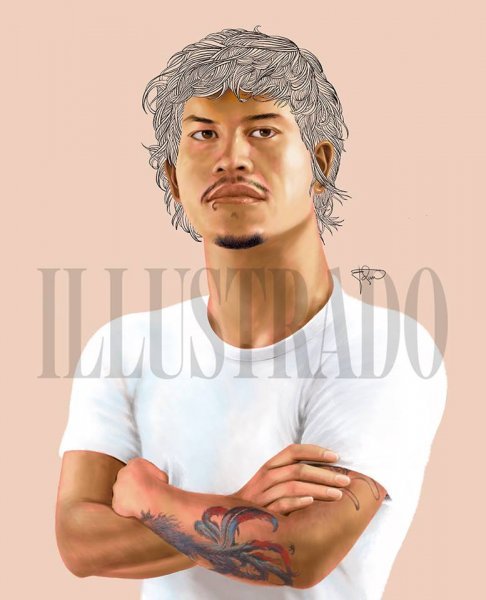 "Baste, I'd write about you." I told him.  "Ay, ayaw lang Dom." He replied in his dialect.  I pleaded, "Please? Nothing political".   He insisted, "Ayaw lagi."

"Just how I see you from my eyes since your high school days. The way I have known you."  "Ayaw"  I replied with exasperation, "Okaaay."  "Hahaha," he laughed.
Thus, this piece, borne out of that exchange, shaped my desire for people to know who Sebastian Duterte is from my eyes.
This son of the 16th President of the Philippines is a divergent sort. A magnet for controversies courtesy of his bad-ass good looks: 8 tattoos, a lip ring, and a crooked tooth in a mestizo frame. His relationships with women – perceived and otherwise, are a fodder for sensationalism. His latest flame, now extinguished, with a showbiz personality added to his charisma. Broadsheets generally sing praises to his refreshing honesty and candor. Tabloids and blogs feast at the crumbs of his antics.
I met him when he was young, when he was snaking his way through the halls to enroll as a second year high school student in San Beda College. You see, San Beda is significant in this story, because this learning institution was the place where I met him, his father, the President, then mayor, studied law here,  and his sister, Sara, the mayor of Davao, was also studying Law.
I was in my white sotana that fateful afternoon, a Benedictine Monk who just transferred from the Monastery of the Transfiguration in Malaybalay Bukidnon. Briskly walking from my office to the cafeteria, another monk called introduced me to the (then) mayor with Baste behind him. Fresh-faced, he impressed me with his altar boy demeanor. Self-conscious, he felt embarrassed in his modesty, endearing in his lack of confidence.
The father deemed it better for his son to study in San Beda for a reason that now escaped me. He told me just to take care of his son if we had the time. Since I speak the Cebuano language, the father thought that his son would warm up to me.
I saw him several times in the campus since then. He would just look at me awkwardly in the beginning as if he didn't know what to say. Then, as if the Gods of Davao opened their gates, he let loose a nod and an awkward smile one afternoon. I checked on his studies and how he was coping. He just said, "maayo man" and ran when the class bell rang.
Then he just decided, one day, to eat his lunch in my office. I saw him eating barbecue when I arrived. "Uy, kumusta man ka?" I asked.  "Okay lang pud ko Dom. Manga-on ta. Guipalitan tika ug usa" he replied. He would regularly eat in my office since then. I would check on his assignments and we would talk about what he missed.
He joined San Beda's junior basketball team, and anyone from his team, until now, will attest to his being a "guy of few words." He was straightforward, but there was nothing threatening about him. His masculine and mestizo features were intimidating at first glance, but once that bias gets broken, all you see is a person who is gentle, and surprisingly, a natural comedian. His play of words, often to comedic results, are hilarious. One just has to read his responses to the comments on his Facebook page. Even my secretary at that time took notice of how humorous he was, but it was the respect that endeared him to her. Neither rude nor entitled, he would always address her as "ate." She never heard him swear or said something untoward to any woman. "Not me. Not my way. I will never do anything to physically hurt a woman." He once told me when we were talking about relationships.
Growing up, I saw him transform into someone thoughtful with a growing hunger for authenticity. Before that, he was just like any other student, albeit with a withdrawn stance and distinctive humility for a son whose father was considered a political rockstar pre-election. He would mingle easily with his friends, the cafeteria staff, and the janitors.
I would catch him changing from his high school uniform to a t-shirt to be able to get out of the college gate unnoticed. Since the college students had no uniform, he would blend in, away from the observant eyes of his bodyguards. He wasn't fond of having bodyguards, but he took care of them. "They are a family", he would say. He ate with them; joked with them; asked them about their families, but couldn't resist escaping from them from time to time. Something from his younger days that he outgrew. Instead of running away, he learned to accept that there were certain realities that he just had to go through.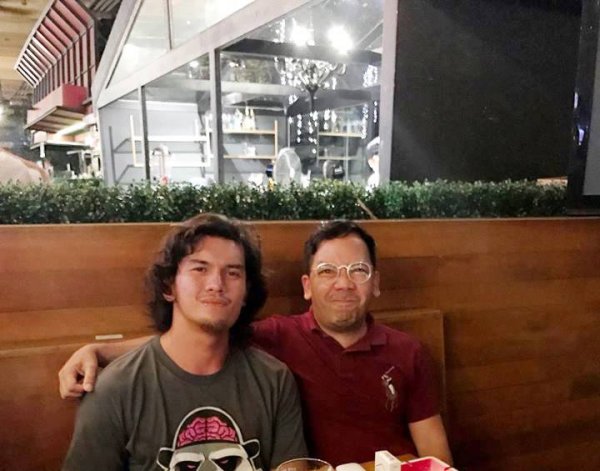 But what was certain to me at that time was that city life wasn't for him. His heart was, and still is, in the ocean. His mind was, and still is, in the farm. He was drawn to nature as moth to a fire.
I left San Beda-Manila for an assignment in San Beda-Alabang, and went to Dubai four years later. We lost communications. Just as Friendster diminished, we lost track.
In this age of Facebook, I received a curt message one evening, "musta man ka?" That question was oddly familiar even after more than 10 years. I soon learned that he already has children, got tattoos (the first one being a scorpion), that he surfs, and fulfilled his desire to be with nature. His voice is still the same. There is still that faint, distinctive, growl, and the respectful yet straightforward tone.
If ever, he seems to have grown in wisdom, either by experience, or by his reluctant participation in politics. I got surprised when he went public during the campaign. "To help my father", he waxed lyrical. The price he paid for the willful exposure was his privacy. Media courted him, and he was fed to the public with truths, but mostly with misinterpretations and half-truths.
He was unfazed most of the times, treating them lightly and humorously. Media would focus on his looks and relationships. But I have known a boy who became the man. The man whose sensitivity to the needs of the tribes in Mindanao would often be his preoccupation- visiting them and supporting their economic and artistic endeavors, yet, mainstream media don't even know about it. The man whose environmental consciousness is so deep his business involves cleaning the environment. The man who dreams, and paints his dreams.
He is an artist. He paints, and he paints in abstract. He paints, either as an extension of how he feels or as a social commentary. Cubist influenced, his latest piece is a social commentary about how the majority put human beings in a box: consisting of large 3-layered boxes – gold at the core, silver in the middle, and bronze at the outer layer – and smaller multi-colored boxes framing these large ones. These multi-cored smaller boxes represent people who are true and without inhibition, but once they desire to reach the gold in the middle with its attractive lights, going through the colors bronze and silver, they will lose their original colors, their genuineness. Society will brand them, forgetting that, once upon a time, they had other colors that are now considered to be irrelevant. Some people, even if they don't want to, will be thrown into and cloaked in the color gold, though some will assume the gold willfully.  The latter will show themselves to be such for society to see, hiding who they truly are.
He told me that it was his social commentary. While society is composed of individuals, this same society, ironically, does not see through the individual. Deep, I told myself. A reflection of this kind can only be gained through a patient understanding of life and its complexities. But his latest painting is not really a social commentary detached from him; it appears to be an experiential expression of how society sees him.

Here is a man whom they think is only generally preoccupied with the baser instincts. Yet, just like his painting, he willingly threw himself and assumed the color gold, exposing only what he wants society to see, and hiding who he truly is.
…………..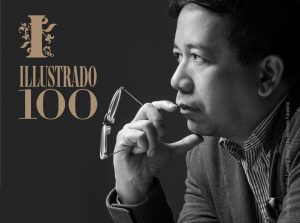 DR. REX VENARD BACARRA
Professor of Philosophy at the American College of Dubai, RexVenard Bacarra says of himself – "I may be bad in folding a fitted sheet and horrible in parallel parking.  But, I am excellent in chewing the maggots of the philosophical universe.  Maybe…"  True to form, this modern day 'Filosopo Tasio" shares with us his thoughts on our society today – this time, shedding some light on the other side of the oft-maligned Philippine President's son – Baste.  Follow Dr. Rex Bacarra on Twitter: @rexbacarra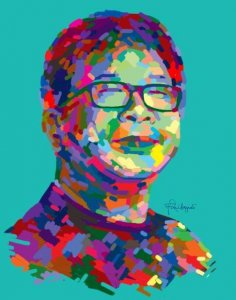 EDIPOLO "EDAN" AGGARAO
The man we call the "Godfather" of Pinoy advertising in the UAE Edipolo 'Edan' Aggarao is a trailblazer with a sterling three decades worth of corporate credentials, including posts as the Creative Director at Intermarkets, Young and Rubicam, and the Regional Creative Director at AGA-ADK Communication Network. Edan who is creative partner/Owner Q&A Advertising LLC, Dubai has won many advertising awards and was part of the 2016 Jury at the Cannes Young Lions, Dubai.  An active community figure, Edan promotes his advocacy to support the local Filipino art community as Founder & Member at 2PM Art Group (Dubai, 2016), Founder & President of the League of Pilipino Artists in Dubai, and as a Trainer/Adviser/VP of Marketing for Kabayan NPO.
Follow Baste Duterte –  Instagram: @sebastianduterte